Britons give positive scores for Government's record on vaccines, economy and unemployment – but critical on NHS, education, levelling-up and crime
The Conservatives maintain a 11pt polling lead over the Labour party
Ipsos's latest Political Monitor shows the Conservatives retain a clear lead over the Labour party amid positive sentiment towards their handling of the pandemic, the economy and unemployment levels. Looking ahead, however, the public is more critical towards the government's delivery of improved public services, crime, and levelling up.
Government record
When asked to consider Boris Johnson's government's performance since it was elected in December 2019, the public are strongly agreed (87%) in saying it has done a good job in ensuring the public are vaccinated as soon possible (even 79% of Labour supporters agree). Nearing half are also positive about its managing of the economy (49%) and keeping unemployment down (48%) and increasingly so since last December (when results were 44%, 41% respectively). However, sizeable proportions still think they are performing badly on each (40% economy, 36% unemployment, and rising to 53% and 47% respectively among 18-34 year olds).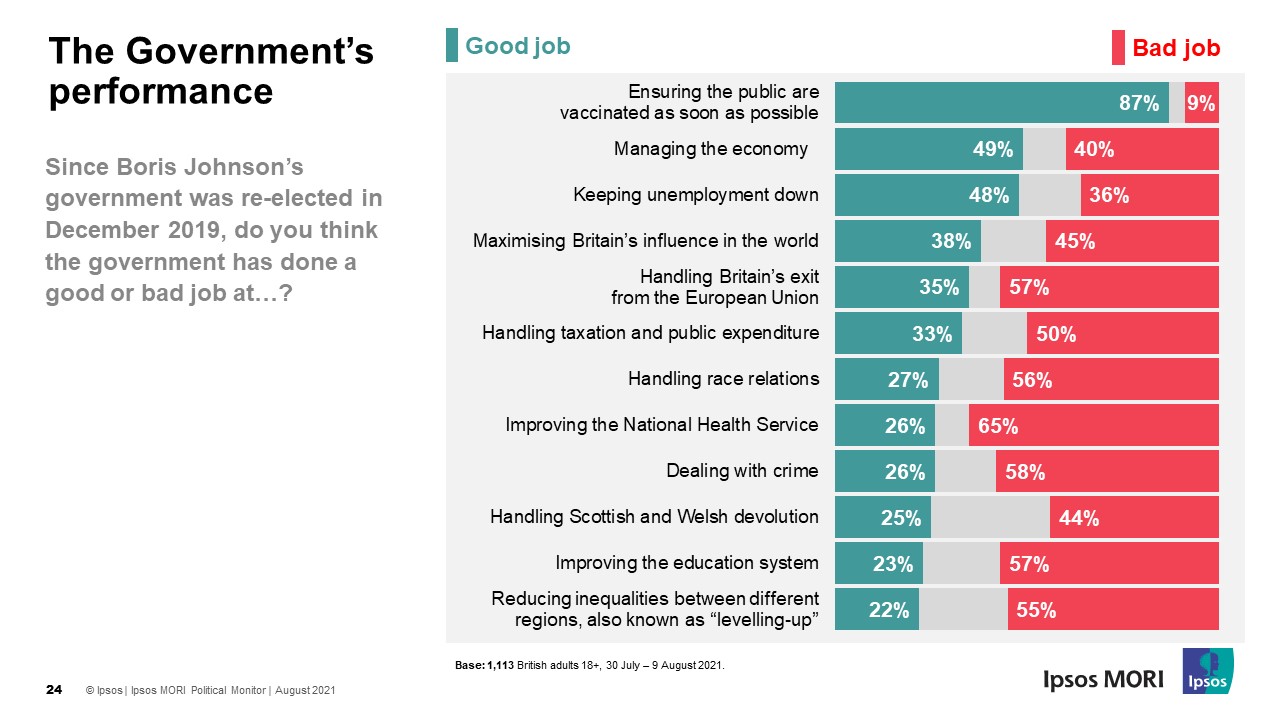 The Government's performance is seen less positively on handling taxation and public spending (33% say good job, 50% say bad job), maximising Britain's global influence (38% vs 45%), handling Scottish and Welsh devolution (25% vs 44%) and handling Brexit (35% vs 57%). Nevertheless, there are slight improvements since December on Brexit and Britain's global influence, although a slight drop on handling taxation and public expenditure.
The worst rated areas for the Government are its attempts to level up by reducing regional inequalities (22% good job vs 55% bad), improve the NHS (26% vs 65%), improve the education system (23% vs 57%), handle race relations (27% vs 56%) and deal with crime (26% vs 58%).
People in North England are among the most critical of the levelling up agenda, with nearing two in three (64%) saying they are doing bad job, compared with 44% in the South (excluding London). Meanwhile, crime is the issue where Conservative supporters are most concerned, with as many critical as positive (40% say good job, 45% say bad job).
Political trackers and COVID-19
Satisfaction with the Government has recovered slightly from a dip last month, with two in five (39%, +4 over the month) saying they are satisfied and half dissatisfied (51%, -4). These scores are reflected in Mr Johnson's personal ratings, with similar proportions satisfied (41%, +3) and dissatisfied (52%, -2). Whilst both scores result in negative net ratings (of -12, -11 respectively), looking back into Ipsos's long-term trends they are bettered only by Tony Blair at this point into his premiership.
Meanwhile, Keir Starmer's ratings show little sign of recovery. Twenty-seven per cent say they are satisfied with him (unchanged), whilst the majority (53%) are dissatisfied (+3). This results in a net-satisfaction score of -26, which is behind ratings for Tony Blair and David Cameron at similar points as Opposition leaders, and more comparable with those seen by Ed Miliband and William Hague.
Ed Davey continues to struggle breaking through with the public. One in five (21%) are satisfied, and a third (32%) dissatisfied (both barely changed since last month), whilst nearly half (47%) say they don't know.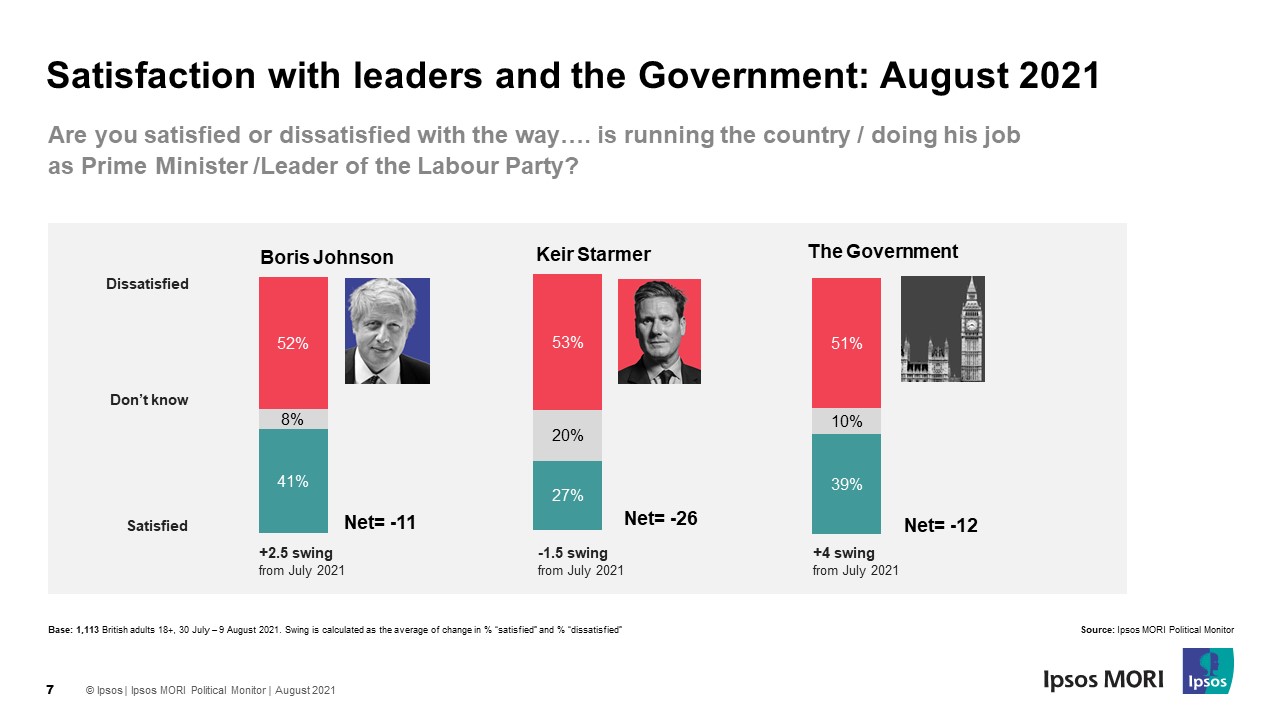 Following the ending of lockdown restrictions, the public are now less negative about the Government's handling of the pandemic than last month, but opinion is still divided. Forty-four per cent say they are handling it well (+3), whilst slightly fewer say badly (37%, -6). Furthermore, with the double-vaccinated no longer having to self-isolate if 'pinged' from next Monday (in England), the majority (55%) say this decision is being taken about the right time. One in five say it is too soon (23% - Labour supporters most cautious at 35%) whilst another fifth (17%) say too late.)
Meanwhile, there has been little change since July in headline voting figures:
Conservatives: 41% (+1)
Labour: 30% (-1)
Liberal Democrats: 13% (-)
Greens: 8% (+2)
Gideon Skinner, Head of Politics at Ipsos, says of the findings:
As Parliament rises for the summer, the public's scorecard on government delivery suggests the Conservatives' lead is helped by positive ratings for their handling of the economy and unemployment during the pandemic (although less so among young people), and most strikingly for the vaccination programme, which gets high approval across the board. However, looking ahead the Prime Minister will also want to focus on public services – specifically the NHS, education and crime (where even his own supporters are worried), while so far the public don't see much evidence of progress on levelling-up regional inequalities. Even so, Keir Starmer's Labour party is struggling to make headway against this, with little sign of improvement this month.
Technical note
Ipsos interviewed a representative sample of 1,113 adults aged 18+ across Great Britain. Interviews were conducted by telephone: 30th July to 9th August 2021. Data are weighted to match the profile of the population. All polls are subject to a wide range of potential sources of error. On the basis of the historical record of the polls at recent general elections, there is a 9 in 10 chance that the true value of a party's support lies within 4 points of the estimates provided by this poll, and a 2 in 3 chance that they lie within 2 points. This is especially important to keep in mind when calculating party lead figures.