Britons think Coronavirus will have harder impact for old, poor and those in cities, but believe society has become less divided
Two-thirds expect coronavirus to have a negative impact on older people compared to only 8% who think young people will suffer.
New Ipsos polling highlights the extent to which the British public think their society is divided. The survey finds that the public believe the coronavirus pandemic will have a disproportionate impact on particular groups in British society. When asked to think about all the potential impacts of the coronavirus (health, social and economic), two-thirds (64%) say there will be a more negative impact for older people than for younger people. This view is held by a majority of all age groups, though is particularly strong among older people (six in ten of 18-55s, and seven in ten 55-75s, agree).  Three in five (61%) also think poor people will be more negatively affected than rich people (again by a majority of all groups, but especially 2019 Labour voters at 73%) while those in cities are expected to be hit harder by the Coronavirus than those in rural areas (57% vs. 13% respectively).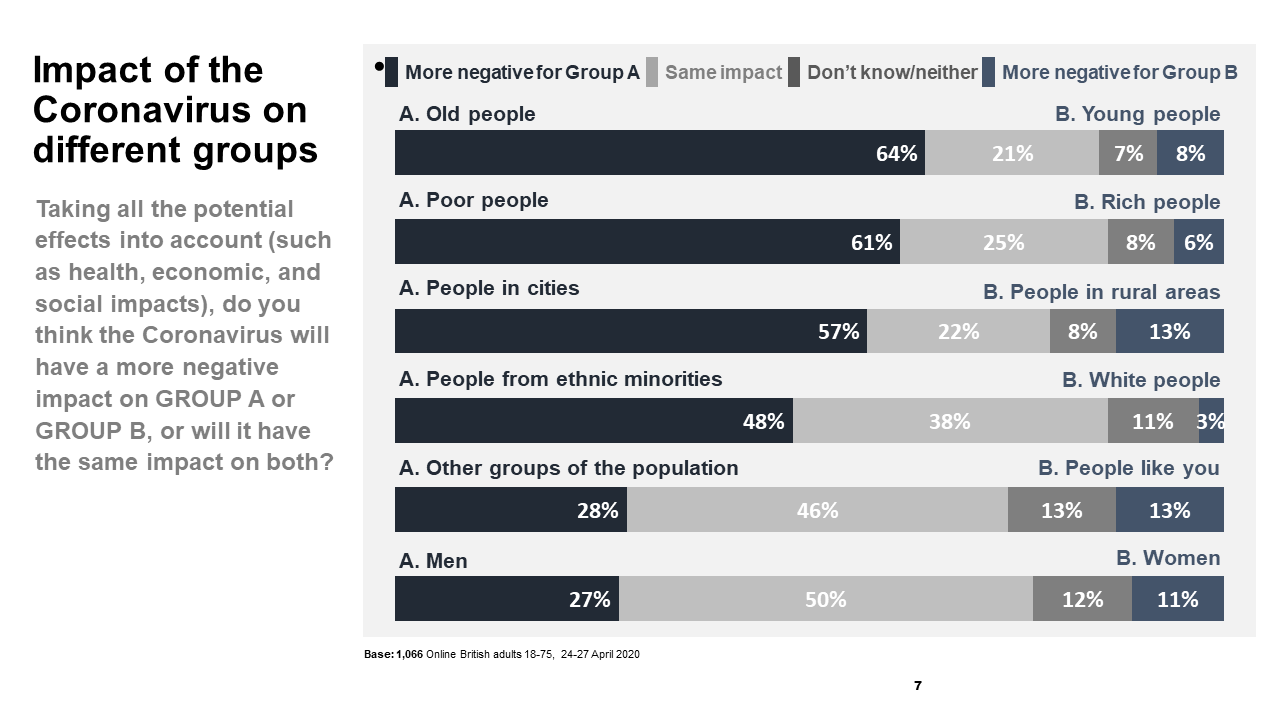 Around half think that the coronavirus will have a more negative impact on people from ethnic minorities than white people (48% vs 3%).  Just under half (46%) think people like them will be affected the same as other groups in the population, although those who do think there will be a difference expect it to hit other groups more than themselves (28% vs. 13%).
The poll, conducted online amongst British adults aged 18-75, also reveals three quarters (75%) of Britons think that British society is very or fairly divided, although this is an improvement from 86% last year (21% think British society is not very or not at all divided, twice as many as last year). Perceptions of division run strong across political lines with 86% of 2019 Labour voters saying British society is divided (11% say it is not) compared with 66% of Conservative voters (32% say it is not).  Similarly, when asked to compare how divided British society is with 10 years ago three in five (60%) think it is more divided now, but this is down from 71% last year. 
Despite these perceptions of divisions within British society, Ipsos finds a majority (56%) agree that they would rather be a citizen of Britain than any country on earth (just 15% disagree) – although this is slightly down from 60% when last asked in 2016. Those who are most proud of their British citizenship include older people (65% of 55-75 year olds compared with 54% of 35-54 year olds and 50% of 18-34 year olds), those without a degree (60% compared with 49% with a degree), 2019 Conservative voters (78% compared with 48% of Labour voters and 44% of Liberal Democrat voters) and Leave voters (71% compared with 48% of Remain voters).
Four in ten Britons continue to remain hopeful that Britain will be stronger when the Coronavirus crisis is over – similar to the levels found in March which stood at 45%.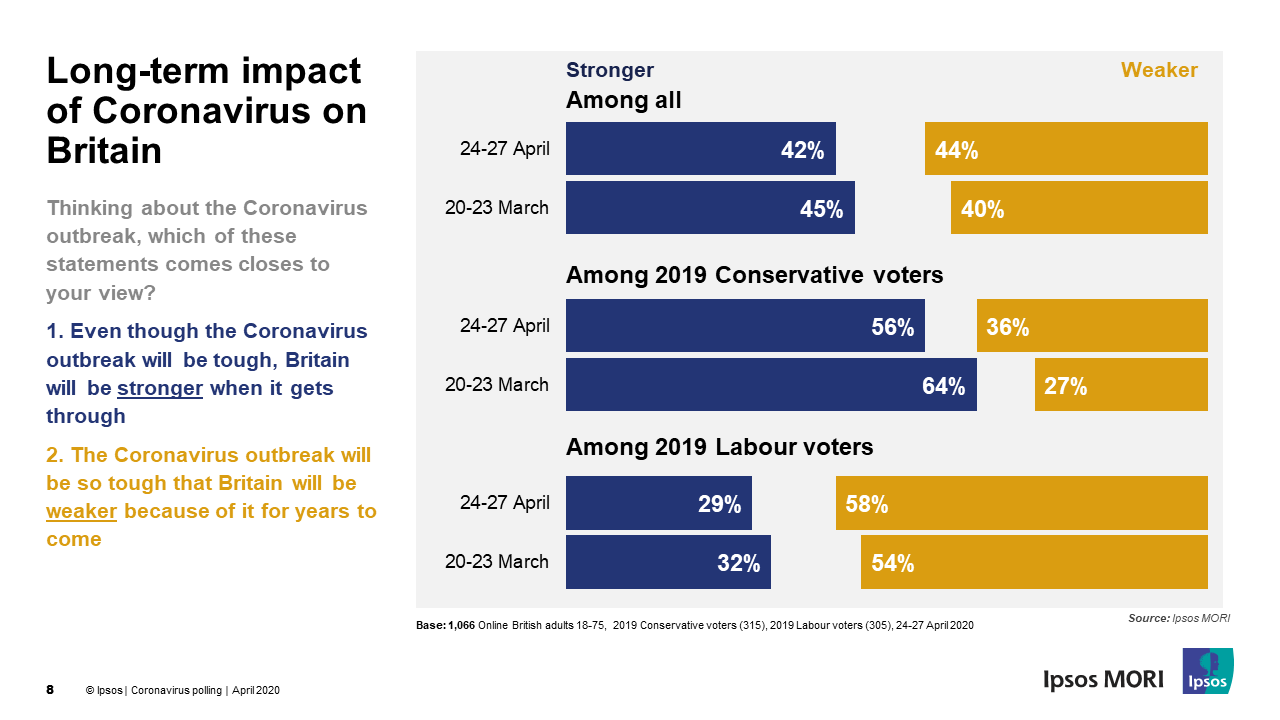 Commenting on the findings, Ipsos Head of Politics, Gideon Skinner, said:  
Coronavirus hasn't solved all the divisions in British society, but there are small signs that we are feeling less divided than we were last year, and most of us are still proud to be British.  However there are concerns about the unequal impact of coronavirus – particularly on the elderly, those on low incomes, urban areas and ethnic minorities.  The data suggests that, understandably,  it may be the most serious health effects on vulnerable groups that is uppermost in the public mind at the moment – our wider research shows that in some other aspects (such as the financial impact or the impact on people's mental health) it is younger groups who feel more at risk.
Notes to Editors
Ipsos interviewed a representative sample of 1,066 British adults aged 18-75. Interviews were conducted online: 24th – 27th April 2020.  Data are weighted to match the profile of the population. All polls are subject to a wide range of potential sources of error.
The question on pride in Britain was ran on a separate survey conducted online: 10th – 13th April 2020 amongst a representative sample of 1,069 British adults aged 18-75.  Data are weighted to match the profile of the population.