Confidence in Theresa May to get a good Brexit deal continues to fall
The Ipsos October 2018 Political Monitor reveals that confidence in Theresa May to get a good Brexit deal in negotiations continues to fall, with now over three-quarters (78%) saying they lack confidence in her.
Confidence in Theresa May to get a good deal in Brexit negotiations continues to fall
If no Brexit deal is reached public blame the UK Government, the EU and Conservative MPs equally
As pressure mounts for Theresa May to reach a deal with the European Union on the terms of Britain's withdrawal from the EU, new Ipsos polling reveals growing pessimism amongst the British public.
Confidence in Theresa May to get a good deal for Britain in negotiations with other European Union leaders continues to fall in the latest Ipsos Political Monitor. Now just over three-quarters say they lack confidence in her (78%, up from 70% last month) while only one in five do have confidence in the Prime Minister (19%, down from 28%). Even Conservative supporters have become more sceptical that Theresa May will get a good deal – a third have confidence in her (34%, down 11 points) with two-thirds saying they don't have confidence (64%, up 11 points).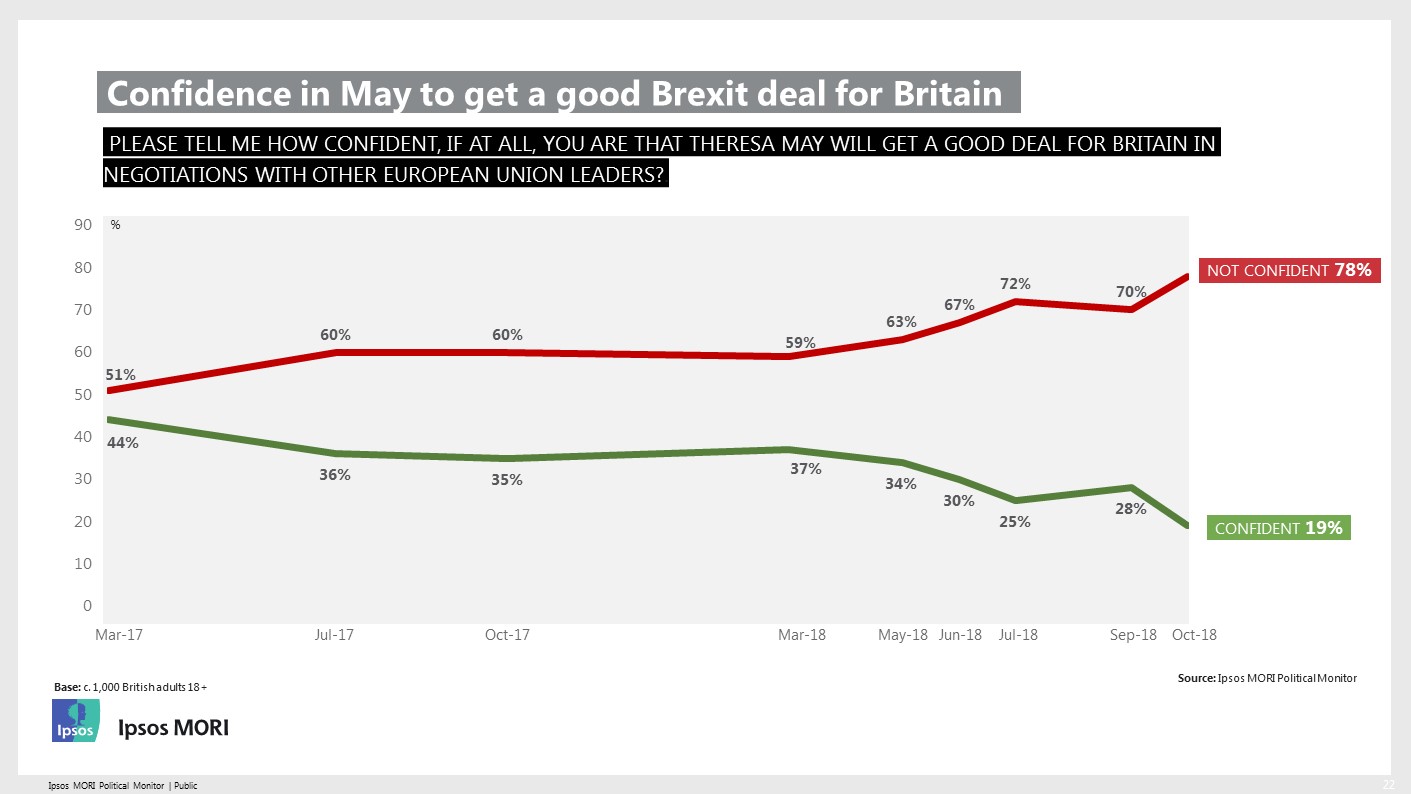 Overall half the public (49%) think the Brexit negotiations are going worse than expected, though only slightly fewer (43%) feel they are going about the same as they expected (4% think they are going better than expected). Both these figures have risen since May when 37% said they were going worse than expected and 24% said the same as expected.
Britons have also become slightly more negative about the impact Brexit will have on their own standard of living over the last 12 months. Eighteen percent think it will make their standard of living better (down 2 points from last October) while 43% think it will be worse (up 7 points) – a third (32%) say it will make no difference.
When it comes to who is to blame if Britain and the EU do not reach a deal, the public see the responsibility being equally shared between the UK Government (36%), the EU (37%) and Conservative MPs (37%). A third (32%) also blame Brexit campaigners (compared with 14% blaming Remain campaigners) while 16% blame the Labour party and 10% other opposition parties.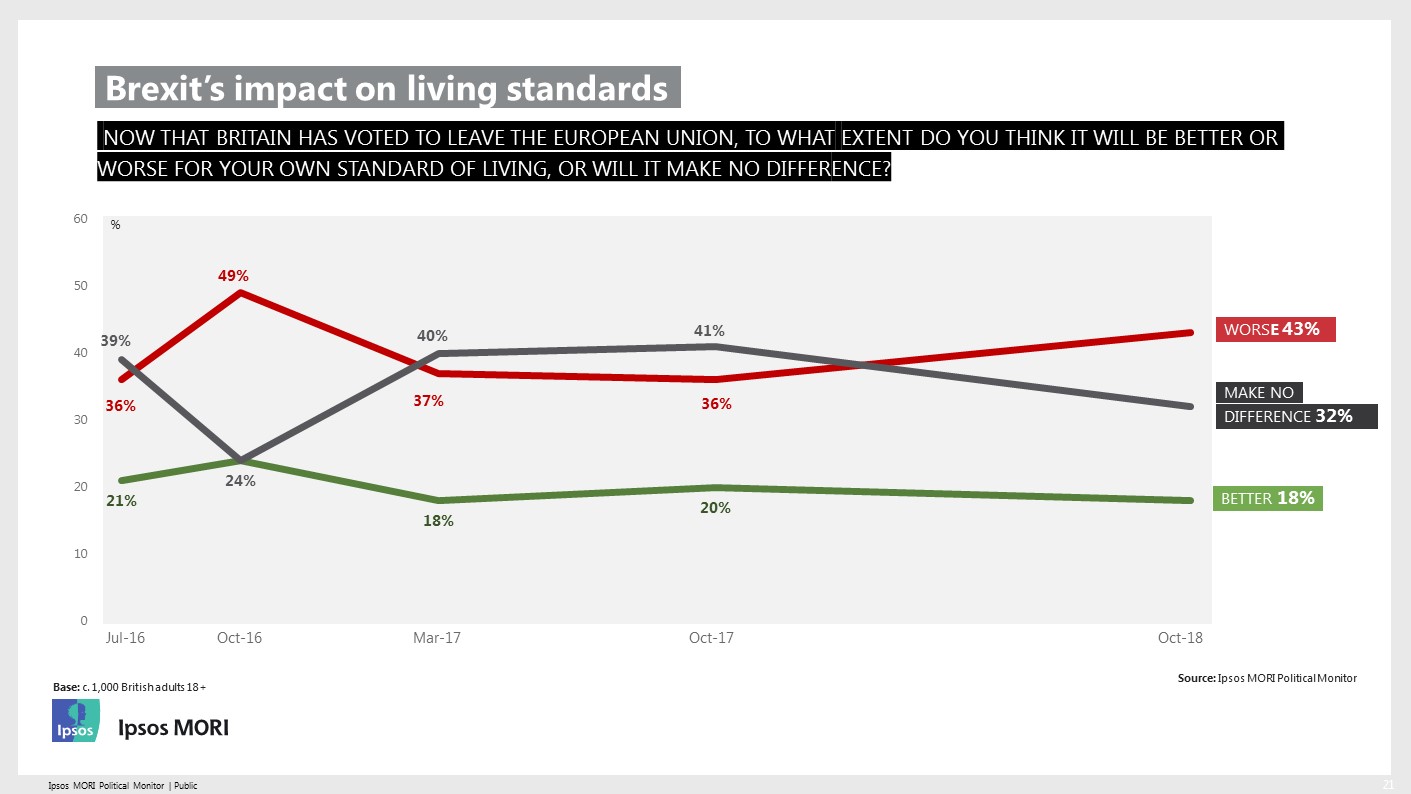 As uncertainty continues with the negotiations the Ipsos Economic Optimism Index (EOI) also shows persisting pessimism around Britain's economy. Three in five (61%) say they think the economy will get worse in the next year (up 2 points) and 14% think it will improve (down 1 point) – leaving an EOI score of -47, its lowest since December 2011.
Little has changed from last month in the public's satisfaction ratings with Theresa May's leadership and her government. Three in ten (29%) say they are satisfied with the Prime Minister, while 61% are dissatisfied – leaving her a net satisfaction rating of -32.   Meanwhile only 22% are satisfied with the way the Government is running the country, with 70% dissatisfied (a net rating of -48).  Jeremy Corbyn has improved on his figures from last month's dip with 28% now satisfied with him as leader of the Labour party (up 4 points) and 59% dissatisfied (down 7 points) – leaving him a net satisfaction score of -31. One in five (19%) are satisfied with Vince Cable as Liberal Democrat leader (down 5 points) while 38% are dissatisfied (down 1 point) – two in five (42%) say they don't know.
Amongst would-be Conservative voters 57% say they are satisfied in the Prime Minister (up 1 point) with 37% dissatisfied (up 2 points) – giving her a net satisfaction score of +20 amongst her own party. Jeremy Corbyn has improved with Labour party supporters where 59% are satisfied in him doing his job (up 11 points) and 32% dissatisfied (down 12 points) – giving him a net score of +27 amongst Labour supporters.
Our ongoing figures for voting intentions show no change between the two main parties. The Conservatives are on 39%, Labour 37%, and Liberal Democrats 10%.
Gideon Skinner, Head of Political Research at Ipsos, said:
2018 has seen falling public satisfaction in the Prime Minister, her government, and rising economic pessimism, and as the Brexit negotiations intensify confidence in Theresa May's ability to get a good deal has fallen even further to a new low.  And yet the public don't put all the blame at her door – and nor is there much evidence that they would have much more confidence in anyone else.
Technical note
Ipsos interviewed a representative sample of 1,044 adults aged 18+ across Great Britain. Interviews were conducted by telephone 19th -22nd October 2018.  Data are weighted to the profile of the population. All polls are subject to a wide range of potential sources of error. On the basis of the historical record of the polls at recent general elections, there is a 9 in 10 chance that the true value of a party's support lies within 4 points of the estimates provided by this poll, and a 2 in 3 chance that they lie within 2 points.