Conservatives take their biggest lead over Labour as party with best team of leaders and most clear and united
Ipsos's first Political Monitor in 2016 shows the Conservatives opening up their biggest lead over Labour on a number of key party image attributes.
Conservatives take their biggest lead over Labour as party with best team of leaders and most clear and united
Public opposition to unilateral nuclear disarmament little changed since the 80s
Ipsos's first Political Monitor in 2016 shows the Conservatives opening up their biggest lead over Labour on a number of key party image attributes. When asked which of the parties has the best team of leaders to deal with the country's problems, 43% of Britons say the Conservatives with 16% choosing Labour. This is an increase of 9 points for the Conservatives and a fall of 7 points for Labour since June 2014, and is the biggest lead for the Conservatives since we started asking the question in 1989.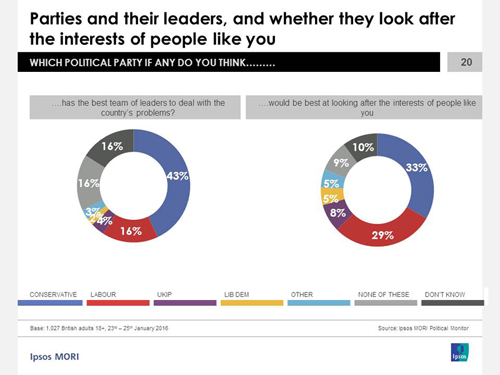 When it comes to being clear and united about their policies, one in three (33%, up 6 since June 2014) believe this best reflects the Conservative party compared to 13% who say Labour (down 4, and just two points higher than UKIP on 11%). Again this is the biggest Conservative lead since the question series started in 1991. When considering who has the best policies for the country as a whole the Conservatives also come on top mentioned by 35% (up 6 since April 2014), versus one in four (25%, down 2) saying Labour have the best policies. When asked who would be best at looking after the interests of people like you, one in three (33%, up 4 since April 2014) claim the Conservatives, leading Labour by four points (29% saying the party would best look after their interests, down 2).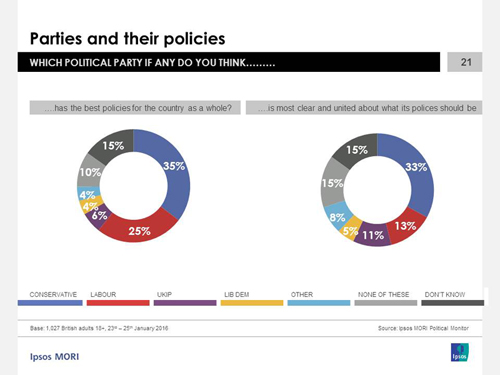 The past week saw much debate surrounding the future of Britain's Trident nuclear submarines. The new poll reveals that the British public are just as opposed to unilateral nuclear disarmament now as they were in the 1980s. When asked if Britain should get rid of all its nuclear weapons, even if other countries keep theirs, seven in ten (70%) oppose the plan compared to one in four (24%) who support it. These are identical to figures seen in 1987, when the divide between those opposing disarmament and those supporting it also stood at 70% and 24%, and are also very similar to what our results in 1983. Labour voters are twice as likely to support the idea than Conservative voters (34% vs. 15% supporting the policy respectively), but even so a majority are against the idea. When unilateralism is not mentioned, support for disarmament among the public rises to 34%, but a majority (58%) are still opposed.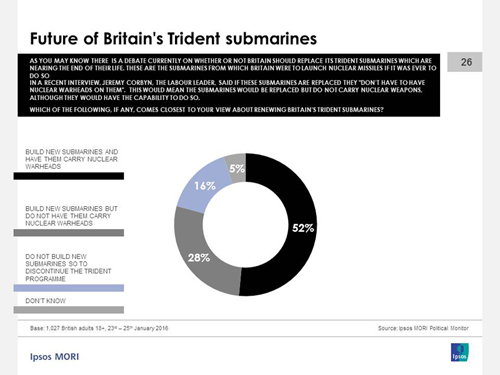 Jeremy Corbyn's plan to build new submarines yet not have them carry nuclear weapons does not prove very popular with the public. Three in ten (28%) support Mr Corbyn's idea while a majority (52%) would rather replace the submarines and continue to have them carry their nuclear arsenal. Just 16% say that Britain should scrap the submarines altogether. Among non-Labour supporters, the gap is even higher – 65% want to keep Trident with nuclear weapons, while 23% support Mr Corbyn's option. One in three (34%) Labour voters support the Labour leader's plan while 36% support rebuilding the submarines and continuing to have them carry nuclear warheads, and 26% want to get rid of them altogether.
However other of Jeremy Corbyn's policies prove more popular. Two in three (66%, 46% strongly) support his idea that companies should be banned from paying their shareholders dividends unless their staff earn the living wage (17% oppose it). While Labour supports are overwhelmingly in favour of the policy idea (75%), it even shows popularity amongst Conservatives with three in five (59%) supporting it. The overall figure however slightly drops to three in five (60%) when the question wording attributes the policy to Jeremy Corbyn – mainly among non-Labour supporters where support falls from 63% to 50%.
David Cameron remains the party leader with the highest satisfaction rating, with 42% satisfied with his performance and just over half (52%) dissatisfied (giving a -9 net satisfaction score). Three in ten (31%) are satisfied with Labour leader Jeremy Corbyn and 49% are dissatisfied (-18 net satisfaction). UKIP leader Nigel Farage's ratings are identical to Mr Corbyn's (31% satisfied and 49% dissatisfied) and while 22% are satisfied with Tim Farron (32% dissatisfied) 46% say they 'don't know', showing the Liberal Democrat leader has yet to make a breakthrough into the public's awareness.
Ongoing vote intention figures still show the Conservative party with a lead over Labour. The Conservatives currently stand at 40% compared to Labour with 31%, UKIP at 11% and the Liberal Democrats at 7%.
Gideon Skinner, Head of Political Research at Ipsos, said:
"Labour starts 2016 with big challenges ahead, being the furthest behind the Conservatives on perceptions of unity and leadership team since we started asking the question. The last time one of the big two was this far behind was in May 2001, when William Hague's Conservatives were trailing Tony Blair's New Labour. Meanwhile, the British public are as opposed to unilateral disarmament today as they were when we were asking them 30 years ago."
Technical note
Ipsos interviewed a representative sample of 1,027 adults aged 18+ across Great Britain. Interviews were conducted by telephone 23-25 January 2016. Data are weighted to match the profile of the population.