Coronavirus Data Trends – Britons' concern for the country continues to decline
The latest round-up of our coronavirus trends, looking at concern about the virus, behavioural changes and more.
Concern about Coronavirus
Concern about the risk that coronavirus poses to oneself remains at its lowest since lockdown was imposed. At the end of March, 4 in 5 (78%) were worried about the threat that COVID-19 posed to themselves, which is now down to two-thirds (66%), the level it has been at since the end of April. Concern about the risk posed to the country as a whole is still significantly higher that concern for oneself however, it has also seen a drop from 94% on 30 March, down to 86%.  The proportion very concerned for the country is now at its lowest level since lockdown began, at 37%.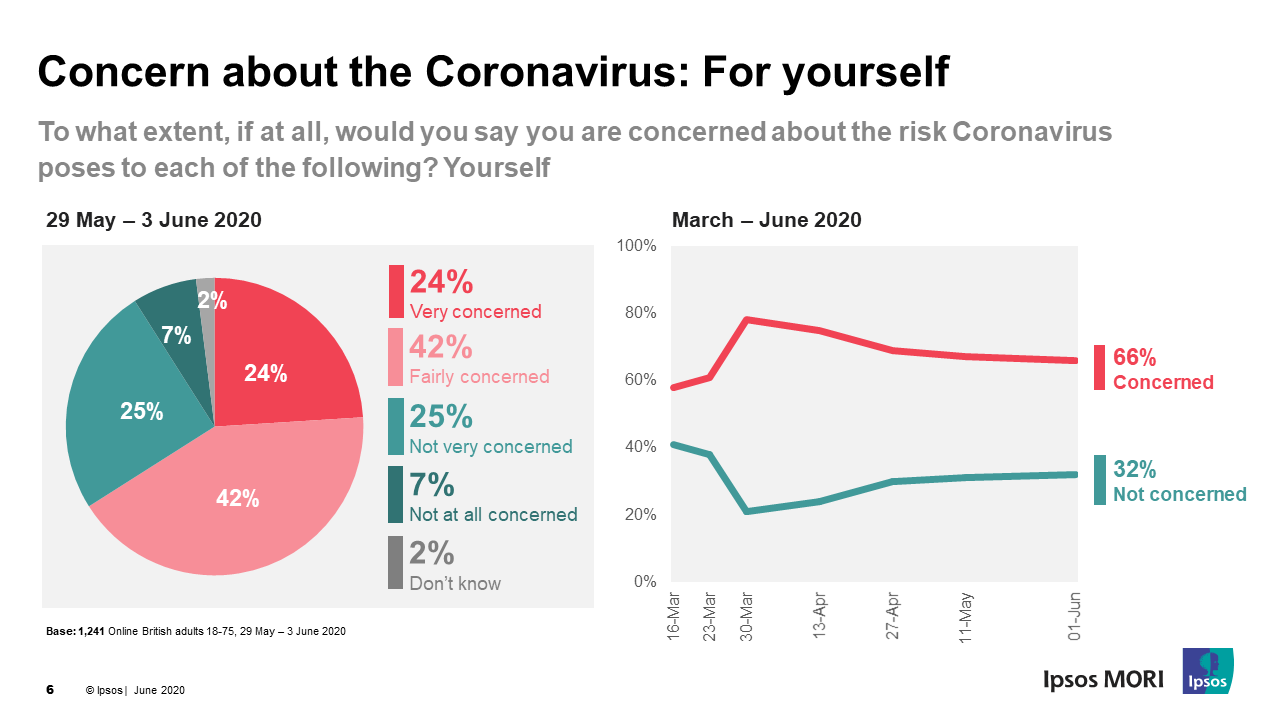 Following government advice
The number of people wearing surgical masks continues to rise, now over a quarter (27%) say they are wearing face coverings compared with 20% in May and 12% in April. However, fewer people, although still the large majority, are washing their hands more as a result of coronavirus, compared with the beginning of lockdown. Seven in ten (70%) say they have done this more/ started doing this as a result of coronavirus, compared with 82% in March and 76% in April. Fewer people also admit to staying at home now than two months ago. While 79% avoided leaving the house in March and 73% did the same in April, only 63% now say they are staying put. 
Confidence in the NHS
For the first time since the tracker began, confidence in the NHS has dropped very slightly, although it remains high. Following a high of 84% of Britons feeling confident in the NHS, now 81% feel the same way. While those feeling not confident has increased from 13% in May to 17%. 
Behaviour changes
The number of people shopping online more often as a result of coronavirus has seen a significant increase in the past month from 21% to 31%. Three in 10 (30%) are now doing their grocery shopping online, an increase from 26% in May.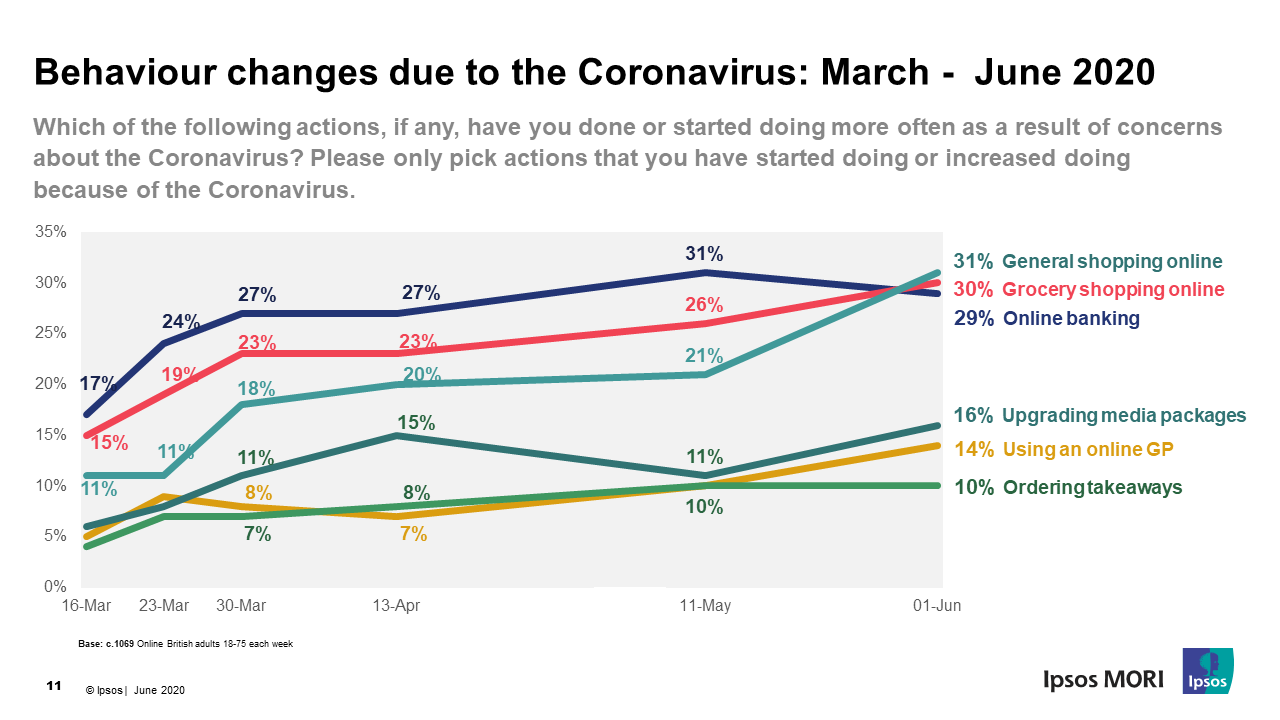 Three in ten (31%) are doing more of their banking online. Online GP services are still not as popular but continue to rise. The number of people saying they use this service more now than before coronavirus has doubled since April, now 14%. 
Clarity of government messaging
Despite a large drop after the easing of "lockdown", from 90% to 56%, ratings of the clarity of government communications remain steady. Now, 58% say the government's instructions for coping with the pandemic is clear, including 20% who say the messaging is 'very clear'. However, 40% say the messaging is unclear, including 15% who say it is not clear at all. 
Technical note:
Ipsos interviewed a representative sample of 1,241 British adults aged 18-75. Interviews were conducted online from 29th May – 3rd June 2020. Data are weighted to match the profile of the population. All polls are subject to a wide range of potential sources of error.