COVID-19 and patient experience in the 2020 GP Patient Survey
What impact did the COVID-19 pandemic have on patient experience in the 2020 GP Patient Survey?
The GP Patient Survey (GPPS) is a large-scale postal survey with an online option that collects information from over 700,000 patients about their experiences of local health services. Fieldwork in 2020 took place between 2 January and 6 April, with some survey responses collected after key COVID-19 milestones such as national lockdown in the UK. 

Analysis was conducted in order to understand whether the pandemic had an impact on GPPS results for 2020. This aimed to establish whether trends were affected and looked at the effect on attitudes and experiences of local health services among those patients responding later in fieldwork compared with the same period in 2019 and 2018. 
Analysis found that overall results for GPPS in 2020 were not affected by the impact of the COVID-19 pandemic, but there were significant differences in responses pre and post-lockdown:

Impact on response mode and demographics
Patients who took part after lockdown were more likely to have taken part online than on paper (28.0% took part online compared with 8.4% in 2019). 
Patients responding after lockdown were more likely to have been male, white and working full time, and less likely to have been parents.
Increased awareness and use of online services
Awareness and use of online services has been steadily rising year on year, but increased further in the final two weeks of fieldwork, particularly awareness of online appointment booking and use of GP online services to book appointments and order repeat prescriptions.
Evidence of 'gratitude bias'
Results suggest patients were reflecting more positively on their experience by adjusting expectations about care at a time when the NHS was under pressure. 
Responses to attitudinal questions in the last two weeks in 2020 were more positive when compared with the same period in 2019 and 2018. Expectations in relation to appointments were also lower, including fewer patients saying that they wanted appointments on the same day or a specific day.
Regression analysis found that the increase in positive responses remained highly significant even when demographics were controlled for, suggesting that this observed change was the result of a real shift in views post-lockdown. The size of the estimated increase in positive responses varied from +1.4 percentage points (whether patient needs were met at the last GP appointment) to +5.9 percentage points (satisfaction with the GP practice appointment times available).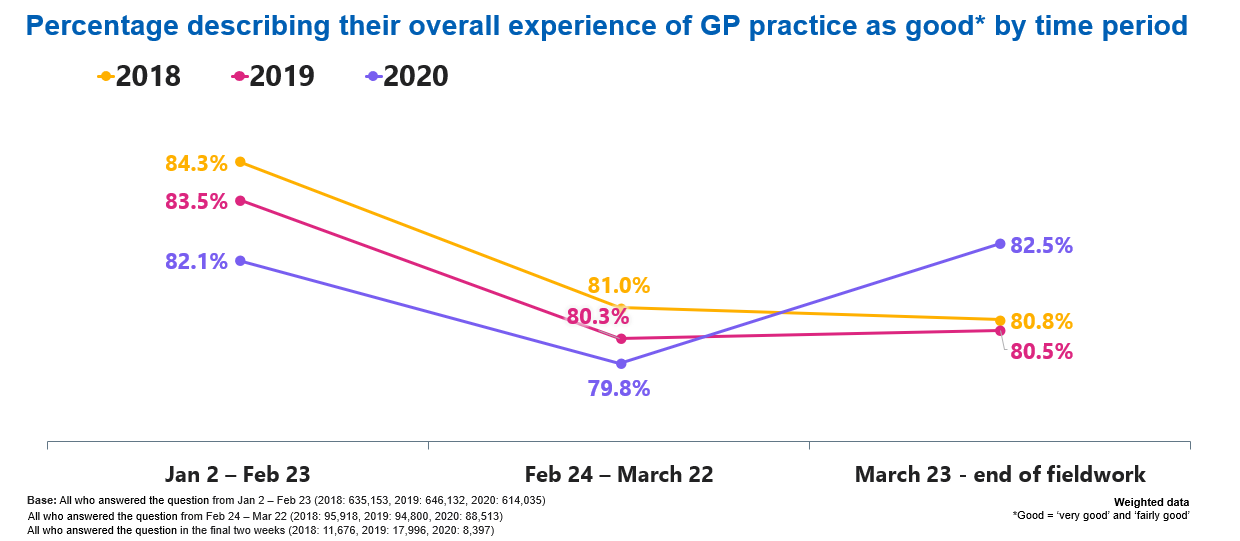 These findings were presented at the The Beryl Institute ELEVATE Patient Experience Conference 2021.