Economic optimism at highest since 1997 as Cameron opens up lead over Miliband on dealing with the economy and unemployment
The February Ipsos Political Monitor records the public's economic optimism at its highest since May 1997 when Tony Blair and New Labour had just moved into Downing Street
CON 31 (+1); LAB 38 (-1); LIB DEM 12 (-1); UKIP 10 (-1)
The February Ipsos Political Monitor records the public's economic optimism at its highest since May 1997 when Tony Blair and New Labour had just moved into Downing Street. Half (50%) of Britons believe the state of the economy will improve in the next year. One in four (24%) think the economy will get worse, giving an Economic Optimism Index score (% satisfied minus % dissatisfied) of +26, the highest since 1997.
This optimism appears to have fed into David Cameron's ratings on the economy and unemployment. Four in ten (42%) now trust Mr Cameron more than the other party leaders to deal with managing the economy, compared to 20% trusting Mr Miliband, 5% Mr Clegg and 3% Mr Farage. This increases his lead over Mr Miliband to 22 points from 14 points in May last year.
Mr Cameron now also has a 5 point lead over Mr Miliband on being trusted to deal with unemployment, an area where the two men were neck-and-neck last year. 33% now trust Mr Cameron to deal with unemployment compared with 28% for Mr Miliband and 6% and 4% respectively for Messrs Clegg and Farage. (In May 2013, 29% chose Mr Cameron and 31% Mr Miliband.)
However, Mr Miliband is trusted by more Britons to deal with regulation of banks and bankers bonuses: 29% trust Mr Miliband, 21% Mr Cameron, 10% Mr Clegg and 6% Nigel Farage.
When it comes to tax policy, Labour's 50p tax appears to be the most popular rate of taxing those earning over £150,000 a year in a choice between 50p, 45p and 40p (although it does not have majority support). Four in ten (41%) believe the higher rate of tax should be 50p, 27% believe it should be 45p and 24% believe it should be 40p.
Interestingly, associating the suggested tax levels with those who propose them (Ed Balls, George Osborne and Boris Johnson) makes no difference to the support for that rate of tax. 40% support Ed Balls' policy of 50p in the pound, 28% support George Osborne's policy of 45p and 26% support Boris Johnson's policy of 40p. This may reflect that these policies are already closely associated with each party. (The question was asked as a split sample with half of respondents given just the 50p, 45p and 40p options, while the other half of respondents were told whose policy it is).
On the issue of immigration – now joint top in the Ipsos Issues Index - Mr Cameron is more trusted than the other leaders – but only slightly more, and more people are now saying "none of them" than last year. 23% trust Mr Cameron most to deal with immigration (down from 28% in May 2013), 20% trust Nigel Farage (down from 25%), 19% Mr Miliband and 8% Mr Clegg (both up 2 points). The increase for those saying "none" is 5 points to 18%.
After a number of weeks of negative stories about Liberal Democrat and UKIP politicians this poll finds that Nick Clegg and Nigel Farage are less trusted than David Cameron and Ed Miliband to look after the interests of women and handle disagreements within their party. Just 12% trust Nick Clegg the most to look after the interests of women and 3% trust Nigel Farage the most. Ed Miliband is seen as the most trustworthy on this issue with 28% and 21% chose David Cameron. Women are much more likely to say none of the above (21% compared to 9% of men).
Mr Cameron is the most trusted to handle disagreements within his party (29%), followed by 22% for Mr Miliband; but just 7% and 8% trust Messrs Clegg and Farage respectively, to sort out internal party disagreements.
The public's voting intentions are little changed from January, with Labour holding a seven point lead over the Conservatives among those people who say they are certain to vote. 38% say they would vote for Labour, 31% for the Conservatives, 12% for the Liberal Democrats, UKIP (10%).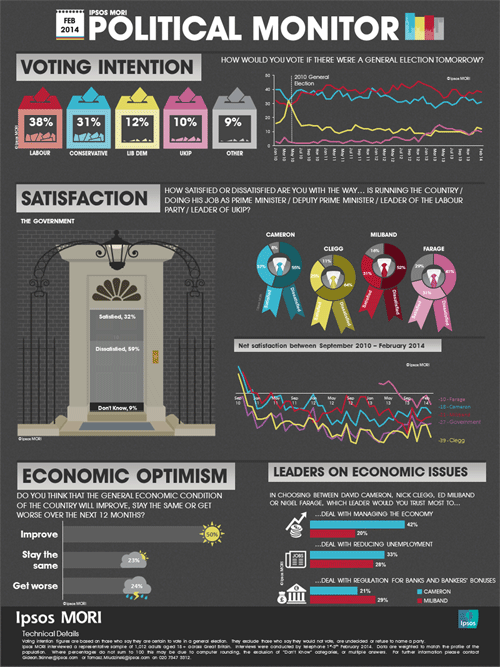 (Click to Enlarge)
Satisfaction ratings for the main party leaders and government are as follows:
Satisfaction with Nick Clegg over the last month has fallen, 25% are now satisfied with his performance as Deputy Prime Minister and 64% dissatisfied. This gives him a net rating (% satisfied minus % dissatisfied) of -39, a negative swing of 5.5 points from January 2014.
Ed Miliband's ratings are in line with last month with a net rating of -21:  31% are satisfied with his performance as Labour leader, while 52% are dissatisfied. Half (52%) of Labour supporters are satisfied with his performance, while 35% are dissatisfied, giving him a net rating of +17 among Labour supporters.
David Cameron has a net rating of -18. 37% are satisfied with his performance as Prime Minister, while 55% are dissatisfied. Among Conservative supporters his net rating is at +56; 76% are satisfied, 20% dissatisfied.
Nigel Farage's net rating is at -10. 31% are satisfied in his performance as UKIP leader, and 41% are dissatisfied while three in ten (29%) still say they "don't know". Among UKIP supporters his net rating is at +62; 74% are satisfied, 12% dissatisfied.
Net satisfaction in the performance of the government is at -27, with 32% satisfied and 59% dissatisfied.
Gideon Skinner, Head of Political Research at Ipsos said:
"

Yet another surge in economic optimism to near-record levels has given David Cameron a personal boost for his stewardship of the economy, while after a difficult month for Nick Clegg his personal ratings have fallen (as have Nigel Farage's).  And yet despite that, the party shares – and Labour's lead – have remained steady.  How these different trends play out together - especially as other issues come to the fore - is going to be key as we get closer to an election

."
Technical Note
Ipsos interviewed a representative sample of 1,012 adults aged 18+ across Great Britain. Interviews were conducted by telephone 1st – 3rd February 2014. Data are weighted to match the profile of the population.