The Economist/Ipsos Issues Index - July 2014
Race/immigration retains its position as the most important issue facing Britain today, and concern about poverty/inequality is at its highest ever in our latest Issues Index for the Economist
The latest Economist/Ipsos Issues Index shows that race/immigration is seen as the most important issue facing Britain today for the second month in a row, after having displaced the economy in June. It is mentioned as among the most important issues by 36% of the public, a fall of three percentage points since June.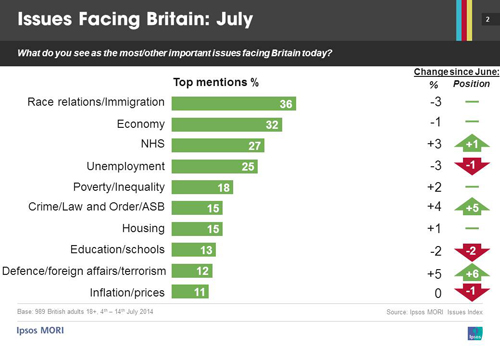 Prior to last month, the economy had been the most important issue since September 2008, and a third (32%) still mention this issue. A quarter (27%) mention the NHS, an increase of three percentage points, and the same proportion mention unemployment (25%), though this is a decrease of three percentage points. Though the top four issues facing Britain have remained unchanged since January 2013, this is the first time that the NHS has been third in the list since November 2012, and this is the lowest level of concern about unemployment since April 2011, as ONS figures released this month showed unemployment has fallen to a six year low.
One in six (18%) mention poverty/inequality, the highest percentage to do so that we have ever recorded. Concern is higher in urban areas (23%) compared with rural (14%) and highest regionally in London (27%) and Scotland (29%) compared with Wales and the Midlands (11%).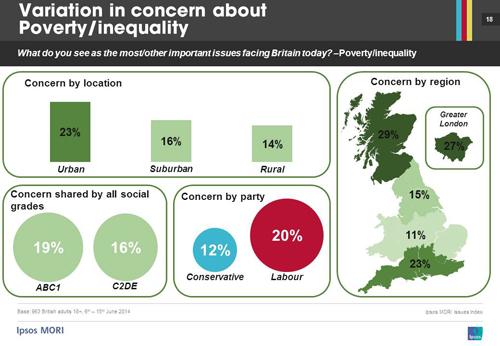 Both crime and housing are mentioned separately by 15%, in the case of housing this is the highest level of concern since May 2008. Concern rises to 26% of Londoners and 22% of those aged 25-34. In the wake of the events in Gaza and the Ukraine, concern about defence/foreign affairs/terrorism also rises five points to 12%.
Technical note
Ipsos's Issues Index is conducted monthly and provides an overview of the key issues concerning the country. Ipsos interviewed a representative quota sample of 989 adults aged 18+ across Great Britain. The questions are spontaneous - i.e. respondents are not prompted with any answers. Ipsos's Capibus vehicle was used for this survey. Interviews were conducted face-to-face in-home between 4-14th July in 181 sampling points across Great Britain. Data are weighted to match the profile of the population.