Economist/Ipsos March 2014 Issues Index
Our latest Ipsos Issues Index for the Economist sows that concern about the economy has fallen as the economy continues on a path to recovery.
Concern about the economy continues to fall, and once again it is neck and neck with immigration
In this month's Economist/Ipsos March Issues Index, 36% of the public mention the economy amongst the most important issues facing Britain – a fall of three percentage points since last month, and the lowest percentage to do so since June 2008, when concern was increasing as a result of the financial crisis.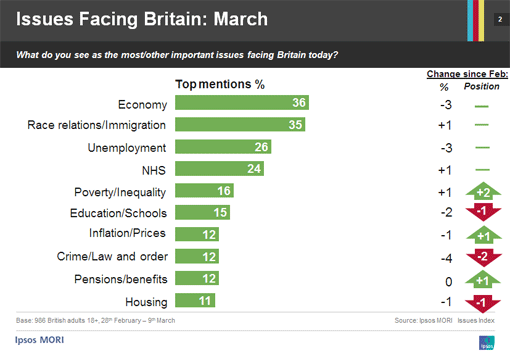 Indeed, looking at the results from one year ago, over half of the public were concerned about the economy, and it had a clear lead over the other issues.Today, however, this lead has all but vanished.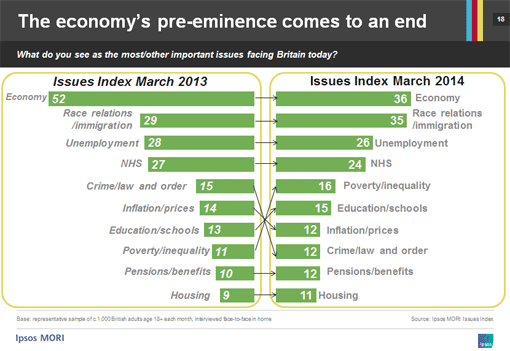 A similar percentage (35%) are concerned about race/immigration, and differences in concern about the two top issues are most stark when age and social grade are talken into consideration. Looking at January to March data, half (49%) of ABC1s aged 35-54 mention the economy (compared with 32% who mention race/immigration), whereas the reverse is true amongst 55+ C2DEs (46% mention race/immigration and 30% mention the economy).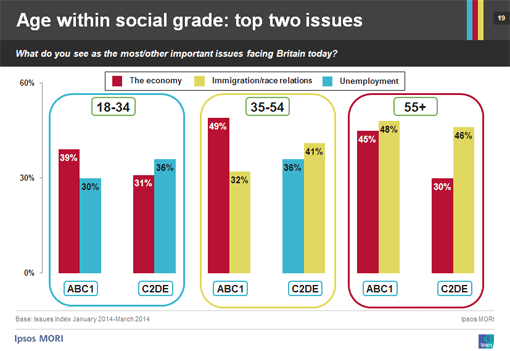 In March, a quarter (26%) mention unemployment as among the most important issues facing Britain, a fall of 3 percentage points and the lowest percentage we have recorded since April 2011. However, it rises to 33% amongst 18-34 year old C2DEs, indeed, for them, it is the most important issue facing Britain.
A similar percentage (24%) mention the NHS, meaning that the top four issues have remained the same for 15 consecutive months.
16% are concerned about poverty/inequality, equalling the highest score we have ever recorded for this issue – indeed, this issue is now the fifth most important issue facing Britain. Those who are most concerned include Labour voters (22%).
Technical note
Ipsos's Issues Index is conducted monthly and provides an overview of the key issues concerning the country. Ipsos interviewed a representative quota sample of 986 adults aged 18+ across Great Britain. The questions are spontaneous - i.e. respondents are not prompted with any answers.  Ipsos's Capibus vehicle was used for this survey. Interviews were conducted face-to-face in-home between 28th Feb –9th March in 162 sampling points across Great Britain. Data are weighted to match the profile of the population.