Experiences of remote appointments: What does 2020 GP Patient Survey data tell us?
Gabriele Zatterin looks at data from the 2020 GP Patient Survey (GPPS) to see what the survey tells us about patients' experiences of remote appointments.
As we near the one-year anniversary of the first national lockdown, it seems society has had to come to terms with interacting with each other virtually due to the social distancing introduced to limit the spread of COVID-19. However, these types of interactions have not suddenly appeared as a result of the virus, and many, like the remote general practice appointments available in England, were already a feature of pre-pandemic life.
Results from the GP Patient Survey conducted prior to the widespread changes to primary care as a result of COVID-19, suggest that patients' experiences of remote appointments were largely positive.
Of the nearly 740,000 respondents surveyed between January and March 2020, one in ten (10.0%) said that the last appointment they made with their GP practice had been remote – by phone or online, such as through video calls. Of these, the majority reported having phone appointments (9.8%) and 0.2% said their last GP appointment had been online.
Looking at the age-split among those who had made remote appointments the last time they booked an appointment, older patients were more likely to have made a phone appointment (12.9% of 85+ year olds, compared with 7.0% of 16-24 year olds). Younger patients, particularly those aged 25-34, were most likely to have made an online appointment (0.4%).
Most patients who last made a face-to-face appointment at their own practice rated the practice as good (86%). However, where patients had other types of appointments, those who had a remote appointment were more positive than those who went to another general practice location (online appointments, 83% good; by telephone, 79%; compared with another general practice location, 76%).
Overall, patients still felt listened to and treated with care and concern when seen remotely. Of those who had a remote appointment, 83% felt they were given enough time, 85% felt they were treated with care and concern, and 86% felt listened to by the healthcare professional.
While seeing their own general practice staff in person remained the preferred choice overall, results from the GP Patient Survey are a promising indication that in the absence of face-to-face contact, patients can feel that their medical needs are properly addressed by a healthcare professional in a remote environment.
The current wave of the GP Patient Survey was launched on January 4 2021, and is currently in field. While undoubtedly more patients will have had remote appointments, the key question is whether their wider roll out will have impacted patient's experience. Given the extraordinary events of the last year, it will be interesting to see how the results from this year's study compare and what this can tell us about the future of remote appointments for patients.
Infographic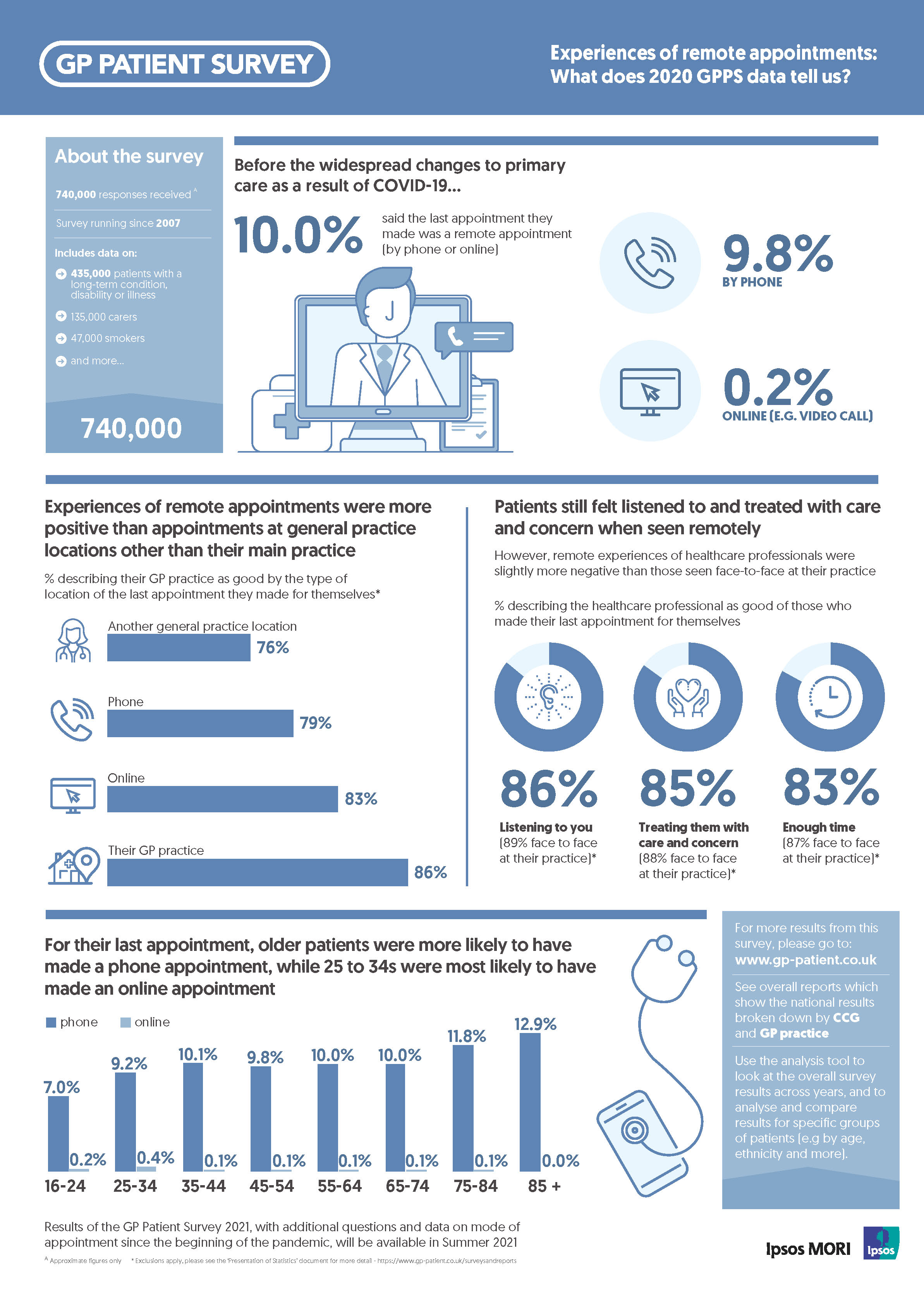 Further analysis
GPPS provides a rich source of information on patient experiences of their GP practice. You can access and analyse the results by going to www.gp-patient.co.uk or email the team.
Technical note
Ipsos administers GPPS on behalf of NHS England. 2,329,590 questionnaires were sent out nationally, and 739,637 were returned completed between 2 January and 6 April 2020. This represents a response rate of 31.7%. Data is weighted to match the profile of the population. Read further technical information about how the survey works here.
For more information about the survey, and to access the data see www.gp-patient.co.uk.