Financial impact of COVID-19 already being felt by Britons, especially younger generations
While many Britons have realised that they need to change their financial habits as a result of the coronavirus outbreak, those under-35 are most likely to have felt the pinch so far.
A new Ipsos online survey of 18-75-year olds finds that overall, almost half of Britons (46%) say they have needed to save more money or spend less as a result of the coronavirus outbreak.  And it is younger people who are most likely to be resorting to accessing new credit, relying on overdrafts, loans from family and friends or using up savings to avoid the financial pinch.
Overall, 16% say they are using up savings, and another 18% are considering it.  But these are much more likely to be younger people – a quarter (25%) of young people say they have already needed to use up their savings, compared with 13% of 35-54s and 11% of 55-75-year olds.  
There is a similar story on overdrafts.  Overall around one in ten say they have done this (11%), but this rises to 18% of 18-34s, compared with 11% of 35-54s and just 3% of those aged 55-75.   And 16% of young people say they have needed to borrow from family or friends, four times more than those aged 35 or older. 
In terms of access to more formal finance, 4% of Britons say they have already taken out a loan in response to COVID-19, but this differs significantly by age. Only 1% of those aged between 35 and 75 have done this already while 1 in 10 (11%) of 18-34s say they have. Similarly, 11% of this age group have accessed a new credit card compared with only 2% of 35-54s and not even 1% of 55-75s.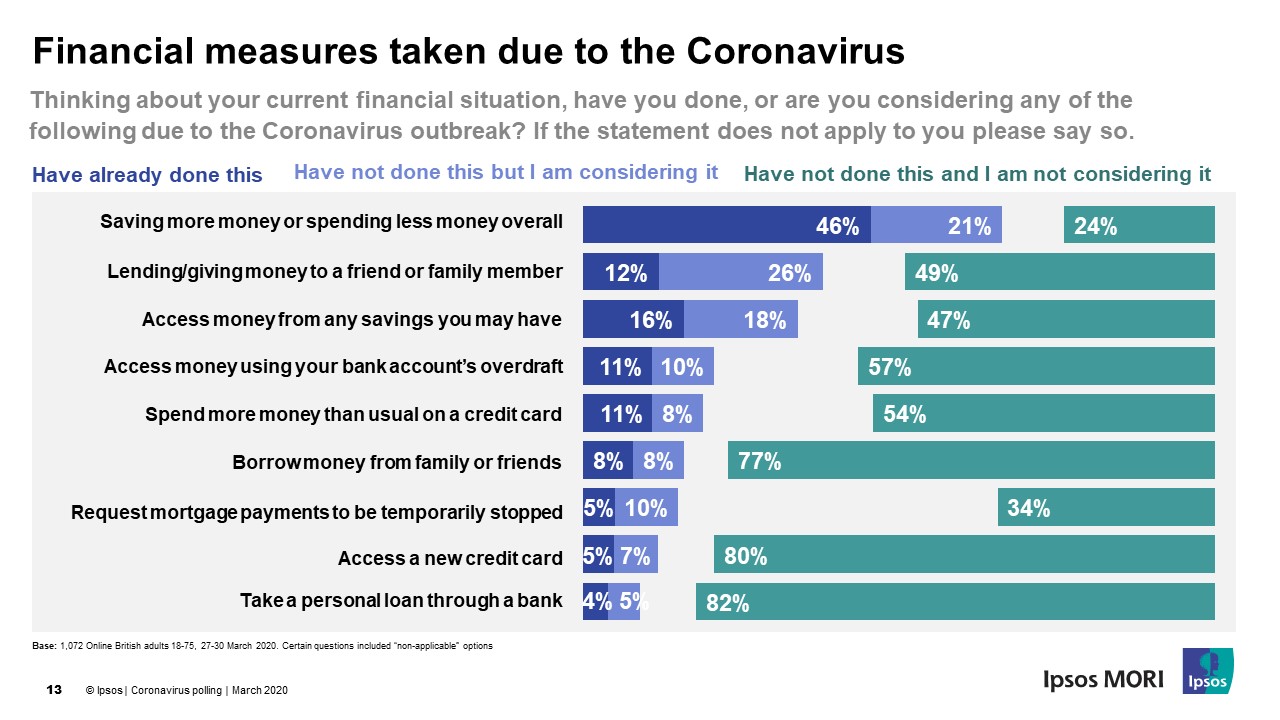 Despite this, 18-34-year olds are also more likely to say they are lending or giving their money to friends and family. Online 8% of Britons overall have done so but almost 1 in 5 (18%) of this younger generation have already done so.  Whilst a quarter (26%) of the youngest age group are considering giving their money away compare to just 14% and 15% of 35-54s and 55-75s respectively. 
Ben Page, CEO Ipsos, says:
Despite significant government financial support for businesses and households, we are still starting to see a considerable increase in the debt burden for UK families and this will surely only get more marked if the epidemic continues for many months .
Technical Note:
Ipsos interviewed a representative sample of 1,072 British adults aged 18-75. Interviews were conducted online: 27th – 30th March 2020.  Data are weighted to match the profile of the population. All polls are subject to a wide range of potential sources of error.
 
Download