Half of Britons expect utilities bills to go up a lot in next 6 months
Many also expect rises in cost of shopping and fuel while 3 in 4 Britons are following stories about cost of living closely
With the current focus on the cost of living, new research by Ipsos shows Britons expect the costs of food shopping, other household shopping, utilities and fuel to increase over the next 6 months. 
Britons are most likely to believe the cost of utilities will increase over the next few months, 75% expect to see price increases, including 49% who expect them to increase a lot. Seven in 10 (70%) believe the cost of their food shopping will go up while just under two-thirds (64%) expect to see an increase in the cost of their other household shopping. Around half believe their motoring fuel costs will go up (52%), while 46% expect to see a rise in the costs of going out socialising.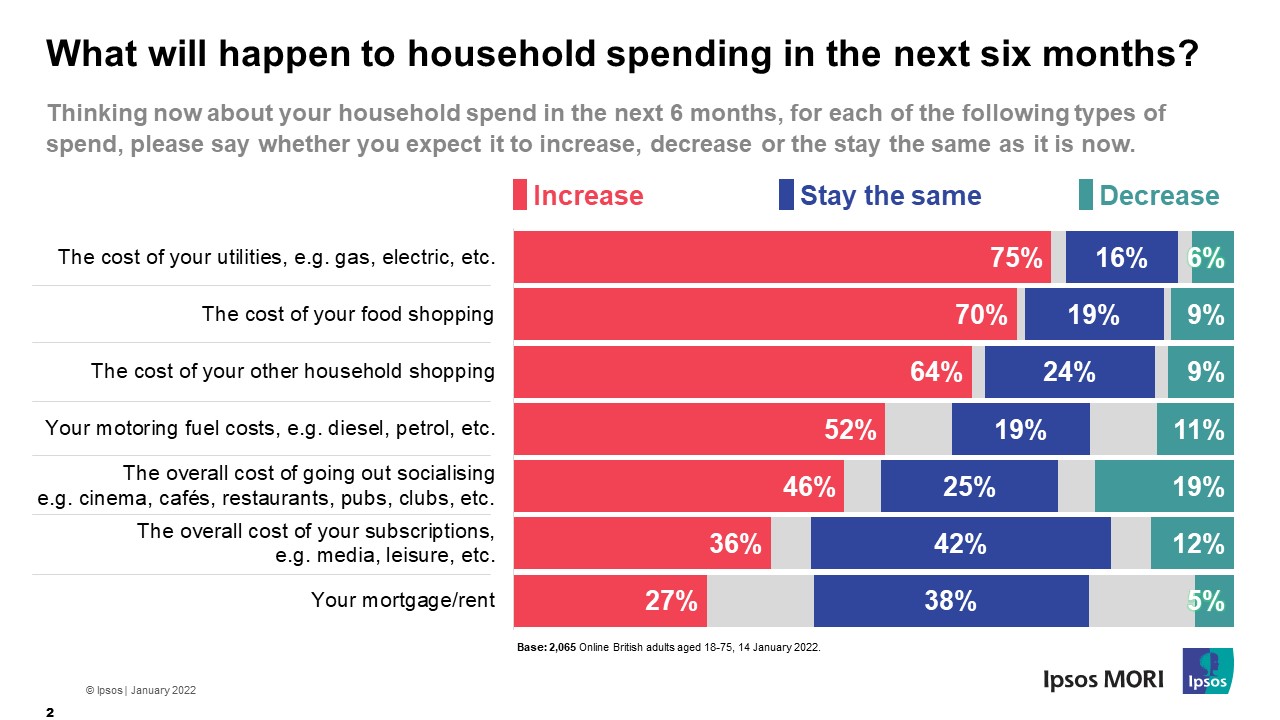 For a number of these, older people are more likely to expect rises in costs.  For example, 68% of 55-75-year olds expect the cost of their utilities to go up a lot, compared with 27% of 16-34 year olds.
Only cost of subscriptions (e.g. media and leisure) and Britons' mortgages/rents are more likely to be expected to stay the same rather than increase. Four in 10 (42%) think their subscription costs will stay at the same level as now (36% think they will rise), while 38% expect their mortgage/rent to remain stable (27% that it will rise). 
How closely are Britons following stories about the cost of living?
Three-quarters (75%, 26% very closely) of Britons say they have been closely following stories about the cost of living in the UK. This increases to 8 in 10 (82%) of those aged 55-75 while only half (53%) of 16-24-year olds say they are paying close attention to the stories.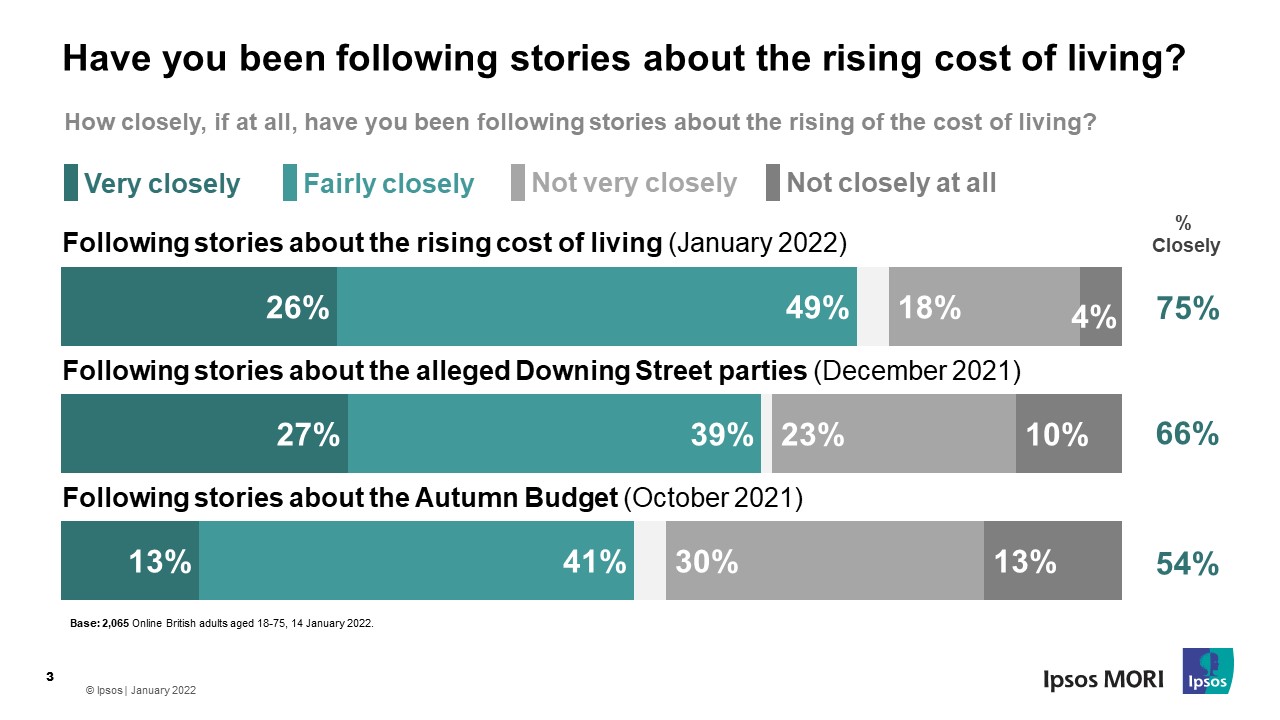 In total, this 75% is higher than the proportion last month who said they were following the story about an alleged Downing Street Christmas Party closely (66%) and higher than those who said they followed news about the Budget in October (54%).
Among those who have been following the stories about the rising cost of living closely, most have seen them on television (69%) while 4 in 10 have read about it in newspapers. Around 3 in 10 have heard about it from friends and family (32%), seen it on social media or listened to it on the radio (both 28%).
Cut costs or save the planet?
While many Britons expect to see the cost of living rise, they are split on cutting household costs or making environmentally friendly choices. Thirty-eight per cent of Britons say it is more important for their household to cut costs than make choices that are better for the environment, but slightly more say both are equally important (43%).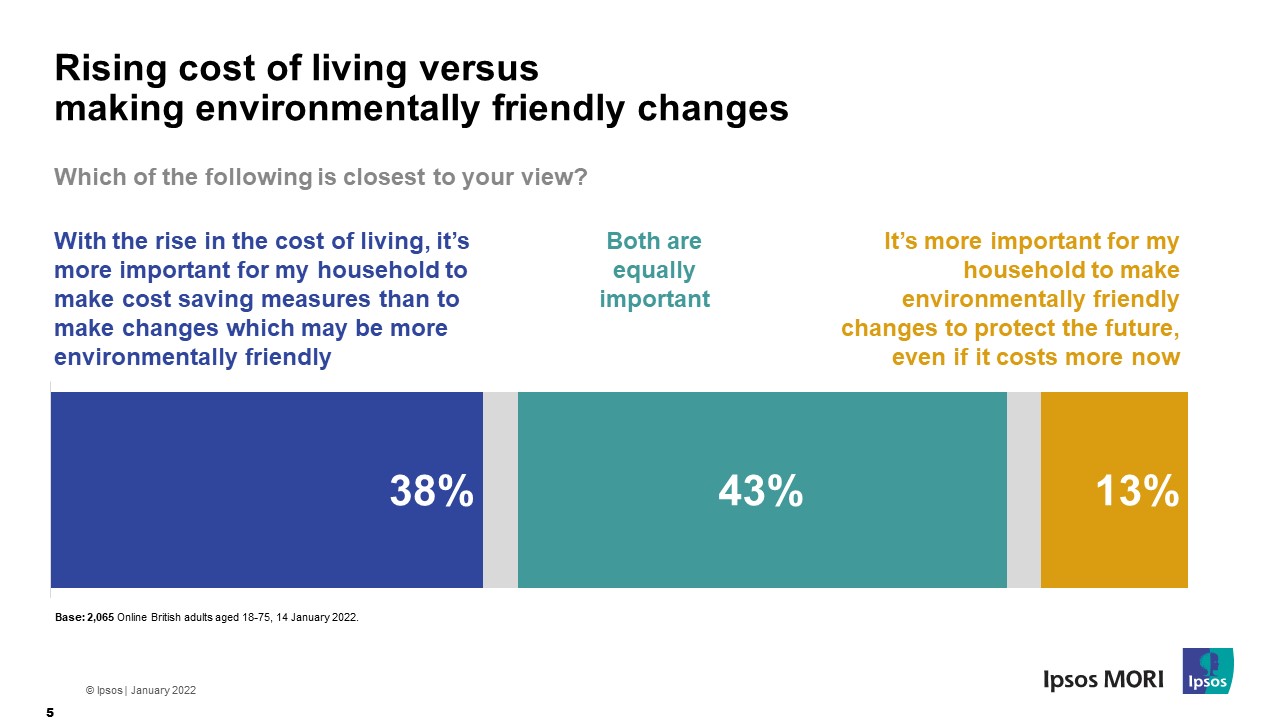 Only 13% say it is more important to make environmentally friendly choices, even if it costs more. Young people are more likely to agree with this (19% of 16-34s vs 8% of 45-75s)., as are those earning more money. Sixteen per cent of those earning £55,000+ each year say we should focus on environmentally friendly changes compared to 9% of those earning up to £19,000. 
Gideon Skinner, Research Director at Ipsos, said:
It's clear the public (and particularly older people) are concerned about rises in the cost of living over the next few months, especially utility bills and food and household shopping.  And this is something they pay attention to, justifying the political focus on the issue at the moment – even more people say they are following stories about rises in the cost of living than last month were following stories about alleged Christmas parties in Downing Street.  Meanwhile Britons are split on the right balance to be struck between saving money and protecting the environment – many think we should strive to do both, but substantial minority do put cost of living savings first at the moment.
Technical note:
Ipsos interviewed a representative sample of 2,009 British adults aged 16-75. Interviews were conducted online on 14 January 2022. Data are weighted to match the profile of the population. All polls are subject to a wide range of potential sources of error.
 
Download