Half of Britons think second lockdown in England will be effective in reducing spread of COVID-19
While half believe this second lockdown in England will be effective in reducing the coronavirus spread, 41% believe it will be ineffective.
A new poll by Ipsos finds half (50%) of Britons think this second lockdown in England will be effective in significantly reducing the spread of the coronavirus, while 41% believe it will be ineffective. These numbers are largely unchanged among just English respondents (50% effective, 42% ineffective). Older Britons have slightly more faith in the measure, 54% of 55-75-year olds believe it will be effective compared to 48% of those aged 18-54.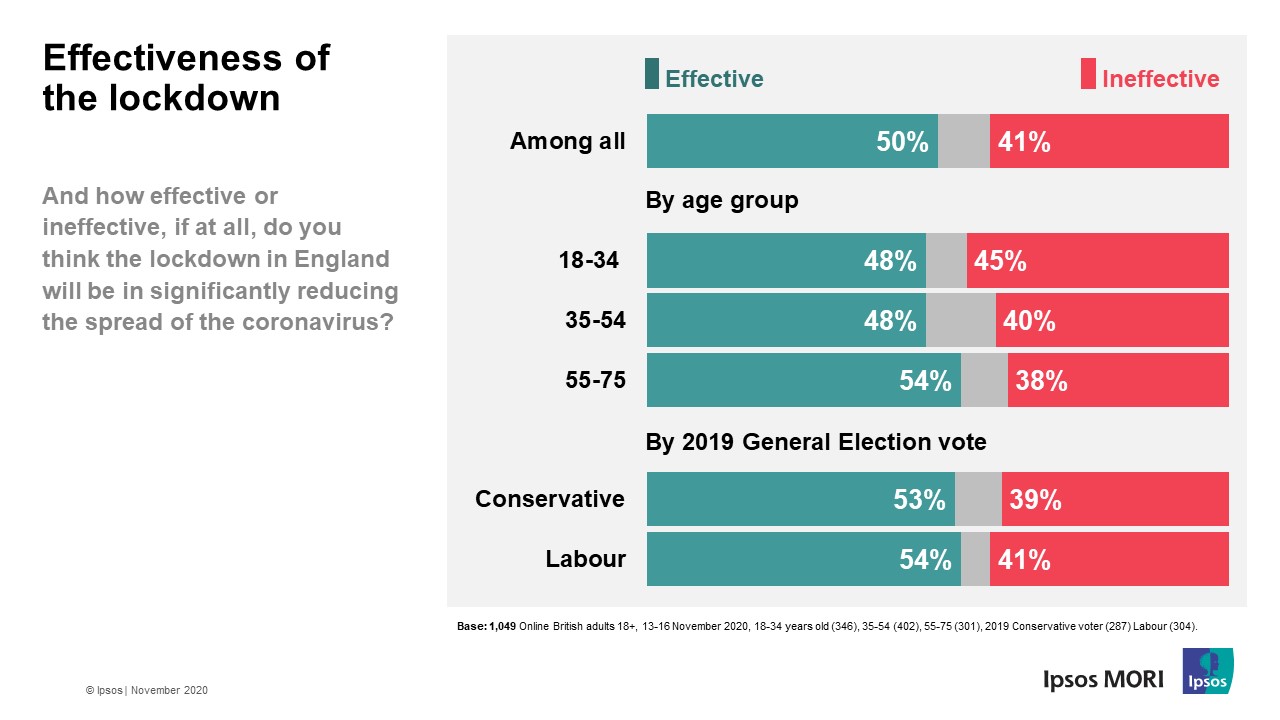 Who's following the rules?
Despite split opinion in the effectiveness of lockdown in England, most are still following government rules where they live. Almost three-quarters (73%) say they are following the restrictions completely or nearly all of the time with a further 21% saying most of/ about half the time. These figures are near unchanged from October 2020.
Britons are less convinced when asked about the behaviour of others. Despite three in four (73%) saying they are abiding by government rules, just one in ten (11%) think all or nearly all other Britons are doing the same. Nearing two in three (63%) believe that most or about half of the British public are following the rules. However, one in four (25%) believe it is less than half, hardly any or none of them, which has increased from fewer than one in five (18%) in May.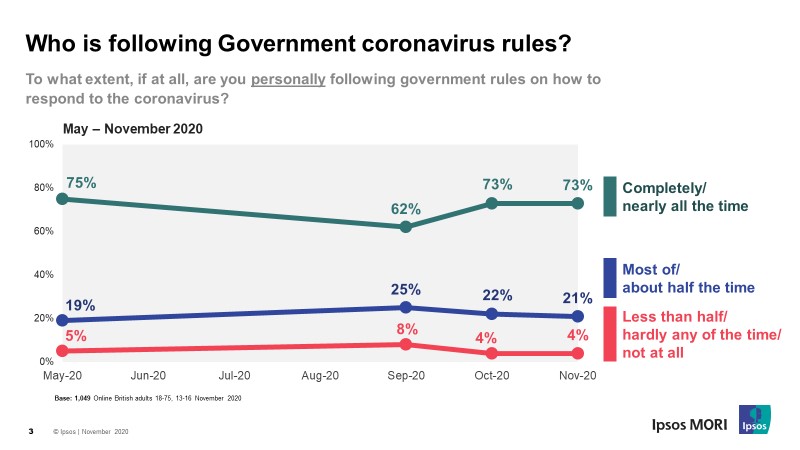 What's acceptable during lockdown?
In line with the government restrictions, nearing nine in ten (86%) in England think it is acceptable to exercise outside their homes, and near-three quarters (73%) agree it's acceptable to meet one person from another household outside. Seven in ten (70%) think it's acceptable to care for an elderly or vulnerable relative, and 62% say the same about buying takeaway drinks from a pub or bar – again both currently allowed within the government guidelines for England.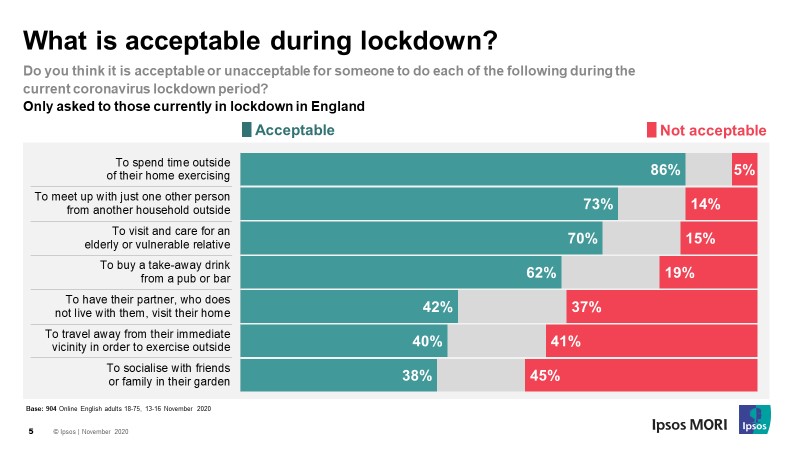 Under current restrictions, travel in order to exercise is allowed, however, Englanders are split over whether this is acceptable as 40% say it is, but another two in five (41%) disagree. Despite the government allowing access to people's homes in order to provide childcare, only over a third (36%) think this is acceptable, while nearing half (45%) say the opposite. Similarly, only a quarter (26%) believe it acceptable to have a cleaner which is also allowed.
While lockdown restrictions say people in England should not have their partner, who does not live with them, visit their home, slightly more say this is acceptable than unacceptable (42% versus 37).
Rules around meeting up with others in England appear to have cut through with the public. Over half of those in England think it is unacceptable to meet between 2-6 people outside (51%) or one other inside (52%). However, a sizeable one in three still think each of these activities is acceptable (35%, 33% respectively). Three-quarters (73%) know that they are not allowed to meet more than 6 people outside.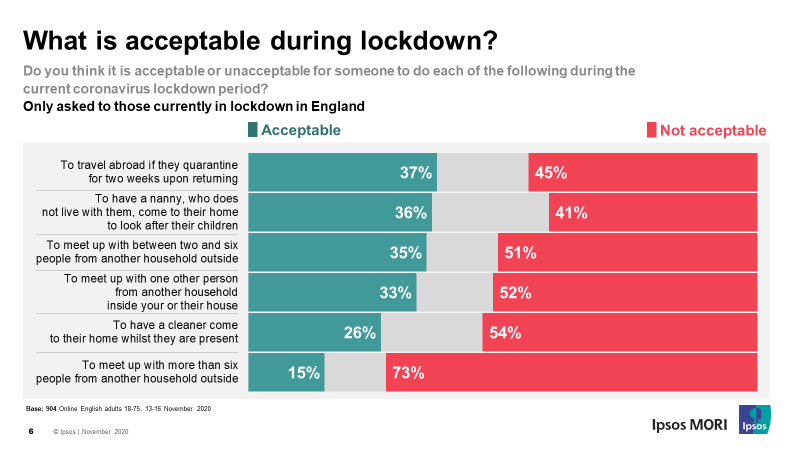 Commenting on the findings, Research Director Keiran Pedley said:
Our data shows the British public are divided over what to expect next when it comes to Coronavirus rules in England and the aftermath. The public are split on the impact the lockdown will have on reducing the spread of the virus and whether life will be back to normal within a year. That being said, the overwhelming majority of Britons still claim to follow the rules, even if they are more sceptical about their fellow Britons and some are inclined to think that rule breaking is acceptable in certain circumstances.
Technical note:
Ipsos interviewed a representative sample of 1,049 British adults aged 18-75; 904 of these lived in England. Interviews were conducted online from 13-16 November 2020. Data are weighted to match the profile of the population. All polls are subject to a wide range of potential sources of error.