Half of Britons would support NHS workers if they decide to strike
Support is weaker for other professions striking such as barristers, traffic wardens and civil servants
New research from Ipsos, undertaken Wednesday 22nd and Thursday 23rd June last week, examines public support for different professions going on strike if they decide to do so.
50% of Britons support NHS workers such as nurses going on strike if they decide to do so, 30% oppose.
The public are also slightly more likely to support than oppose teachers if they decide to strike, although opinion is fairly split with a third opposing. Britons are also divided on how they would feel if refuse collectors/street cleaners and postal workers decided to strike.
However, Britons are more likely to oppose than support strikes by check-in and ground staff at airports, civil servants, traffic wardens and barristers working on criminal cases. Note the poll was taken before barristers began strike action this week.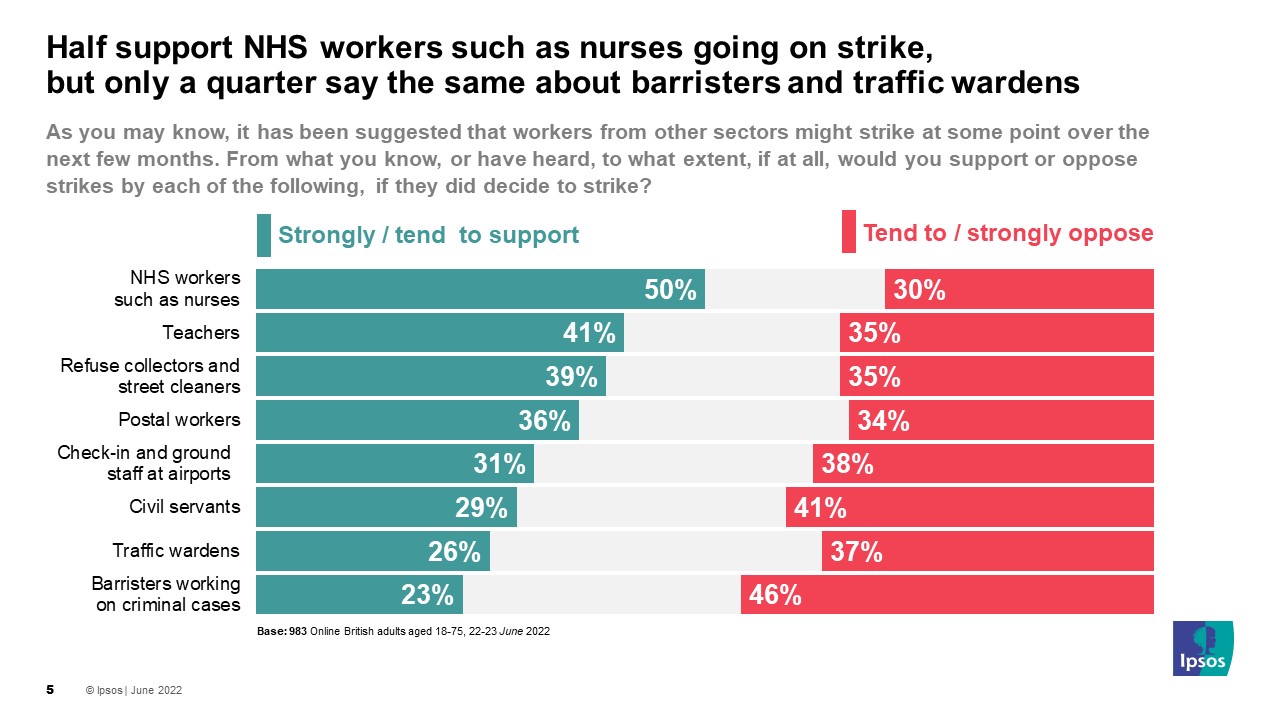 Meanwhile, no change in support for last week's rail strikes was observed as the strikes progressed. At the beginning of the week 35% supported the strikes and 35% opposed and at the end of the week 35% supported and 36% opposed.
Younger people aged 18-34 are more likely to support (46%) than oppose (24%). Older people aged 55-75 are more likely to oppose (44%) than support (32%).
62% of Conservative voters from 2019 oppose the rail strikes. 18% support.
61% of Labour voters from 2019 support the rail strikes. 13% oppose.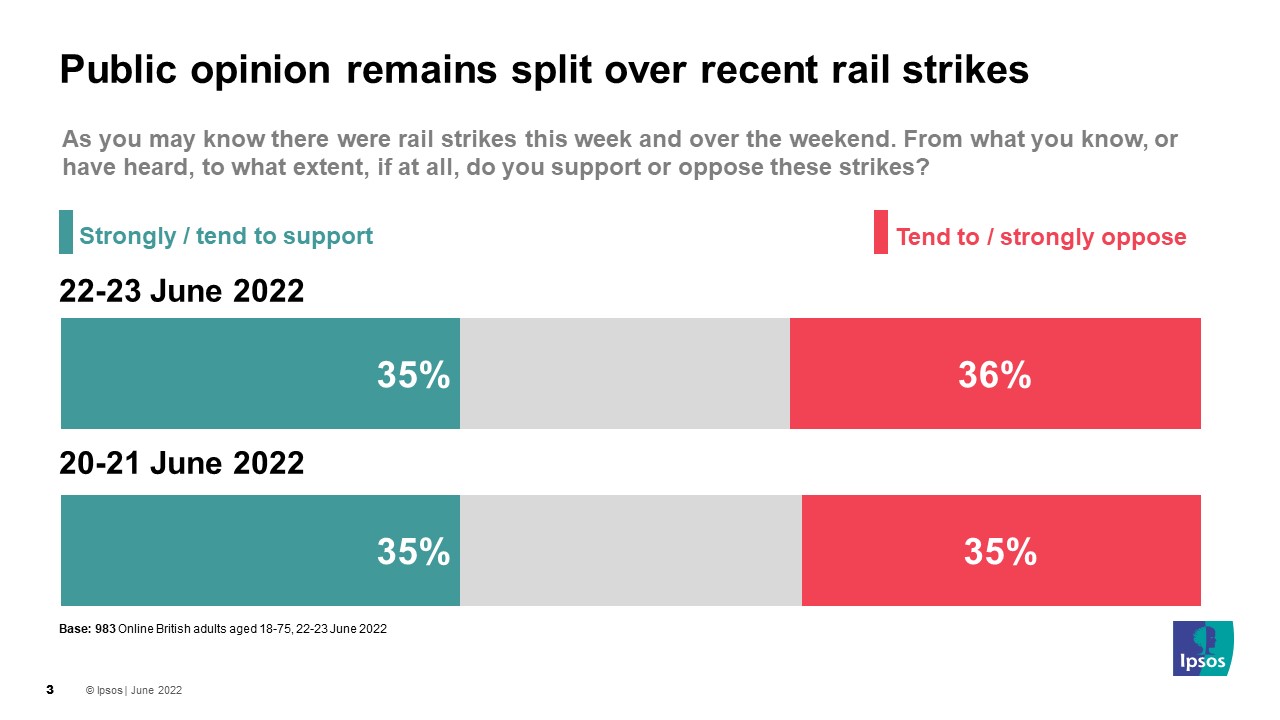 Elsewhere in the poll, Ipsos asked how closely the public were following different news stories. The rising cost of living continues to be the most closely followed story (86% following closely) followed by the Russian invasion of Ukraine (68%). 6 in 10 (60%) were following the rail strikes closely and stories about possible future strikes (56%), similar to those following stories about the Government's plans for asylum seekers.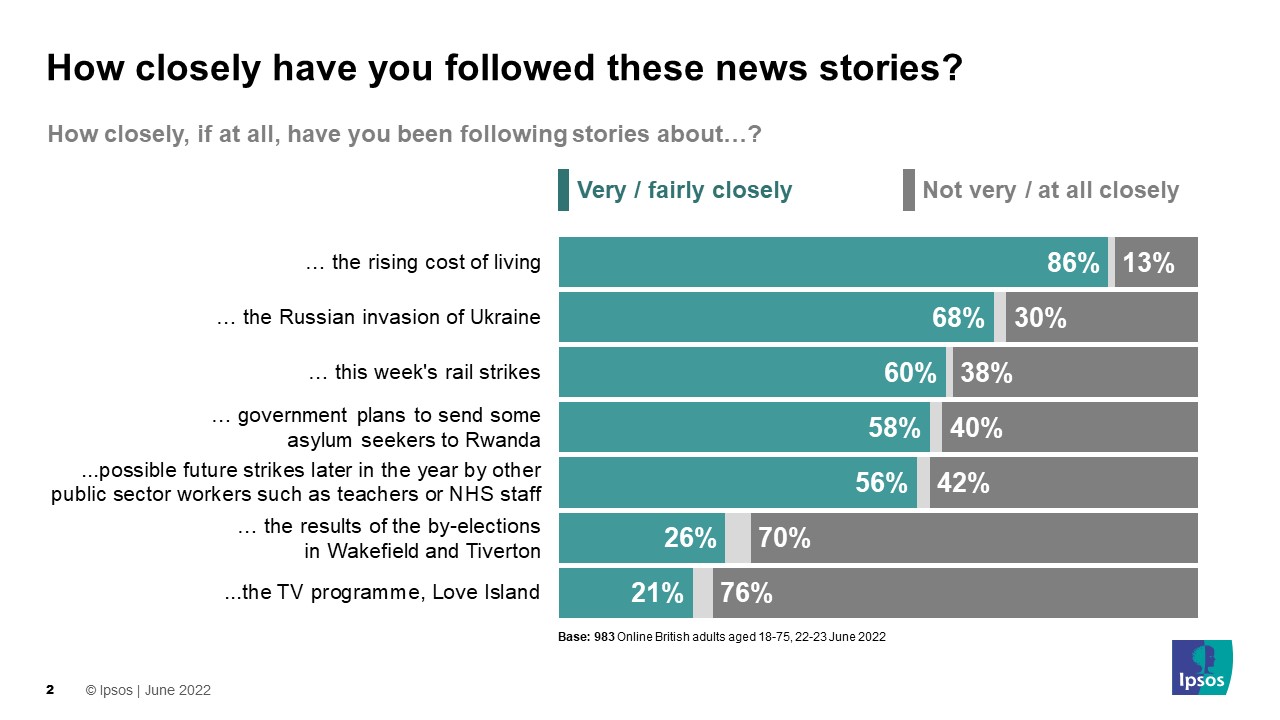 Keiran Pedley, Director of Politics at Ipsos, said:
Following on from last week's rail strikes, the potential for further strike action from different professions looms. This data shows public sympathy varies depending on the types of workers striking. NHS workers are most well supported, followed by teachers, but others less so, suggesting that not all strike action will be viewed equally in the court of public opinion.
Technical note: 
Ipsos UK interviewed a representative quota sample of 983 adults aged 18-75 in Great Britain. Interviews took place online using the Ipsos.Digital platform between 22nd and 23rd  June 2022. Data has been weighted to the known offline population proportions. All polls are subject to a wide range of potential sources of error.
 
Download