Half of mothers say they have taken on more childcare responsibilities than their partners during lockdown, compared to around a quarter of fathers
Only a quarter of fathers say they've taken on more childcare responsibilities, compared to half of women
New research from Ipsos finds half (49%) of mothers say they have taken on more childcare responsibilities during lockdown, while only 23% of fathers say the same. Instead, fathers are significantly more likely to say they are sharing childcare responsibilities with their partner; 43% say this compared to only 20% of mothers. A further quarter of fathers (25%) admit their partner is playing a bigger role, only 12% of mums say this is the case.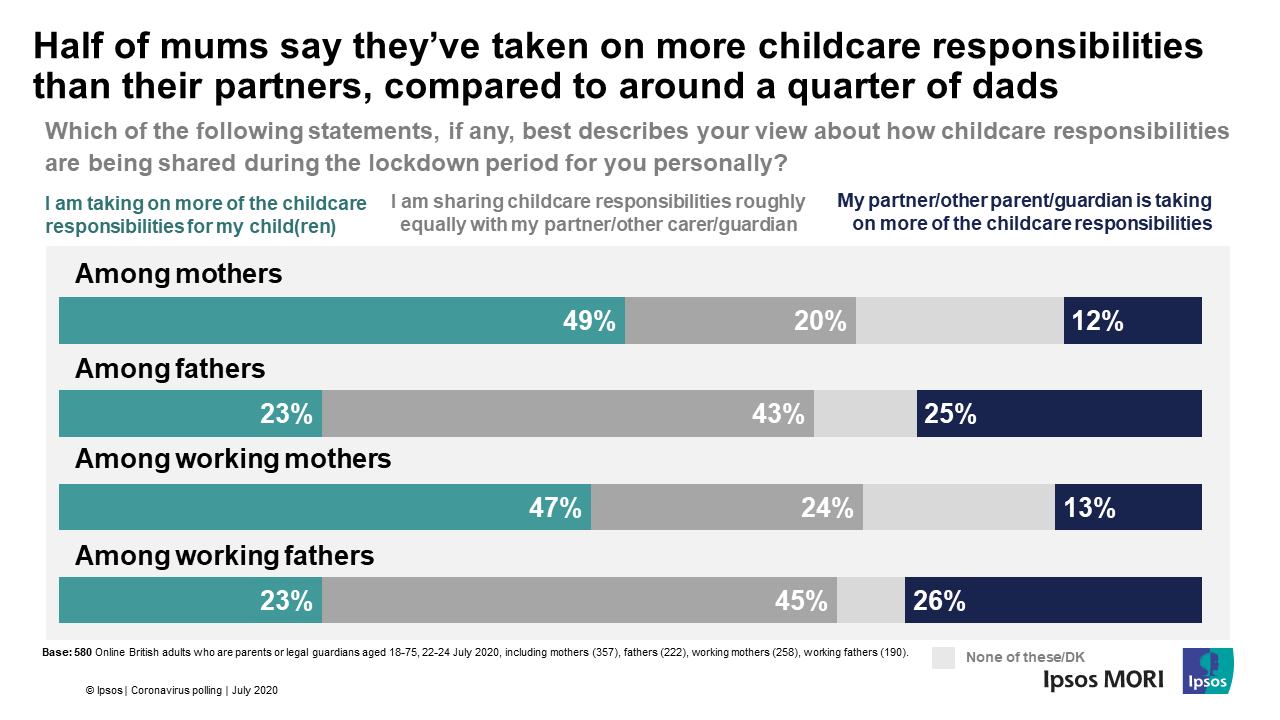 When looking at Britain overall, almost 3 in 10 Britons (28%) believe women have been taking on more of the childcare responsibilities during lockdown. This increases to nearly 4 in 10 (38%) among women, while only 18% of men think this is the case. Half of men (50%) believe that women and men are sharing childcare responsibilities, while just over a third (36%) of women feel this to be the case. 
Attitudes are increasingly unanimous in support for stay-at-home dads and this has gone up since last year. In January 2019, 81% of Britons disagreed that a man who stays home to look after his children is less of a man, this has gone up to 90% now.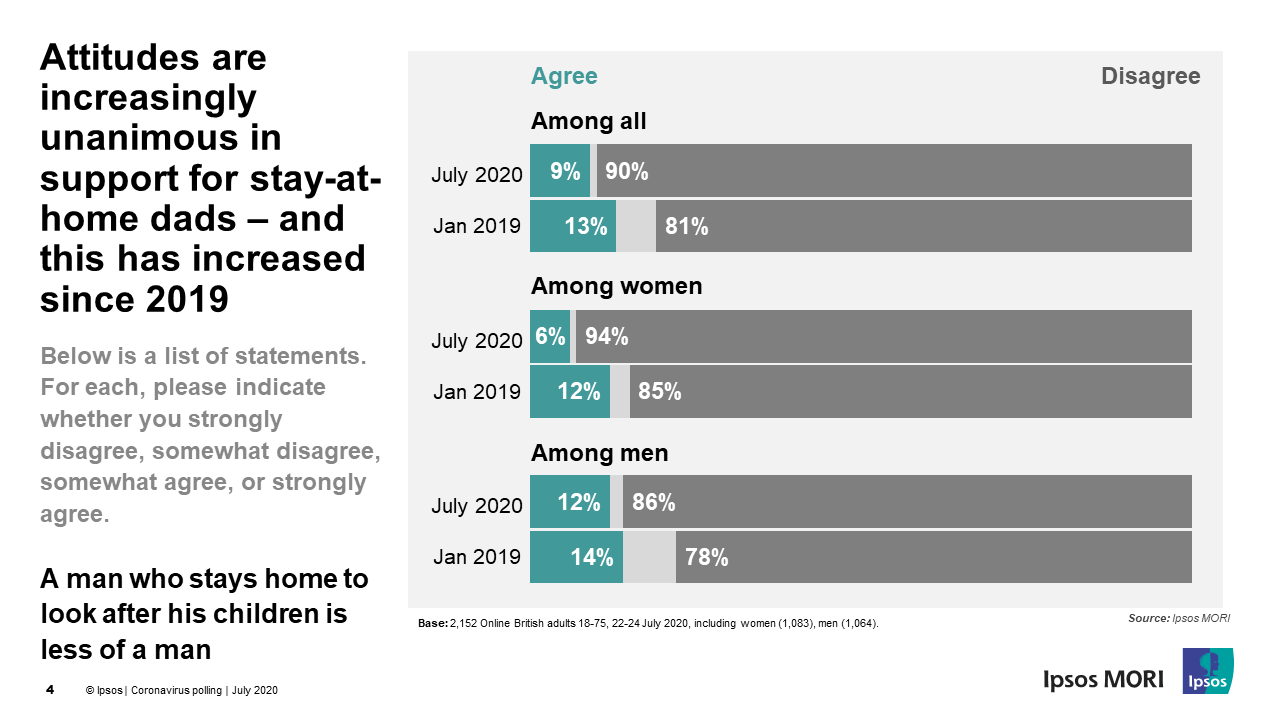 During the coronavirus crisis, parents have felt more supported by education providers and their employers than they have by the Government. Around half of parents rate the support given by schools and nurseries (53%) and their employers (50%) as good.
However, just three in ten (32%) say that support from the Government has been good, and just over a third (35%) say it has been poor. 
Since lockdown, there has been a drop in those saying childcare and family responsibilities are more likely to damage a woman's career than that of a man. In February this year, almost half of the public (47%) said having childcare responsibilities during the day would cause more harm to a woman's job, this has fallen 11 points to 36%. Prioritising family over work is also now seen to be less damaging to a woman's career, falling seven points from 36% in February to 29% now. Over a quarter (27%) said working part-time would be more damaging to a woman's career than a man's in February, now only 21% say the same. 
Kully Kaur-Ballagan, Research Director at Ipsos said:
These findings show that while we think childcare is no longer just the preserve of women, it's still the case that during lockdown mothers are much more likely to feel they are taking on more of the childcare responsibilities than their male partners.
In some ways lockdown has had a positive impact on how we view working mothers; fewer people now think taking on childcare responsibilities or working part time will harm a woman's career than a man's than in February this year.  However, the disproportionate negative impact it has on women remains.
Technical details 
Ipsos interviewed a sample of 2,152 adults aged 18-75 in Great Britain using its online i:omnibus between 22nd and 24th July 2020. The sample included 449 people who are parents or guardians in work (190 male, 258 female).  Data has been weighted to the known offline population proportions for age, working status and social grade within gender, government office region and education.  All polls are subject to a wide range of potential sources of error.