Immigration one of the biggest issues for wavering EU referendum voters
Immigration is one of the key issues which will affect how people vote in the upcoming EU referendum, along with the effect on the economy and Britain's sovereignty, a new Ipsos study published today finds.
Immigration is one of the key issues which will affect how people vote in the upcoming EU referendum, along with the effect on the economy and Britain's sovereignty, a new Ipsos study published today finds.
The survey of c.4,000 British adults is the latest in a unique longitudinal study which looks to track how individuals' views on immigration change over time. The latest survey finds that:
Over half believe the Government should have total control over immigration even if it means coming out of EU
More than half overall (55%) and one in five remain voters (20%) say that they think the government should have control over who comes into Britain even if this means having to leave the EU. For leave voters the figure is 95% and for those yet to make up their minds the figure is 63%.
That said, 20% of leave voters think that if Britain does vote to leave, the government should allow EU citizens to live and work in Britain in return for access to the single market (overall, 42% believe this).
Immigration will be a big factor in how people decide to vote in the EU referendum, particularly for leavers and for undecided voters
Almost half (48%) say that the number of EU immigrants coming into the UK will be important to them when they vote in the EU referendum, and this rises to 72% of those who say they'll vote to leave and 55% among those who may change their minds.
However, when asked what will be important to how others will vote, immigration is seen as equally as important as the economy (24% each).
The economy is still the top issue overall, with 57% saying it will be very important in helping them to decide how to vote in the referendum, and Britain's ability to make its own laws is also mentioned by half of respondents (50%).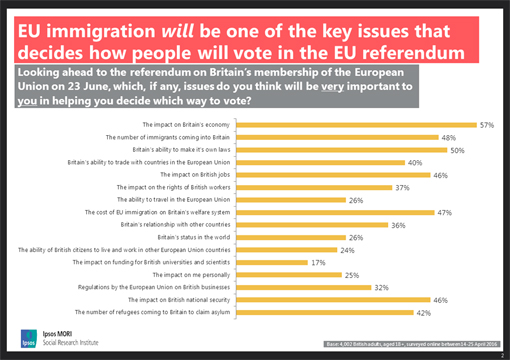 The majority (66%) think that EU immigration would decrease post-Brexit
Two-thirds (66%) believe that EU immigration to the UK will decrease if Britain leaves the EU (69% of leavers believe this and 71% of those who are unsure of which way to vote).
However, there is no clear agreement on whether the government's net migration target of tens of thousands of people a year can be achieved even if Brexit is the outcome of June's vote (44% agree it can be, 22% disagree and 35% are neutral).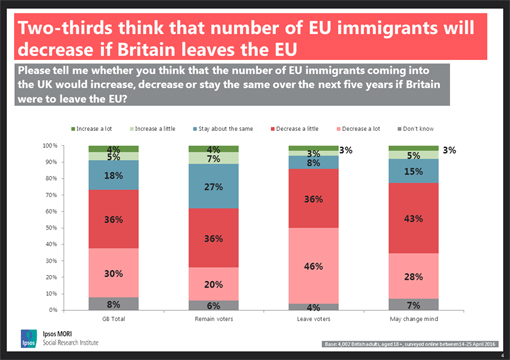 But telling people that immigration levels will increase or decrease has little impact on changing views outright but remain voters are more likely to waver
In the survey we prompted people with a series of scenarios about how EU immigration numbers might change. These scenarios had little impact in changing people's minds outright.
So for leavers, despite suggesting numbers may decrease with new restrictions if Britain stayed in the EU, their views remained relatively stable and only six per cent said they would switch their vote to remain whereas a quarter (24%) became unsure about which way to vote.
Remain voters, however, are a less stable group and one in ten (10%) switched their position to vote leave as immigration numbers increased but over four in ten (44%) became unsure about which way to vote.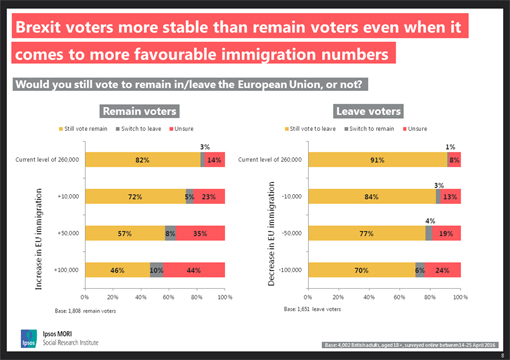 With an increased focused on the debate on immigration and the EU, more people now think that we're getting the conversation about right
Over the last year, there has been a move in the number of people saying are now discussing immigration about the right amount, 31% now think this compared with 28% a year ago.
However, we are still fairly split on the issue with 36% saying the issue has been discussed too little over recent months and a quarter (25% saying we're discussing it too much).
But the issue of EU immigration is unlikely to be resolved once the referendum is concluded
Even if Britain remains in the EU, around two-thirds (68%) think that Britain should continue to campaign for greater controls on the number of EU citizens coming to Britain.
Six in ten people (62%) think the number of immigrants coming to the UK should be reduced either a little or a lot, including 40% of remain voters and these figures have barely changed since a year ago.
Similarly, satisfaction with how the government is dealing with the issue remains low (9% satisfied vs 62% dissatisfied) and virtually unchanged since last year.
Kully Kaur-Ballagan, Head of Race, Faith & Cohesion research at Ipsos, said:
"Immigration remains a key issue in the public's mind and will be one of the central issues that decide how people vote on 23rd June. It will be particularly important for those yet to decide which way to vote. This suggests that both campaigns will need to address the issue if they are to win over undecided voters. The survey also shows that immigration is more likely to have an impact on those voting to remain than those voting to leave; the latter group have fairly stable views on immigration whereas the former are more prone to change or uncertainty. Regardless of what happens in the EU referendum, it is unlikely that the issue of immigration will die down. The public still have a desire to see greater immigration controls and would want to see continued focus on restricting immigration."
Technical note
Ipsos interviewed a representative sample of 4,002 British online adults aged 18+ between 14 -25 April 2016, with funding from Unbound Philanthropy. Interviews were conducted on Ipsos' online panel and results have been weighted by demographic factors to represent the British population.