Increases in awareness of Government's 'Levelling up' strategy – but still shallow, and public wants to know more
Awareness has increased but many remain uninformed on the Government's plans for levelling up
Ipsos's KnowledgePanel has found that between March and July 2021, Britons' awareness of the Government's Levelling Up strategy increased.  Those knowing at least a little about it rose by 8 points from 48% to 56%, with an equivalent fall in those who know or heard nothing about it These increases were seen across all regions except the West Midlands, particularly the North East .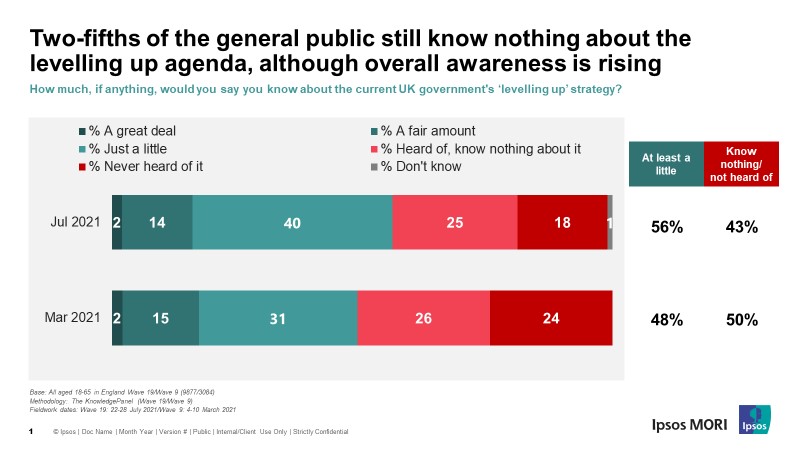 The increase in awareness, however, is among those who know just a little rather than having a deeper understanding, and so this is still complemented by a strong view that it should be a Government priority to provide more information to the general public about levelling up, with 86% supporting that idea, while only 9% of Britons believe it is clear what levelling up means in practice for their local area. The region with the best sense of understanding of what levelling up means for their area is the North East, although still only 17%.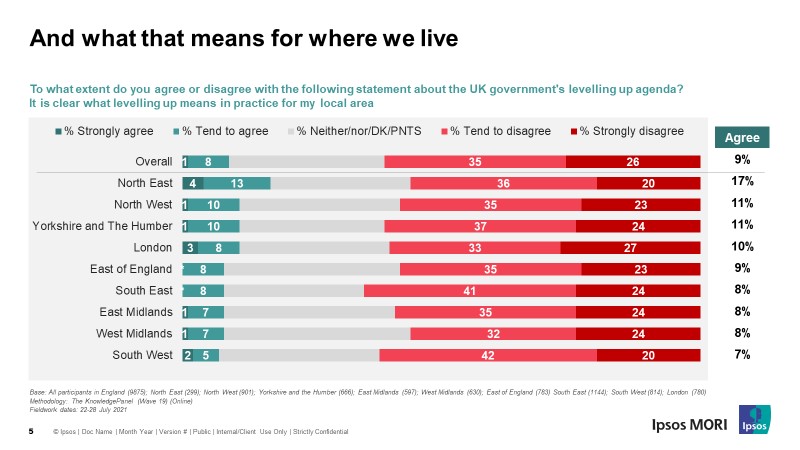 Britons in the North East are also most likely to expect the levelling up agenda to have the biggest impact on their local area (30%), with those in the South East most pessimistic (40% do not think it will have much effect).  Overall, expectations are muted: one in seven (14%) think levelling-up will bring significant impacts, but twice as many (32%) disagree – with even more (38%) sitting on the fence and still to be persuaded one way or the other.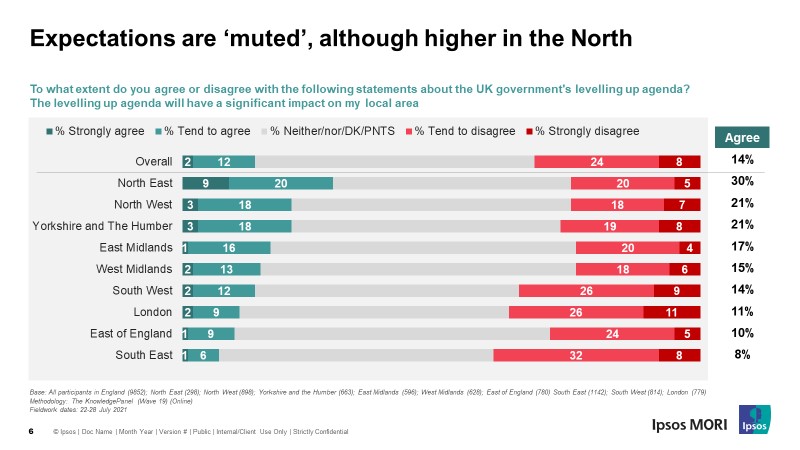 Kelly Beaver, Managing Director of Public Affairs commented:
It is clear that as Michael Gove comes into a new expanded role looking at levelling up there is still work to do to help the public feel informed about what it means both in general and for their local area in practice. While awareness is increasing (including some signs that the North East is particularly positive), there is still a way to go before levelling up is fully understood by the public and, just as importantly, that they are convinced it will deliver improvements for them.
Technical note
Ipsos interviewed online a representative sample of 9,877 adults aged 16+ across UK between 22 and 28 July 2021.
Survey data has been collected by Ipsos's UK KnowledgePanel, an online random probability panel which provides gold standard insights into the UK population, by providing bigger sample sizes via the most rigorous research methods. Data are weighted by age, gender, region, Index of Multiple Deprivation quintile, education, ethnicity and number of adults in the household in order to reflect the profile of the population of UK. All polls are subject to a wide range of potential sources of error.  
 
Download