Ipsos Political Monitor June 2012
The Ipsos Political Monitor shows continued loss of public confidence in their economic outlook and in George Osborne as Chancellor.
George Osborne falls behind Ed Balls as most capable Chancellor for first time
Around half dislike Osborne and his policies
Economic Optimism continues to fall
Conservatives' lowest standing since September 2007
CON 31 (-2); LAB 40 (-3); LIB DEM 10 (+1) 
The Ipsos Political Monitor shows continued loss of public confidence in their economic outlook and in George Osborne as Chancellor.
Prior to his Budget statement in the House of Commons, George Osborne and Ed Balls were neck-and-neck in the public's eyes, but now 29% say they think Mr Osborne would make the most capable Chancellor compared to 37% who prefer Mr Balls. This gives the Shadow Chancellor a lead of 8 points. However, this lead comes more at the expense of Mr Osborne rather than significant gains by Mr Balls. Since March, Mr Osborne is down 7 points while people saying "neither" is up 7 points.
When asked whether they like Mr Osborne and/or his policies, just under half of the British public say they do not like George Osborne (47%) compared to around a third (36%) who say they do like him. 54% say they do not like Mr Osborne's policies while only three in ten (29%) say they do like his policies. As expected there are significant differences by party support: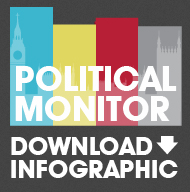 58% of Conservative supporters like him,  31% don't like him;
31% of Labour supporters like him, 57% do not;
35% of Liberal Democrats like him, 47% so not.
His policies meanwhile are liked by 62% of Conservatives, 15% of Labour and 38% of Liberal Democrat supporters.    
Though it is not a direct comparison pitting a Chancellor against a party leader (and Prime Minister), going back to when John Major was in power, Mr Osborne is less liked than Mr Major was (around half said they liked John Major during that time), but John Major's policies were more unpopular then (around two in three said they didn't like Major's policies). In April 2010, just weeks before the General Election, Gordon Brown was more liked than Mr Osborne is now (45% said they liked Mr Brown, 36% say they like Mr Osborne) and around half (48%) liked David Cameron. Mr Osborne's policies are also less liked than those of Mr Brown and Mr Cameron in April 2010 (37% and 38% respectively). However, Mr Osborne is not the least liked Conservative politician Ipsos has recorded. In February 2000 just one in five (19%) said they liked Michael Portillo while around the same proportion (18%) said they liked William Hague in June of 1997.
Economic optimism has fallen to its worst since January 2012. Half (50%) of British adults now think the economy will get worse in the next 12 months compared to just 18% that think it will improve. This gives an Economic Optimism Index of -32.
The poll also shows Labour holding a 9 point lead over the Conservatives among those that say they are certain to vote at the next general election, with 40% saying they would vote for Labour, 31% for the Conservatives and 10% for the Liberal Democrats. This is little changed from the 10-point Labour lead in May, but support for minor parties is up slightly at the expense of both major parties. It remains to be seen if this is a long term trend.
Approval ratings for the government and the three party leaders have not moved significantly in the last month but seem to confirm the trends since the beginning of the year.
A third (34%) of British adults are satisfied with the way David Cameron he is doing his job as Prime Minister while 58% are dissatisfied. Mr Cameron started the year with 46% satisfied and 47% dissatisfied with his performance.
Ed Miliband's satisfaction ratings have improved since the start of 2012. While the percentage of those satisfied with his performance has remained stable over the last four months (35% are satisfied), there has been a decline in those who are dissatisfied (48% now compared to 56% in January 2012).
A quarter (26%) are satisfied with the way Nick Clegg is doing his job as Deputy Prime Minister and around 63% dissatisfied, a decline from 32% satisfied and 55% dissatisfied in January 2012.
Satisfaction with the government has also been fairly stable over the last three months, 28% are satisfied with the way the government is running the country and 66% are dissatisfied. This compares with a peak of 40% satisfied in January.
Gideon Skinner, head of political research at Ipsos, said:
"As economic pessimism is on the up, George Osborne's reputation is suffering.  But the biggest rise is among those who think neither of the main parties has the answer."
Ipsos interviewed a representative sample of 1,016 adults aged 18+ across Great Britain. Interviews were conducted by telephone 9-11 June 2012.  Data are weighted to match the profile of the population.