Ipsos Political Monitor June 2014
Ipsos's Political Monitor for June shows just a quarter think Ed Miliband is ready to be Prime Minister, while the Conservatives are considered to be the most united on policy and the best team of leaders - but Labour retain a slight poll lead.
Most who want a change in leader do not know who they would prefer as an alternative
CON 31 (nc); LAB 34 (nc); LIB DEM 8 (-1); UKIP 14 (+3)
Half of Britons would like to see Labour change their leader before next year's general election, according to this month's Ipsos Political Monitor. Asked whether each of Britain's three main political parties should change their leader before the general election, 49% agree that Labour should, with 30% disagreeing. This is slightly more than for the Liberal Democrats, with 44% saying they should change from Nick Clegg and 28% disagreeing, while 27% think the Conservatives should change leader, with 47% disagreeing.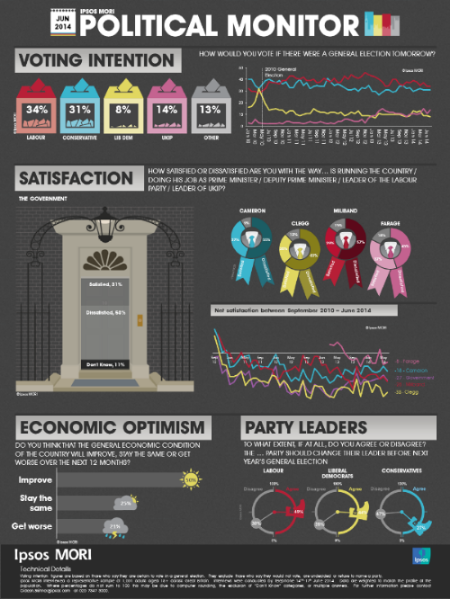 Labour supporters are slightly less likely to say their party should change leader, with 43% saying they should and 47% disagreeing. Liberal Democrats and the Conservatives are less likely to back a change, with 30% and 10% respectively saying their party should change leaders.
Appetite for a change in leadership appears to come more from general dissatisfaction than with a specific alternative in mind, however; over half of those desiring a change of leader for each party do not know who they would want instead (54% for Labour, 59% for the Liberal Democrats and 62% for the Conservatives). Asked unprompted, the most mentioned alternative for Labour is David Miliband on 15%, with frontbenchers Ed Balls and Yvette Cooper behind on 3%. For the Liberal Democrats the leading alternative is Vince Cable on 16%, ahead of Danny Alexander on 2%; for the Conservatives Theresa May is mentioned by 5%, with of Boris Johnson and William Hague both on 4%.
Ed Miliband is also not yet seen as being ready to be Prime Minister by the majority of Britons. Just under a quarter (22%) think the Labour leader is ready for premiership, with 65% disagreeing, showing little change from when last asked in April 2013. On the other hand, an increasing number think Labour as a whole is ready to form the next government, though the majority still disagree; 35% now think Labour are ready for government, with 52% disagreeing, compared with 29% agreeing and 58% disagreeing last year.
The Conservatives lead Labour in being seen as having the best team of leaders to deal with the countries problems (34% to 23%, with UKIP on 5% and the Liberal Democrats on 2%) and as the most clear and united about what its policies should be (27% to 17%). Labour are slightly behind UKIP in terms of clarity and unity on policies (Labour on 17% to UKIP's 19%, with the Liberal Democrats on 3%).
Voting intention has shown little change from last month, with Labour and the Conservatives unchanged on 34% and 31% respectively. After the European elections, UKIP are up three percentage points to 14%, with the Liberal Democrats down one percentage point on 8%.
Economic optimism is down slightly on last month's record score, but is still high, with 50% expecting the general economic condition of the country to improve, 25% expecting it to stay the same and 21% expecting it to get worse, giving an Ipsos Economic Optimism Index score (% improve minus % get worse) of +29.
Satisfaction ratings for the main party leaders and government have remained broadly stable since last month, with slight falls for Mr Cameron and Mr Miliband, and small increases for Mr Clegg and Mr Farage:
Satisfaction in David Cameron is at 37%, with 55% dissatisfied, giving him a net rating (% satisfied minus % dissatisfied) of -18.

One in four (25%) are satisfied with Nick Clegg's performance as Deputy Prime Minister, with 63% dissatisfied.
Ed Miliband has a net rating of -28, with 29% satisfied and 57% dissatisfied.
Satisfaction in Nigel Farage is at 37%, with 45% dissatisfied, giving him a net rating of -8.
Net satisfaction in the performance of the government is at -27, with 31% satisfied and 58% dissatisfied.
Gideon Skinner, Head of Political Research at Ipsos said:
"All the leaders have been facing questions about their leadership, but in the eyes of the public it is Ed Miliband and Nick Clegg who have most to worry about. But there is no obvious alternative in the public's mind, which could help them - most of those who want a change say 'don't know' when we ask them who they would prefer."
Downloads:
Technical note:
Ipsos interviewed a representative sample of 1,001 adults aged 18+ across Great Britain. Interviews were conducted by telephone 14th – 17th June 2014.  Data are weighted to match the profile of the population.