Issues Index April 2022: Concern about inflation hits its highest level in over 30 years
The April 2022 Ipsos Issues Index shows public concern about inflation and prices continues to rise.
Inflation and prices are the biggest concern for Britons this month: a third mention it as an issue, the highest recorded level since 1990
Concern about the economy more broadly sits second, up seven points since February
Concern about defence and foreign affairs almost halves but remains the third biggest issue
COVID-19 is the tenth biggest issue, mentioned by just one in ten
The April 2022 Ipsos Issues Index shows public concern about inflation and prices continues to rise.
This month 32 per cent mention this as an important issue, an increase of eleven percentage points since March. It is now seen as the biggest issue facing the country, on its highest score since August 1990. Concern about the economy has also risen by seven points since last month and is mentioned by three in ten Britons.
Concern about foreign affairs and defence has fallen significantly compared with last month, with 19 per cent seeing it as a concern versus 35 per cent in March. However it remains the third most mentioned issue facing the country.
Just over one in ten (12%) mention a lack of faith in politicians and politics, similar to the level recorded in March. Fieldwork for this wave was from 6 – 12 April, before the announcement that Prime Minister Boris Johnson had received a penalty notice for breaking COVID-19 regulations during the lockdowns.
Concern about COVID-19 and the pandemic has continued to fall. Just nine per cent of the British public see it as an important issue for Britain this month, down from 16% in March – and 85% in the April 2020 Issues Index. This is a new lowest score in the post-pandemic period: in February 2020 before the pandemic hit, five per cent mentioned pandemic diseases as a big concern.
Inflation is a leading issue for many different types of people: the level of concern is even across men and women (31% and 33% respectively) as well as by political affiliation (38% for Conservative supporters and 39% for Labour).
However supporters of the political parties have different priorities underneath this:
Conservatives are more likely than Labour supporters to mention the economy (41% vs 29%) and defence and foreign affairs (29% to 18%).
By contrast, this month Labour supporters are more likely than Conservatives to mention poverty/inequality (22% to 9%) and climate change (19% to 10%).
The biggest gap however is on lack of faith in politicians and politics, which is mentioned by 18% of Labour party supporters and just two per cent of Conservatives.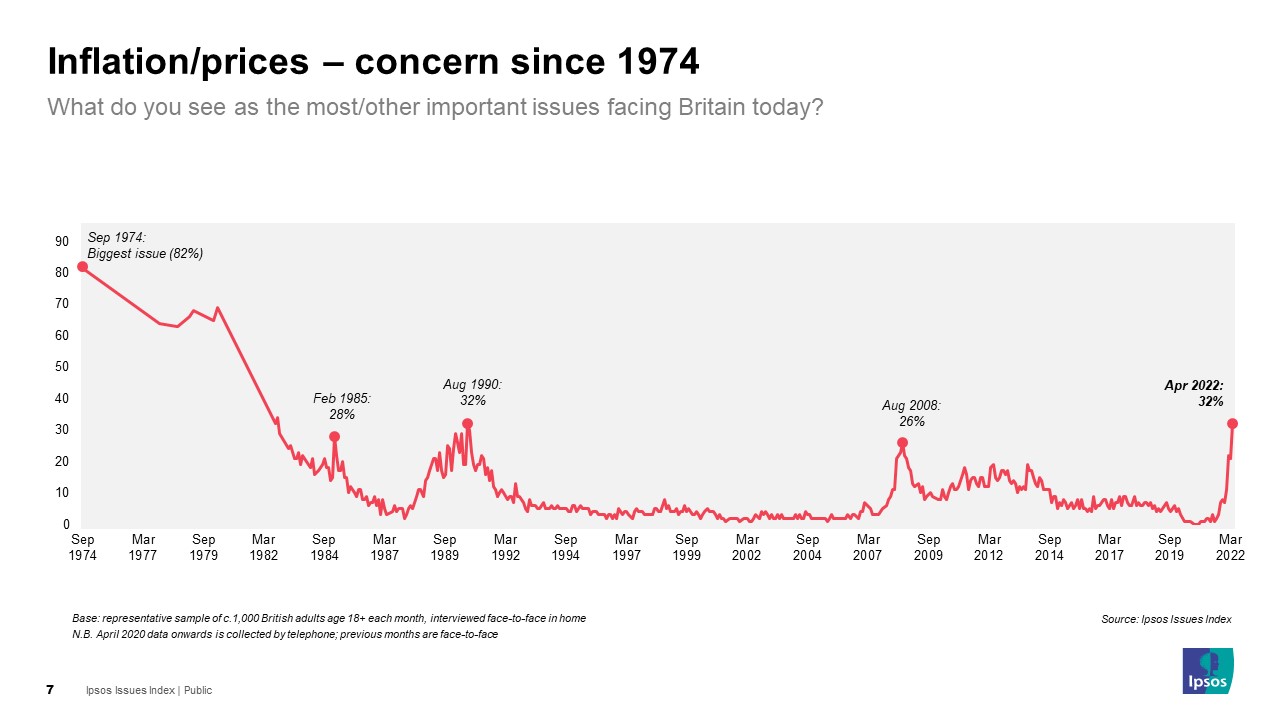 Mike Clemence, a researcher at Ipsos, said:
Public concern about inflation and prices has continued to rise. This is now the top issue facing the country and is at levels last recorded three decades ago.
At the same time the public appear to be moving on from the pandemic. Just one in ten see it as a big issue for Britain this month, meaning it is now the tenth-biggest issue for the country behind factors including the economy, NHS, poverty and climate change
Technical note
Ipsos's Issues Index is conducted monthly and provides an overview of the key issues concerning the country. Ipsos interviewed a representative sample of 982 adults aged 18+ across Great Britain. The answers are spontaneous responses, and participants are not prompted with any answers.
Ipsos's telephone omnibus was used for this survey. Interviews were conducted between 6 and 12 April 2022 across Great Britain. Data are weighted to match the profile of the population.