Jeremy Corbyn's satisfaction ratings fall to historic low
The Ipsos February 2019 Political Monitor reveals that Jeremy Corbyn's satisfaction ratings have fallen to a historic low
Jeremy Corbyn's satisfaction ratings fall to historic low
Only one in six think he is providing strong leadership on Brexit, behind Theresa May
Two in three say the Labour party is divided on Brexit
Before Jeremy Corbyn wrote to Theresa May outlining the changes he wants made to her Withdrawal Agreement, Ipsos's new Political Monitor shows that his satisfaction ratings have fallen to their lowest ever levels. Fewer than one in five (17%) say that they are satisfied with the way Jeremy Corbyn is doing his job as Leader of the Opposition (down from 27% in December), which is the lowest recorded for a Labour leader since Michael Foot, who dropped to 13% in August 1982. Meanwhile, nearly three in four (72%) say they are dissatisfied with his performance, putting his net-satisfaction at -55.  This compares with Mrs May who despite a trying start to 2019, only drops three points since December, and is now on -25. Even among Labour party supporters, under half (44%) say they are satisfied with Mr Corbyn, while 46% say they are dissatisfied, meaning that his net-satisfaction among party supporters dips into negative figures (-2) for the first time since the 2017 General Election campaign.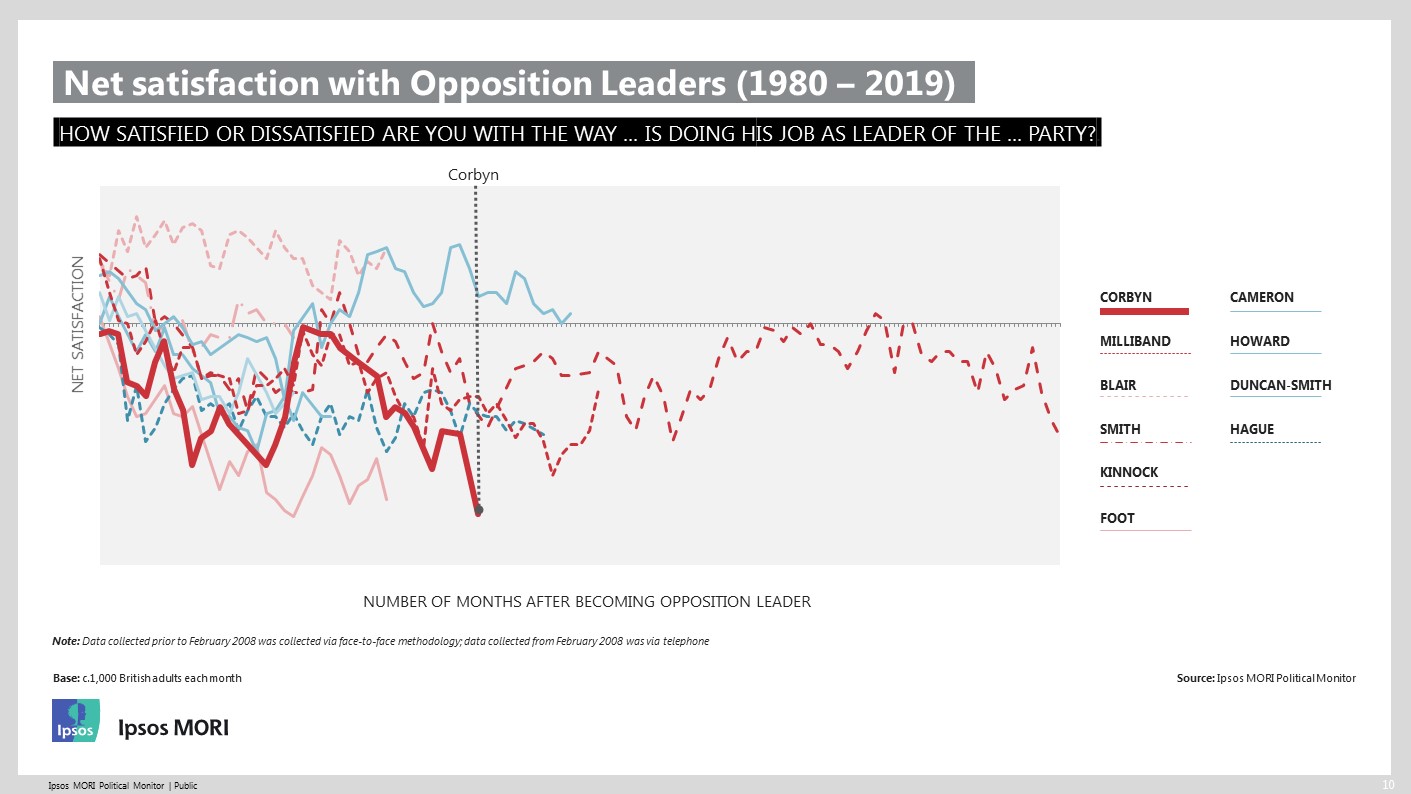 Trust in Jeremy Corbyn to make the right decisions for Britain on Brexit has also fallen since last summer. Only one in five (20%) say they trust Mr Corbyn (down from 31% in July 2018), while over three in four (76%) do not trust him very much or at all (up from 65%). Lower still, only one in six (16%) think that he has displayed strong leadership when handling Britain's exit from the European Union, which is half of those saying the same about Theresa May (35%). Nearly seven in ten (69%) think that Mr Corbyn has demonstrated weak leadership, including nearly half (47%) of Labour party supporters. In comparison, even with Mrs May also experiencing a decline in the levels of people saying they trust her to make the right decisions on Brexit (34%, compared with 41% in July), three in five Conservative supporters (60%) still think she has shown strong leadership.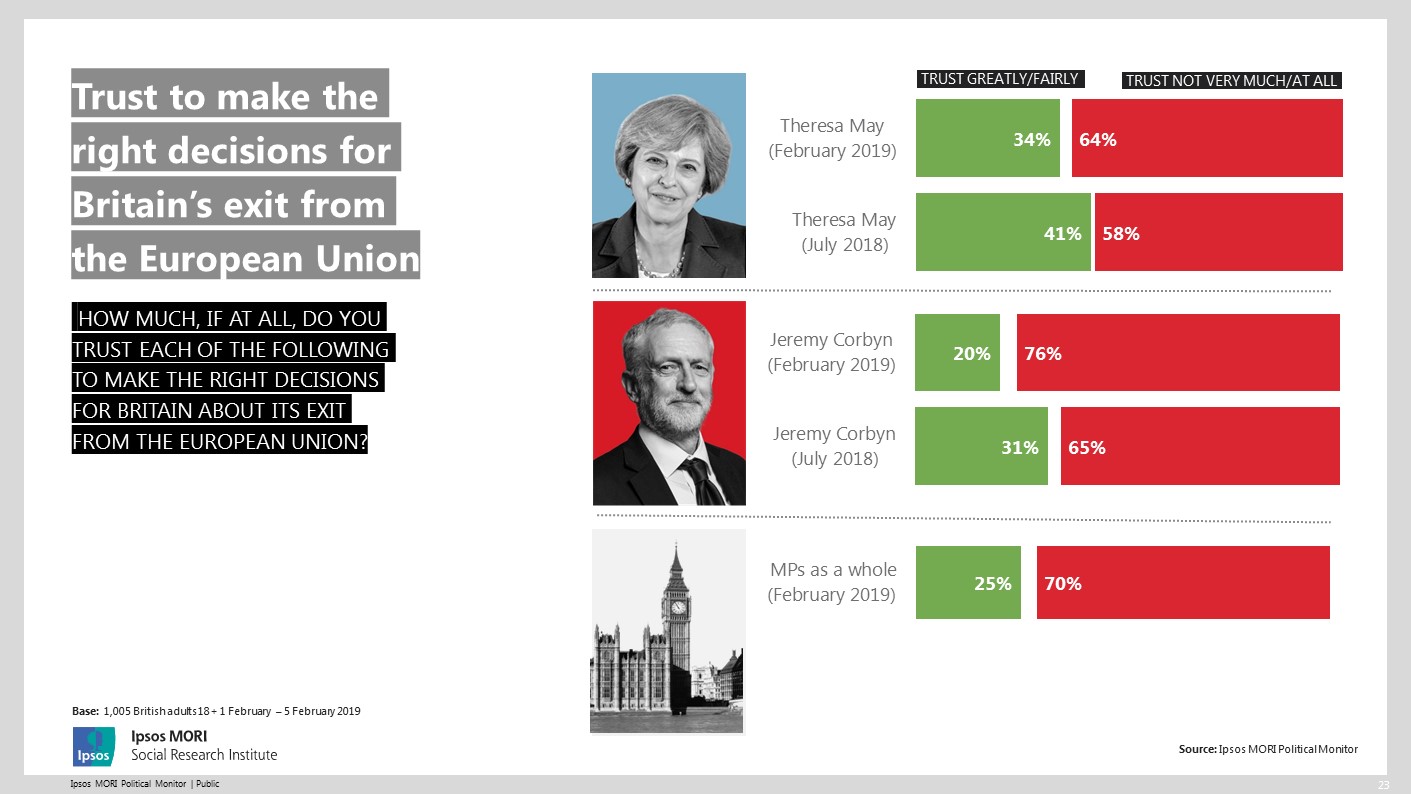 When asked whose interests Jeremy Corbyn puts first during Brexit negotiations, just under one in five (18%) think that he puts the country's interests first. Just over one in four (27%) think that he puts the Labour party first, while nearly half (47%) think he has been prioritising his own interests. This compares to Mrs May, who just a quarter (25%) of the public say has been advancing her own interests, while around one in three say she has been prioritising the Conservative party's (33%) or the country's (36%). Labour MPs fare little better, as while just one in five (18%) believe they are putting the country first, and three in ten (30%) say the Labour party, nearer to two in five (38%) think they have been advancing their own interest (whereas for Conservative MPs this is nearer half – 47%).  Similarly, there is little confidence in MPs as a group on Brexit.  Only one in four (25%) say they trust MPs as a group to make the right decisions on Brexit – seven in ten (70%) do not.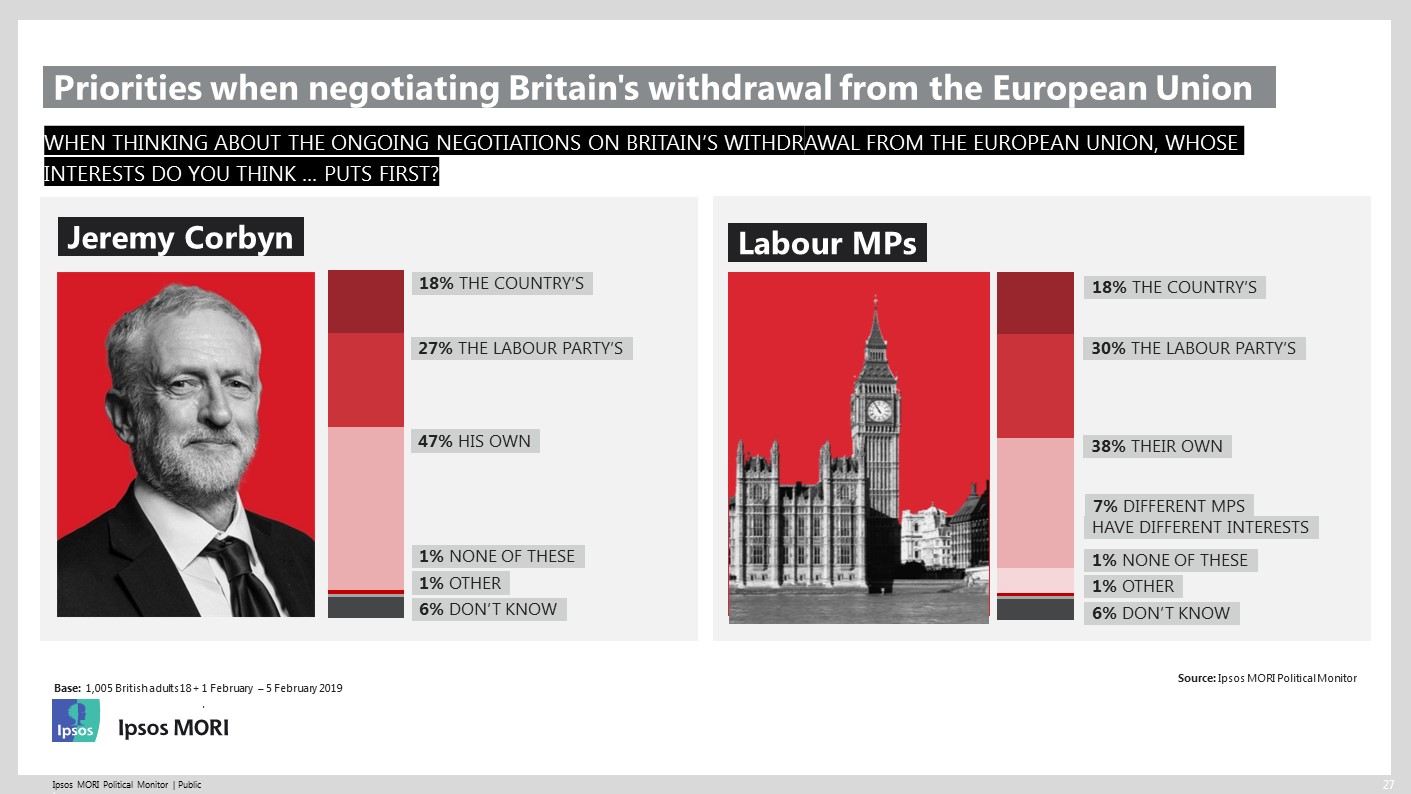 Amid speculation of a Labour party split, nearly two in three (64%) think the Labour party is divided on how to handle Brexit, which remains unchanged since December 2016, and is consistent among Labour party supporters (63%). Comparably, three in four (76%, up from 67% in December 2016) say that the Conservative party is divided over Brexit, and this rises to 86% among their own supporters.
Despite these developments, it is worth remembering that our voting intention scores show little change from December with both the Conservative and Labour parties level at 38% (no change) and the Liberal Democrats on 10% (up 1 point).
Gideon Skinner, Head of Political Research at Ipsos, said:
Sometimes in our trends when one leader is down another is in the ascendant, but that isn't the case now. While 2017 showed Jeremy Corbyn can out-campaign Theresa May, at the moment despite her difficulties his public ratings are falling even further behind. That's also true of Brexit, where it's notable that the Labour leader's approach has much less backing from his own party supporters than the Prime Minister has from hers.  Having said that, there is also little confidence in MPs generally either – only one in four trust MPs as a whole to make the right decisions on Brexit.
Technical note
   Ipsos interviewed a representative sample of 1,005 adults aged 18+ across Great Britain. Interviews were conducted by telephone 1st February – 5th February 2019. Data are weighted to the profile of the population. All polls are subject to a wide range of potential sources of error. On the basis of the historical record of the polls at recent general elections, there is a 9 in 10 chance that the true value of a party's support lies within 4 points of the estimates provided by this poll, and a 2 in 3 chance that they lie within 2 points.