Labour leadership race tight as no candidate is able to open up a clear lead
Ipsos's first post-GE2015 Political Monitor
Tony Blair the most popular past Labour leader
As the Labour leadership contest gets into full swing, our latest Ipsos Political Monitor shows a tight race between Andy Burnham (preferred by 15%) and Yvette Cooper (with 14%) amongst the general public. Mr Burnham and Ms Cooper are followed by Liz Kendall (with 11%) and Jeremy Corbyn (with 5%). Most Britons however haven't made up their mind on Labour leader preference. One in three (34%) say they don't know who they'd prefer to be leader while a further 18% say they don't like any of the candidates (and 3% choose a red herring name "Stewart Lewis").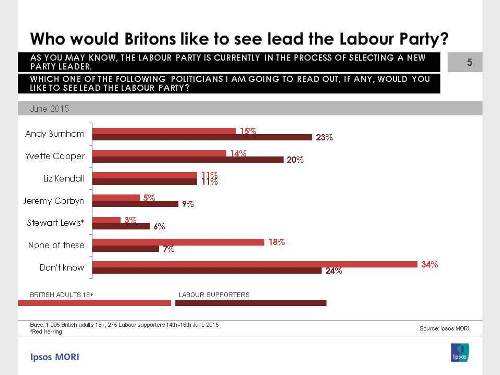 Amongst Labour supporters the race is also still open. Twenty-three percent say they support Mr Burnham while one in five (20%) prefer Ms Cooper. One in nine (11%) say they prefer Liz Kendall while Jeremy Corbyn does slightly better amongst Labour supporters than the overall public on 9%. Despite these figures there's still everything to play for between now and September's contest. One in four (24%) Labour supporters still don't know who they'd support and another 7% don't choose any of the candidates.
When asked which past Labour leader, if any, should the next leader most resemble to make you more likely vote for the Labour party, Tony Blair is the clear favourite. One in five (19%) members of the public opt for Mr Blair, followed by John Smith (7%) and Harold Wilson (5%). Tony Blair also leads amongst Labour supporters where 23% say they want the next Labour leader to most resemble him followed again by John Smith (8%), Gordon Brown (7%) and Ed Miliband (7%). There is still no easy answer for Labour though as one in three (32%) Britons don't know which past leader they'd like the new leader to resemble and one in nine (12%) say none of them.    
Headline voting intentions show little change from the election with the Conservatives on 39%, Labour on 30%, the Liberal Democrats on nine percent, and UKIP on eight percent.
Gideon Skinner, Head of Political Research at Ipsos, said:
"Tony Blair still outshines other past Labour leaders – even among supporters of other parties, and especially among the middle classes (but less among older people and working classes).  But Labour's answer isn't simply in the past – many actually say they 'don't know' or 'none of them' – an issue that also faces the current contenders, which means they still have all to play for."
Downloads
Technical note:
Ipsos interviewed a representative sample of 1,005 adults aged 18+ across Great Britain. Interviews were conducted by telephone 14-16 June 2015.  Data are weighted to match the profile of the population.  Voting intentions: headline indicator In recent years, Ipsos's headline indicator has been based on what voters told us about their likely turnout, in order to account for differing levels of turnout among different groups.  Following on from the 2015 General Election, however, in which our final prediction poll placed all other parties within the margin of error but over-estimated Labour voters' likelihood to vote, Ipsos is carrying out an internal review into improving the accuracy of our polls.  As an interim measure, and to preserve our long-term trends on voting intentions, our headline indicator is now changed to take into account past voting behaviour (do people always or usually vote in general elections, or say it depends) as well as stated likelihood to vote in an upcoming election (those who say they are at least 9 out of 10 certain to vote).  This method would have given us the most accurate results in the 2015 General Election.