Majority of Britons have an unfavourable opinion of the Conservative Party
The Ipsos Political Pulse for November 2022 shows Rishi Sunak just trailing Keir Starmer when it comes to favourability.
Whilst Rishi Sunak and Keir Starmer record similar favourability ratings – public much more favourable towards Labour than the Conservatives
Meanwhile, no change in public favourability towards Matt Hancock following I'm a Celebrity appearance
The latest Ipsos Political Pulse shows Rishi Sunak just trailing Keir Starmer when it comes to favourability. While the Labour Leader is seen favourably by 32% of Britons, 29% view Sunak in the same way while 38% have an unfavourable opinion of Starmer and 39% Sunak. This gives Starmer a net score of -6 and Sunak a score of -10.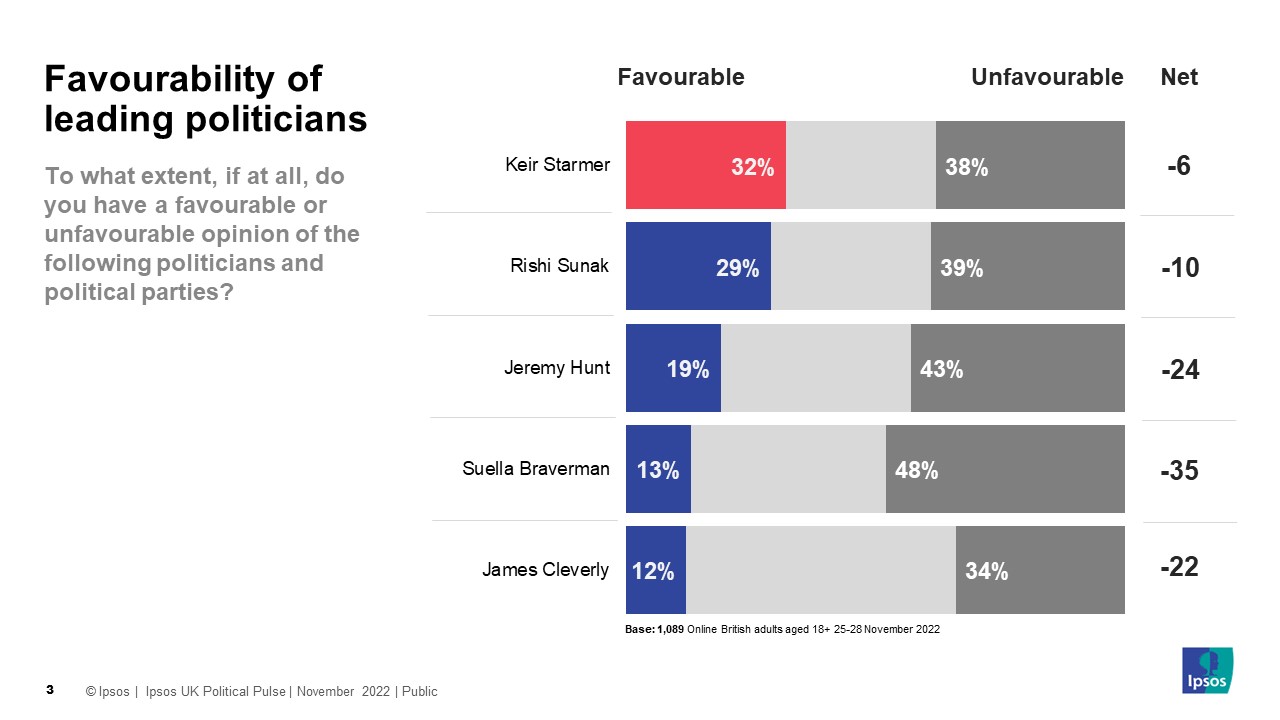 The two party leaders have significantly better scores than other leading politicians:
The current Chancellor of the Exchequer, Jeremy Hunt scores -24 with 1 in 5 viewing him favourably (19%) while the Home Secretary, Suella Braverman scores -35 with only 13% saying they have a positive opinion of her.
Despite his appearance on the latest series of I'm a Celebrity… Get Me Out of Here! Matt Hancock has seen no improvement in his favourability ratings, 56% viewed him unfavourably when he resigned in June 2021, now 59% have the same opinion now.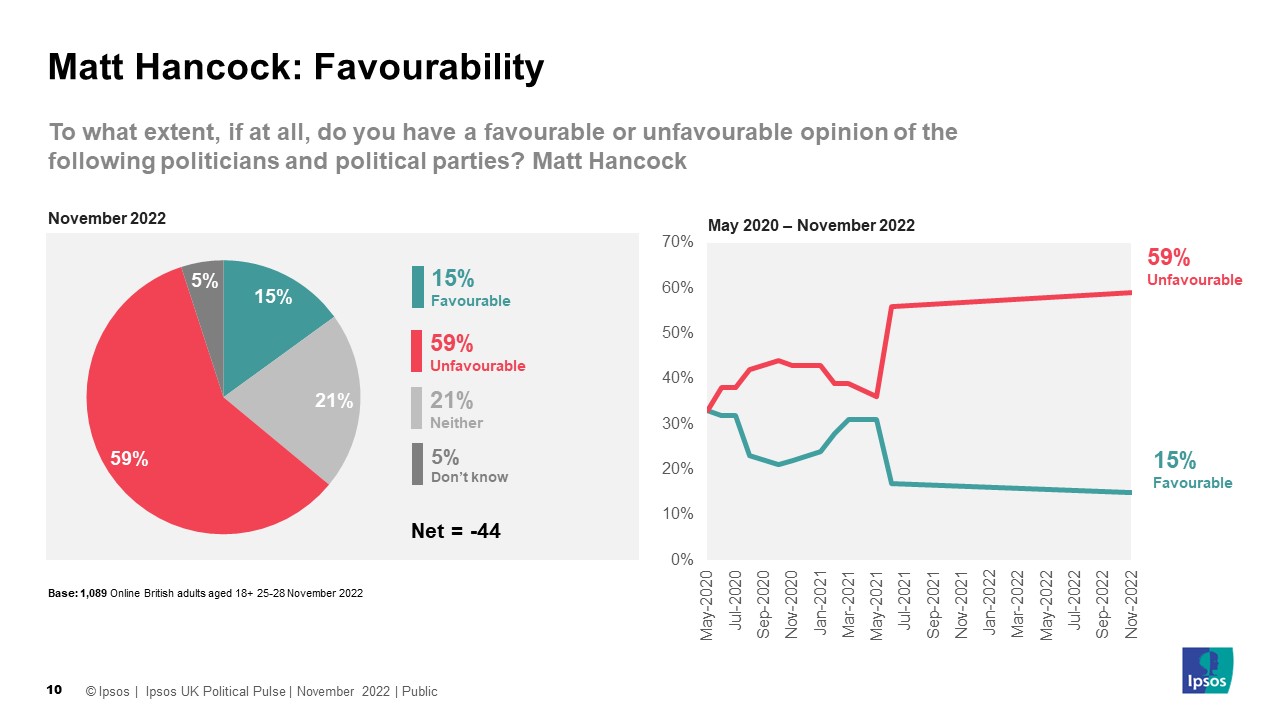 Party Favourability
Unfortunately for the Conservatives, Sunak's relative popularity does not translate into opinions of the party itself. With a current net score of -32, just 1 in 5 (20%) have a favourable view of the Conservative Party, 52% negative, down from 56% in October. Meanwhile, Labour score just -1, with 37% positive and 38% negative and little change since last month.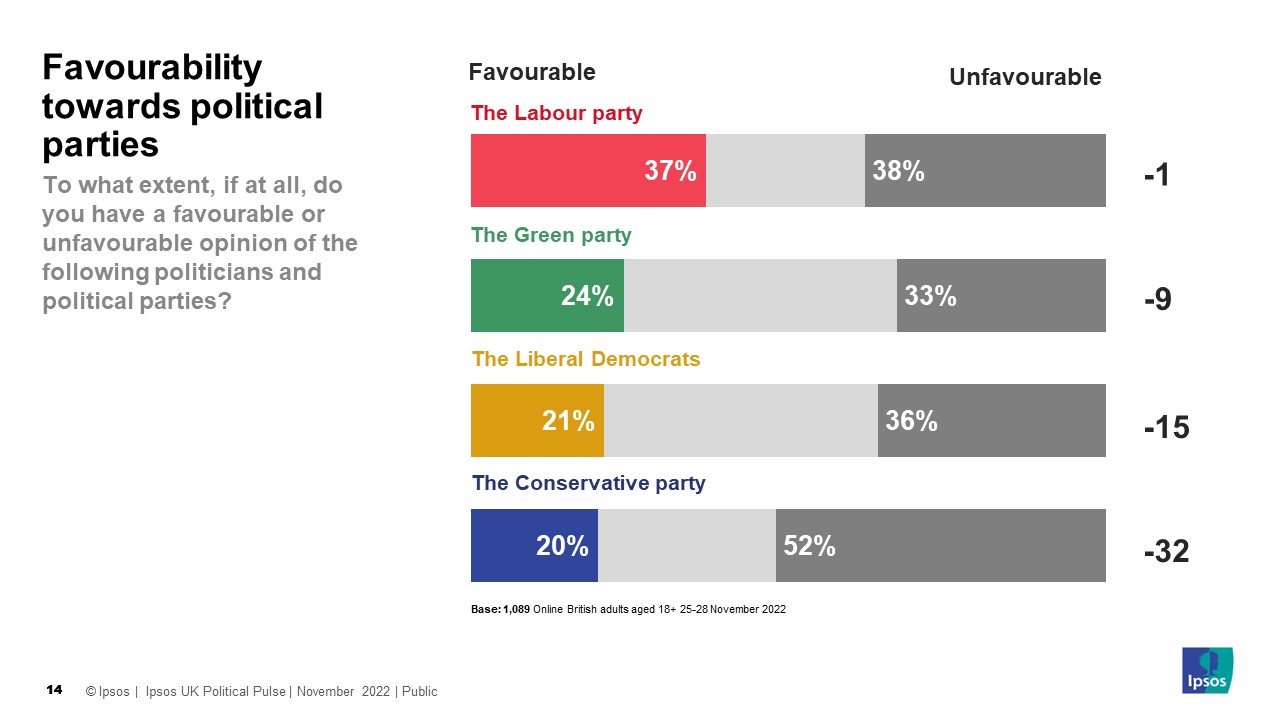 This means the Conservatives score lower than any other party on this list  with the Green Party scoring -9 (24% favourable and 33% unfavourable) and the Lib Dems scoring -15 (21% favourable, 36% unfavourable).
Direction of the country
Just over 3 in 5 Britons now believe the country is heading in the wrong direction (62%), falling slightly from 69% in October. Fourteen per cent say the country is heading the right way, up from 9% last month.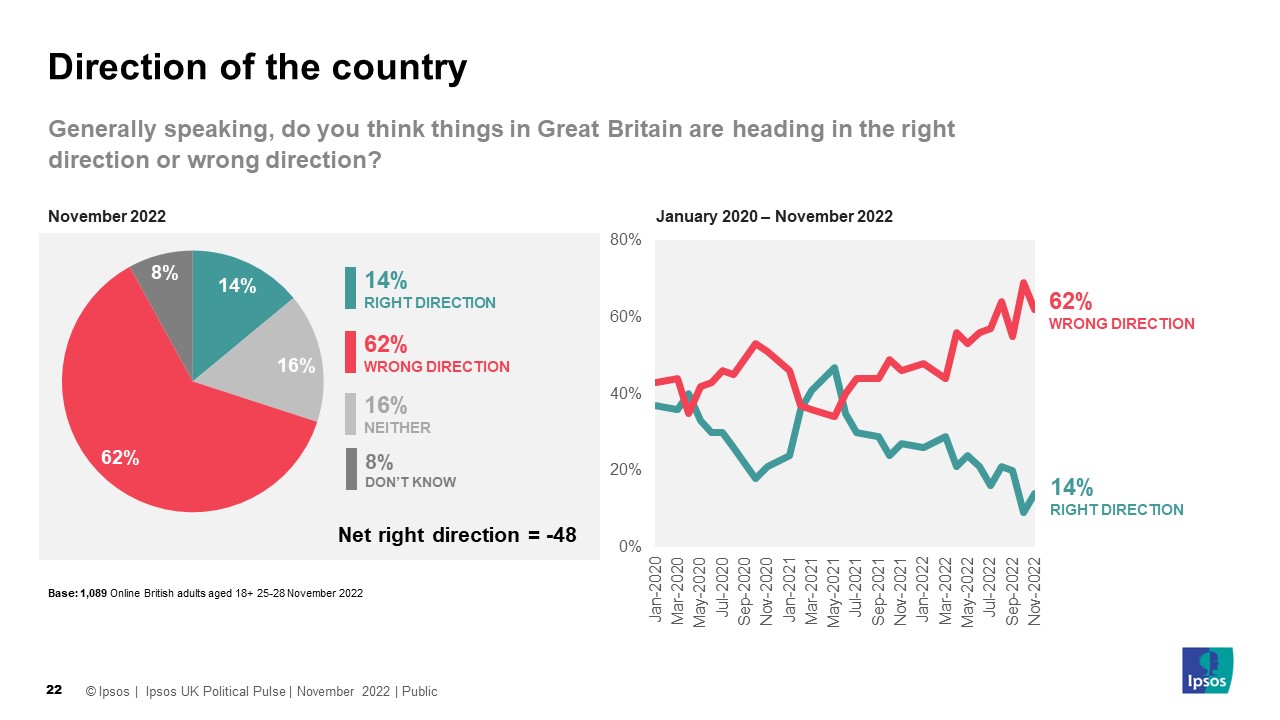 Keiran Pedley, Director of Politics at Ipsos, said:
These numbers show the extent of Rishi Sunak's challenge as he seeks to win the Conservatives a fifth consecutive term in office at the next General Election. Whilst his own personal poll ratings are solid and comparable to his opposite number Keir Starmer, 6 in 10 Britons think things are heading in the wrong direction and a majority are unfavourable towards the Conservative Party itself. Numbers that do not point to re-election for the governing party.
Technical note
Ipsos interviewed a representative sample of 1,089 Britons aged 18+. Interviews were conducted online from 25-28 November 2022.  Data are weighted to match the profile of the population. All polls are subject to a wide range of potential sources of error.