Over half of Britons support giving excess vaccine doses to other countries
Majority of Britons support passing excess vaccines to other countries, especially to those less fortunate and those with high rates of COVID-19
In a new online survey by Ipsos, more than half of Britons (54%) say the country should pass excess doses of the COVID-19 vaccine to other countries once it has enough for its own immediate need. Three in ten (30%) want the UK to keep all extra doses in case they are needed in the future.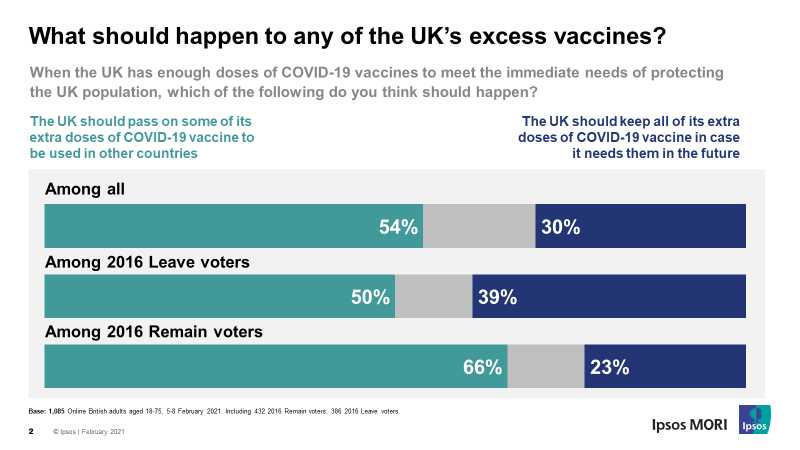 Those who voted to remain in the EU in 2016 are significantly more likely to want to share any excess vaccines, two-thirds (66%) say the UK should pass on some of its extra doses compared to only half (50%) of those who voted to leave the EU. Desire to give vaccines to other countries is also higher among 55-75-year olds (61%), while 49% of 35-54s and 53% of 18-34s want to share the excess vaccines.
Almost 2 in 3 (63%) would support the UK giving their excess vaccine doses to poorer countries for free while making richer countries pay for them. Over half (55%) agree with just selling excess doses to countries who can pay for them, while 43% support just giving them to other countries for free. Only 13% would support the UK government banning UK companies from making vaccines they have produced to sell to other countries.
Britons are most likely to want to wait until everyone in the UK has been fully vaccinated before any doses are given away (68%). Around half (51%) would support giving vaccines to other countries once over-50s, frontline health and social workers and those clinically vulnerable have been vaccinated. Forty-seven per cent would be happy to start giving them away once over-65s and frontline health and social care workers had received the jab. Half (53%) of those aged 18-34 support sharing the vaccine with other countries at this stage, compared to only 43% of 35-54s and 46% of 55-75s.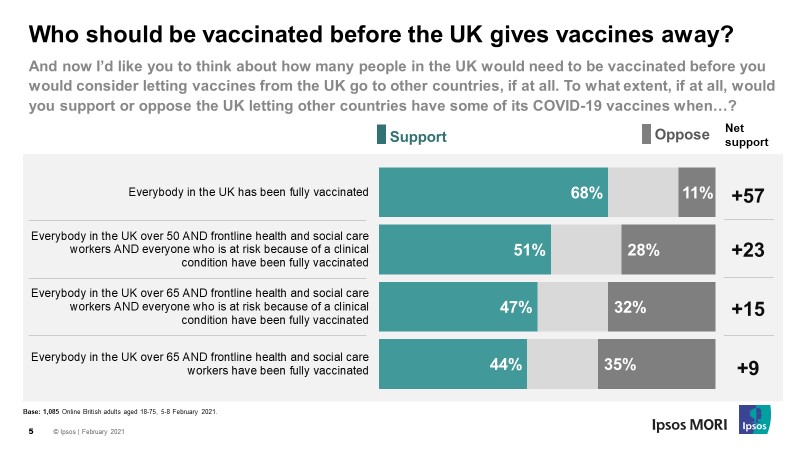 When considering where the extra vaccine doses go, Britons are most likely to say to poorer countries, with 42% wanting excess doses to go to those less fortunate, whilst 38% want them to go to poorer countries specifically within the Commonwealth. A third (33%) want to send the vaccine to countries with high levels of COVID-19 while 29% believe it should go to countries with a variant that poses a risk to others. 
Less concern is given to those in richer Commonwealth countries, only 4% believe excess doses should go there. Fewer than 1 in 10 (7%) want to send doses to the EU to be shared amongst its members and only 11% want to prioritise countries with strong historical, cultural and political links to the UK. 
Kelly Beaver, Managing Director of Public Affairs at Ipsos, said:
With the UK's vaccine rollout being a world leader, Britons have clearly understood the global nature of the pandemic.  The majority of Britons believe that we should share our excess vaccines, giving it away to poorer nations but also sharing with richer countries too, selling it to them. But the greatest level of support is to do so only when everyone in the UK has been fully vaccinated.
Technical note:
Ipsos interviewed a representative sample of 1,085 Britons aged 18-75. Interviews were conducted online from 5-8 February 2021. Data are weighted to match the profile of the population. All polls are subject to a wide range of potential sources of error.