Pregnant in a Pandemic : What does the NHS Maternity Survey 2021 tell us about maternity care during the pandemic?
Robyn Aldous looks at results from the NHS Maternity Survey 2021, run by Ipsos UK and the Care Quality Commission, to see what the data tells us about maternity services during the pandemic.
The NHS Maternity Survey started in 2007 and the 2021 survey will be the eighth carried out to date. This is the first year the Maternity Survey has been offered in both paper and online methodologies and this has contributed to the survey achieving a response rate of 52% (up from 37% in 2019). The survey was sent to all mothers who gave birth in February 2021.[1] This means that respondents experienced the full maternity pathway from antenatal care to postnatal care, under pandemic conditions. 
This article summarises the findings of the 2021 Maternity Survey, highlighting mothers' experiences of maternity care, provided by NHS trusts in England during the COVID-19 pandemic.  
Impact of COVID-19
The graphic below shows the sequence of national restrictions and how this corresponded with the care pathway that mothers received during their pregnancy, labour, and postnatal care. As we can see, mothers began their maternity pathway in the first national lockdown and gave birth in the third national lockdown. [2]  

Since the beginning of the pandemic, guidance from NHS England and NHS Improvement has laid out the steps that trusts should be taking to limit the spread of coronavirus in their care settings. This included placing restrictions on hospital visits. There is a degree of variation between trusts across England in their results as each trust adapted its service provision to suit local circumstances. However, the pandemic has had a clear impact on maternity services across the country and this is reflected in the results of the Maternity Survey 2021.  
The most notable impact is on mothers feeling that their birth partners were able to stay as much as they wanted. Just 34% of mothers felt that partners could stay as much as they wanted, down from 74% in 2019.
Percentage of mothers whose partners were able to stay with them as much as they wanted.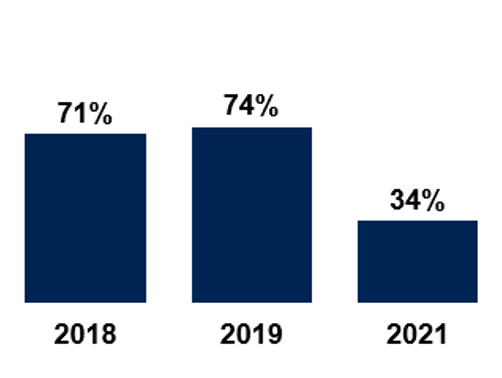 Survey comments highlight what a challenging time it was for mothers. One mother reported "it was very hard to go through much of the labour alone due to the Covid restrictions". Another mother described how she "had [an] emergency c section and couldn't pick up my own baby to feed him etc; if my husband was there, he would have helped."
This was an undoubtedly difficult time for mothers. Trusts had to ensure that service standards were maintained whilst also keeping patients safe from COVID-19. What the survey results show is that standards of care were largely maintained, and in some cases improved in areas such as the cleanliness of maternity wards. This is very likely a result of the infection control measures put in place by trusts.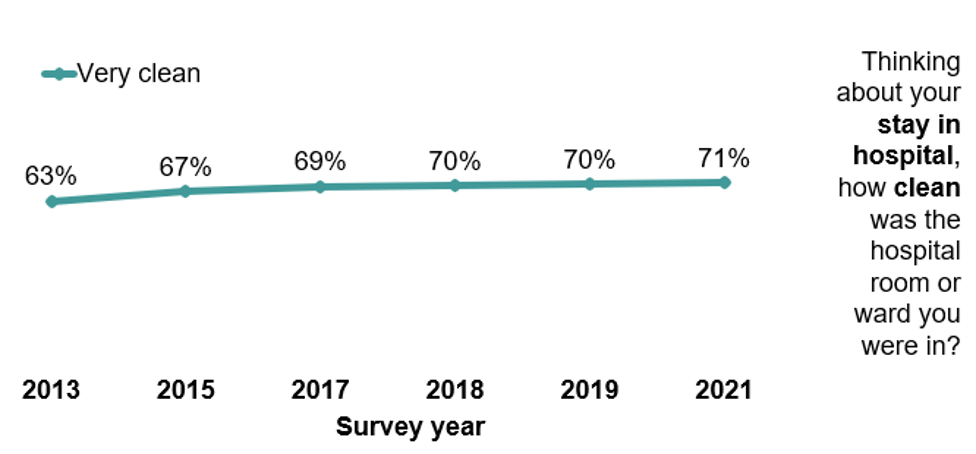 In 2016 NHS England published 'Better Births – Improving outcomes of maternity services in England'. This report has a clearly stated vision of personalising maternity services, and maternity care since has been reshaped. The Maternity Survey offers some of the key measures of performance through which progress since the publication of 'Better Births' can be measured. Much of the progress report "Better Births Four Years On: A review of progress" draws on the Maternity Survey results to demonstrate the improvements made. The data from the Maternity Survey is therefore vital to monitoring progress against the stated vision in the Better Births report. Below we discuss some recommendations of the Better Births review where progress can be measured. 
Postnatal experiences 
The progress report on Better Births demonstrates how postnatal care is the area of maternity care in which women express lowest confidence. This has been the case for a number of years. The World Health Organisation (WHO) states that most maternal and infant deaths occur in the first six weeks after delivery.[3] The National Institute for Health and Care Excellence (NICE) describe postnatal care as a "Cinderella service", where provision is "scanty and inadequate". Postnatal care can have a profoundly beneficial impact on the lives of babies and their families.[4] But historically, mothers have not reported the same quality of service experienced in the antenatal and labour and birth stages of the maternity pathway.
This year saw some significant declines in the standards of postnatal care. For example, the percentage of mothers who received help and advice about feeding their baby in the six weeks after birth declined from 62% in 2019 to 55% in 2021. This pattern is also seen in the help and advice received about the baby's health and progress, which saw a similar decline from 71% to 60%. Similarly, the confidence that mothers had in the midwife or midwifery team declined marginally, but this has not dropped below standards seen in previous surveys.
The Better Births review recommends that women are given a choice about their postnatal care provider. However, the 2021 survey saw a decline from 48% to 38% in the proportion of women who were given a choice about where their postnatal care would take place. In the Maternity Survey 2022 we hope to see an increase from the 2021 results.   
Continuity of carer 
The Better Births review recommends that there is a continuity of carer throughout pregnancy, birth, and postnatally. Every mother should have a midwife who is part of a small team who can provide continuity throughout the pregnancy, birth, and postnatally. Midwives should liaise closely with other services to ensure care is joined up.[5] The positive impact this has on mother's is demonstrated by some of the comments from the survey
"Seeing and speaking to the same midwife every appointment really makes a difference."
"I couldn't praise my midwife anymore. I had the same midwife for all my appointments from my first appointment to birth and post-natal. This was a dramatically more positive experience than with my first daughter."
As the table below shows, in 2021, we observed significant increases in the percentage of mothers who reported that they saw the same midwife during their antenatal care, labour and birth, and postnatal care. However, the majority of mothers still did not see the same midwife throughout the maternity pathway. 

 Across all other questions in the Maternity Survey on continuity of carer, there have been significant increases in 2021 of mothers receiving care from the same professionals.[6] Standards in continuity of carer were strongest during antenatal care with 28% of mothers seeing the same midwife every time. In the context of the pandemic, we feel it is quite commendable to demonstrate improvements in this area. However, with 58% of mothers not seeing the same midwives in their postnatal care who had also been involved in their labour and antenatal care, the majority of mothers are still not receiving continuity of carer as recommended in the Better Births review.  
High ranking mental health support scores
The Royal College of Psychiatrists state that one in five mothers experience mental health challenges during pregnancy or after the birth.[7] The Better Births review recommends better postnatal and perinatal mental health care. The Maternity Survey 2021 shows services have performed well in supporting mothers' mental wellbeing. Over nine out of 10 mothers were asked about their mental health during their antenatal and postnatal check-ups, and more than eight in 10 mothers felt that they were given enough support for their mental health during their pregnancy. 
"All staff that looked after me at every point of my journey were understanding of my mental health condition. They took excellent care of me. Any issues were addressed speedily. Really impressed with the service, especially during covid restrictions."
 However, there are still opportunities for maternity services to improve the provision of mental health support for mothers. For instance, only 37% of mothers felt their GP definitely spent enough time talking to them about their mental health at the postnatal check-up (down from 40% in 2019).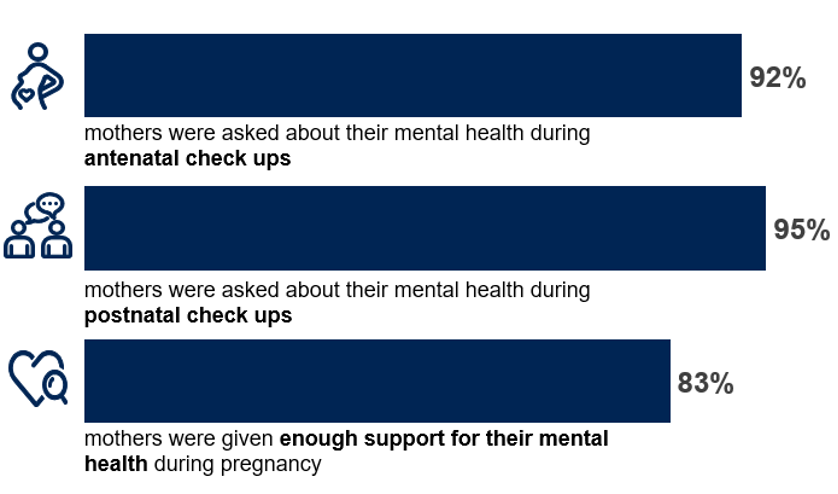 Conclusion
The Maternity Survey 2021 results show that there has been a clear impact from the pandemic on maternity services. Although there have been declines in performance, standards have been broadly maintained across the service. This is no small feat in the context of one of the largest challenges the health service has seen in a generation. 
The Better Births review has set the standards that maternity services should be aiming for. The resulting Maternity Transformation Programme looks to implement these recommendations and makes commitments to make maternity services safer, more personalised, kinder, professional and more family friendly. Data from the Maternity Survey provides a key source of data from which progress against the commitments from the Maternity Transformation Programme can be monitored.
Technical note
Ipsos coordinates the Maternity Survey on behalf of the CQC. NHS trusts drew a sample of mothers, aged 16 or over at the time of delivery, and had a live birth between 1 February and 28 February 2-21. If there were fewer than 300 mothers within an NHS trust who gave birth in February 2021, then births from January were included.  
45,445 mothers were invited to take part in the survey and 23,479 mothers responded (an adjusted response rate of 52%).
Fieldwork took place between April 2021 and August 2021.
Prior to 2021, the Maternity Survey was conducted using a solely paper-based methodology. Following a successful pilot of a mixed method approach, the 2021 survey transitioned to offer both paper and online completion methods. You can view this work on the cross survey programme website.
▪ Further technical information and the full survey results can be found on the CQC website.
Notes
  [1] Individuals were eligible for the survey if they had a live birth during February 2021, were aged 16 years or over at the time of delivery and gave birth under the care of an NHS trust (including home births). Trusts with fewer than 300 eligible deliveries in February were required to also include individuals who gave birth in January 2019, beginning with deliveries on 31st January and working backwards until either a sample size of 300 was achieved or January 1st was reached.
[2] https://commonslibrary.parliament.uk 
[3] https://www.who.int/activities/raising-the-importance-of-postnatal-care
[4] https://www.nice.org.uk/guidance/ng194/resources/postnatal-care-pdf-66142082148037
[5] https://www.england.nhs.uk/wp-content/uploads/2016/02/national-maternity-review-report.pdf
[6]See questions B6, C17, and F5
[7] https://www.rcpsych.ac.uk/mental-health/treatments-and-wellbeing/mental-health-in-pregnancy
Download