Public: "Give housing more attention"
A growing proportion of Britons think that the political parties don't pay a lot of attention to housing, according to new research by Ipsos for the Chartered Institute of Housing.
Our survey for the Chartered Institute of Housing (CIH), undertaken last month, found as many think rising housing costs will impact them personally over the next few years as think the same of 'Brexit'.
60% disagree that the political parties pay a lot of attention to housing problems, five times the 12% who agree, and a significant increase on the equivalent 41% in 2014. A majority, 55% (68% of renters) think the issue of housing has been discussed too little in Britain over the last few years.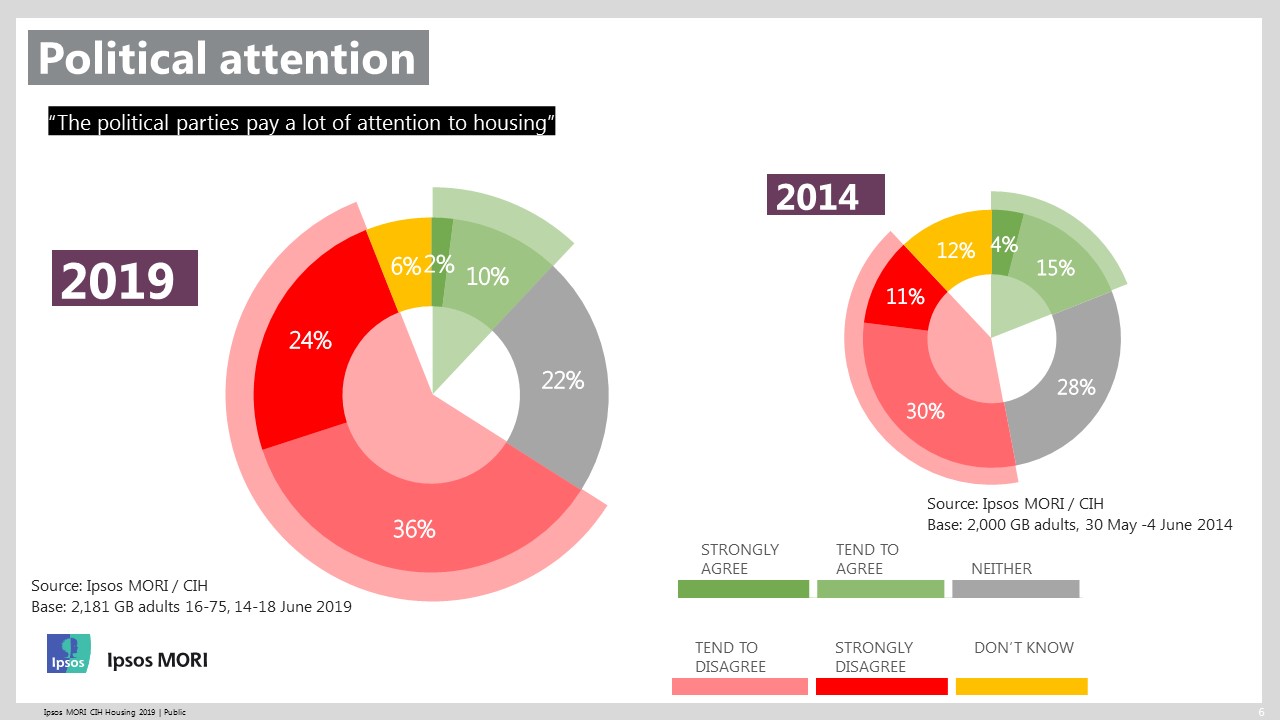 The survey shows 73% believe there is a housing crisis in Britain (it was 74% in 2017), and a similarly strong rejection of the notion that government can't do anything about it.
It finds a downbeat mood among renters in particular:
44% (45% of private renters and 43% of social renters) are either very or fairly concerned about their ability to pay rent at present (29% of mortgage holders are concerned about repayment).
52% report being very or fairly concerned about the impact of housing costs on their mental health ('stress levels, worries or anxiety'); 57% of private renters and 46% of social renters.
38% think they might have to leave their local area in the future because the cost of housing is too high.
61% of renters or those living at home with their parents think they will never be able to afford to buy a home.
Most people, 57%, think that the rising cost of housing will impact on them personally in the next five years, with a very similar 56% saying the same of 'Brexit'. Among renters as a group, 72% expect housing costs to impact on them personally with 51% thinking the same of 'Brexit'.
Other findings highlight public backing for increases to housing supply; 52% support the building of new homes locally, twice the proportion who oppose this (21%), and up from 40% five years ago.
These findings reflect a strong sense that there is insufficient affordable housing locally although fewer detect a local housing crisis (45%) than a national one (73%).
45% support the Government borrowing money to fund the building of more affordable housing for people to buy or rent, with 24% opposed. There is, though, a swing towards opposition when it comes to increasing taxes to fund this – 45% say they oppose this, 27% support it.
The survey finds strong endorsement for social housing, with even higher levels of support for building it locally than 'homes' more generally – 58% compared to 52%.
This reflects the public's positivity about the importance of social housing, also found in previous surveys. By large margins, the public think social housing is important because it helps people on lower incomes get housing which wouldn't be affordable in the private rented sector (76% agree), and helps to tackle poverty (68% agree).
There is support for the extension of social housing so that it is available to people who cannot afford the cost of renting privately, not just the most vulnerable (74% agree with this).
Technical note:
Ipsos conducted an online survey for the Chartered Institute of Housing involving 2,181 GB adults aged 16-75 (382 private renters and 320 social renters). The survey was conducted between 14-18 June 2019. Data are weighted to the known population profile.