Public sceptical Rishi Sunak can deliver on 5 key pledges
What do the British public think about Rishi Sunak's 5 key pledges?
Dealing with the cost of living and NHS waiting times most important Sunak pledges to the public.
Public have low expectations on the Sunak government's ability to deliver – especially on NHS waiting times.
The latest Ipsos Political Pulse for The Economist, taken 6-10 January, looks in-depth at public expectations around Prime Minister Rishi Sunak's recent 5 key pledges. Each of the 5 pledges were split into two parts – an action and a consequence – with the public asked which of the resulting 10 pledge parts were most important to them and whether they thought a Sunak-led Conservative government, or a Starmer-led Labour government, could deliver on them.
Sunak's pledges – importance to the public
The top three most important parts of Sunak's 5 pledges to the public were:
Easing the cost of living and giving people financial security (61%)
Ensuring people get the NHS care they need more quickly (57%)
Reducing NHS waiting lists (50%)
Halving inflation this year (36%) and growing the economy (34%) were in 4th and 5th position. 
Sunak's pledges – who can deliver?
The public were asked whether a Sunak government or a Starmer government could deliver in each of the 10 areas described. They were awarded a net score for each pledge based on subtracting the proportion of Britons that thought each would do a bad job delivering in each area from the proportion that thought they would do a good job. For example, 23% of the public think a Sunak-led Conservative government would do a good job halving inflation this year and 44% said they would do a bad job. This gave Sunak's Conservatives a score or -21 on this area of the first pledge.  
The below chart summarising the performance of Sunak's Conservatives and Starmer's Labour in these areas highlights three key themes:
On most 'action' parts of the pledges e.g. halving inflation, growing the economy, reducing the national debt, passing a law to stop small boats, there is little to choose in expected net performance between the Conservatives and Labour. The exception is on the NHS (see below).
However, on several of the 'consequences' part of the pledges e.g. easing the cost of living, creating better paid jobs / opportunities across the country or securing the future of Britain's public services, the public tend to be divided on whether Labour can deliver but on balance think the Conservatives cannot.
The Conservatives get their lowest scores on the NHS – a key public priority. Just 19% think they will do a good job reducing NHS waiting lists and 55% say they will do a bad job. This net score of -36 and the corresponding -35 for ensuring people get the NHS care they need more quickly are the worst scores Sunak's Conservatives achieve across the pledges. Meanwhile, Labour are essentially net neutral on both.
A full breakdown of net scores for each pledge part can be found below: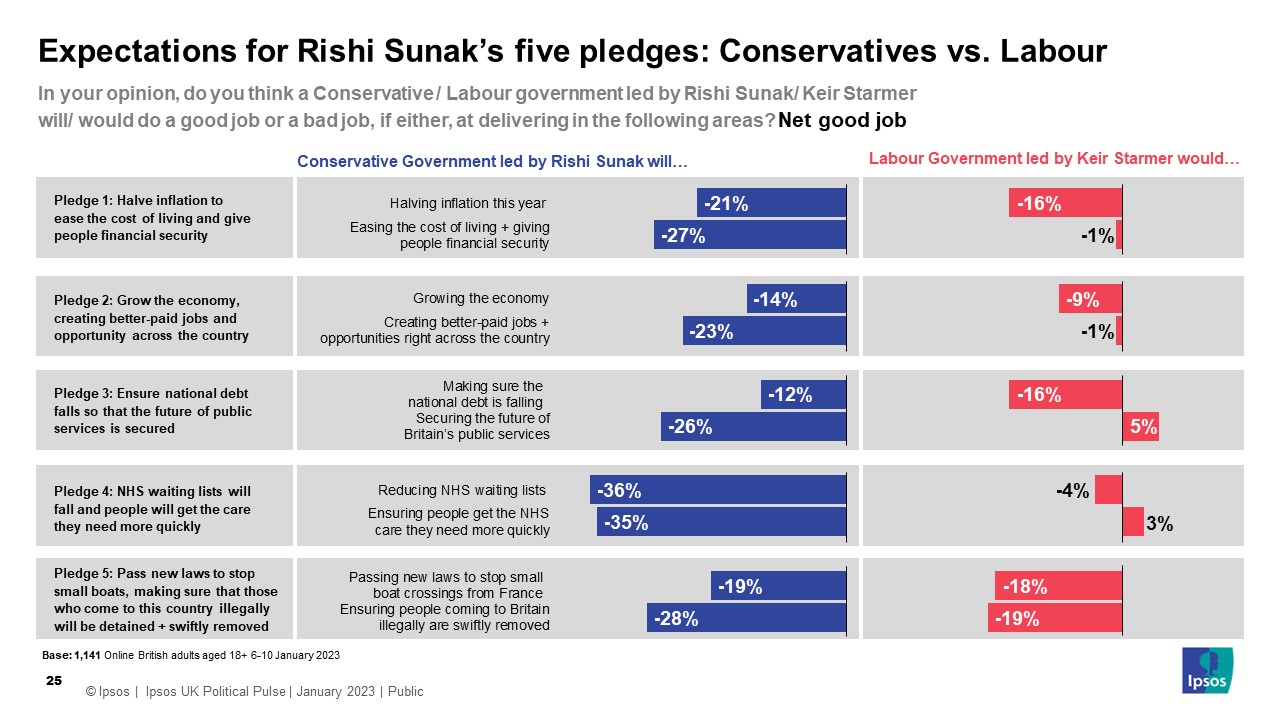 Leader and party favourability
When asked favourability towards national party leaders, senior government ministers and some past party leaders we find:
Favourability towards Rishi Sunak unchanged. 30% favourable (+1 from November) and 39% unfavourable (no change).
Favourability towards Keir Starmer unchanged. 33% favourable (+1 from November) and 38% unfavourable (no change).
The public are just as favourable towards former Conservative leader and PM Boris Johnson (29%) as Rishi Sunak (30%) but they are more unfavourable towards Johnson (51% vs 39%). The same is true amongst 2019 Conservative voters (Sunak 55% favourable, 22% unfavourable and Johnson 53% favourable, 30% unfavourable).
The public are equally favourable towards former Labour leaders Tony Blair (21%) and Jeremy Corbyn (20%) but are more unfavourable towards Corbyn (56%) than Blair (47%).
Turning to the parties themselves
The public continue to be more favourable towards the Labour Party than the Conservatives.
Labour 35% favourable (-2), 36% unfavourable (-2).
Conservatives 25% favourable (+5) and 51% unfavourable (-1).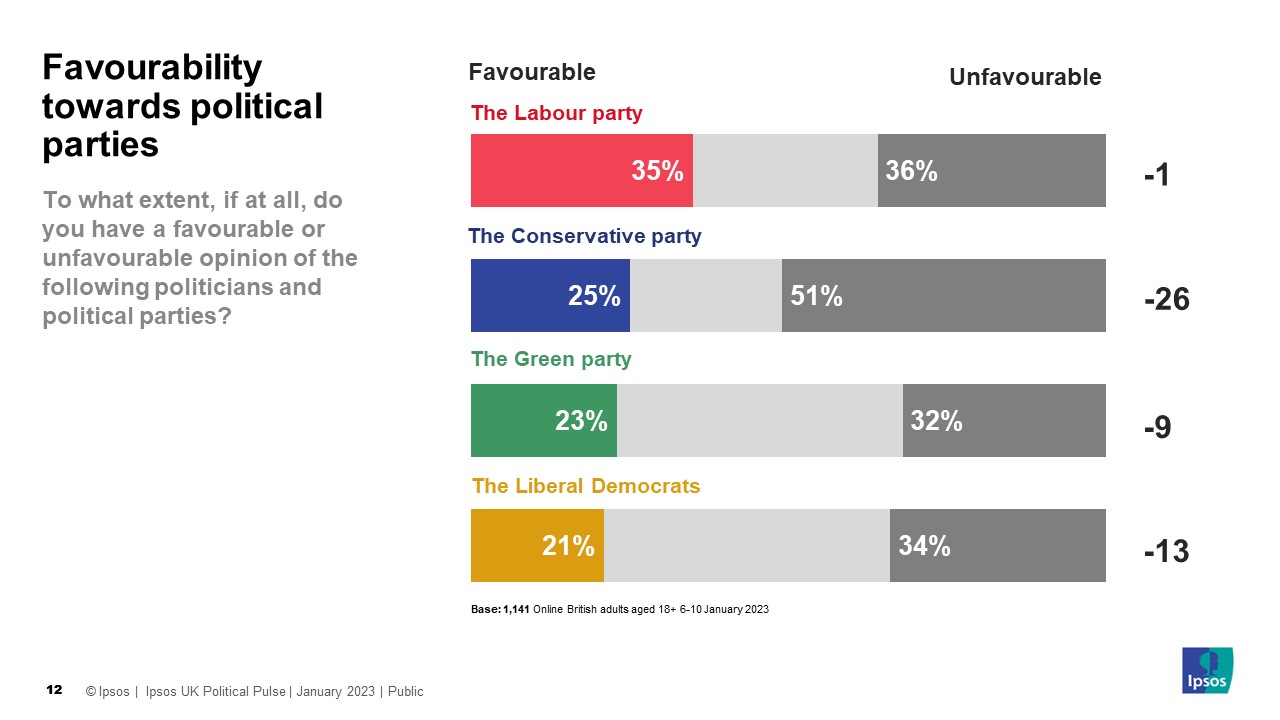 Direction of the country
61% think things in Britain are heading in the wrong direction (-1 from November) and 15% say wrong direction (+1).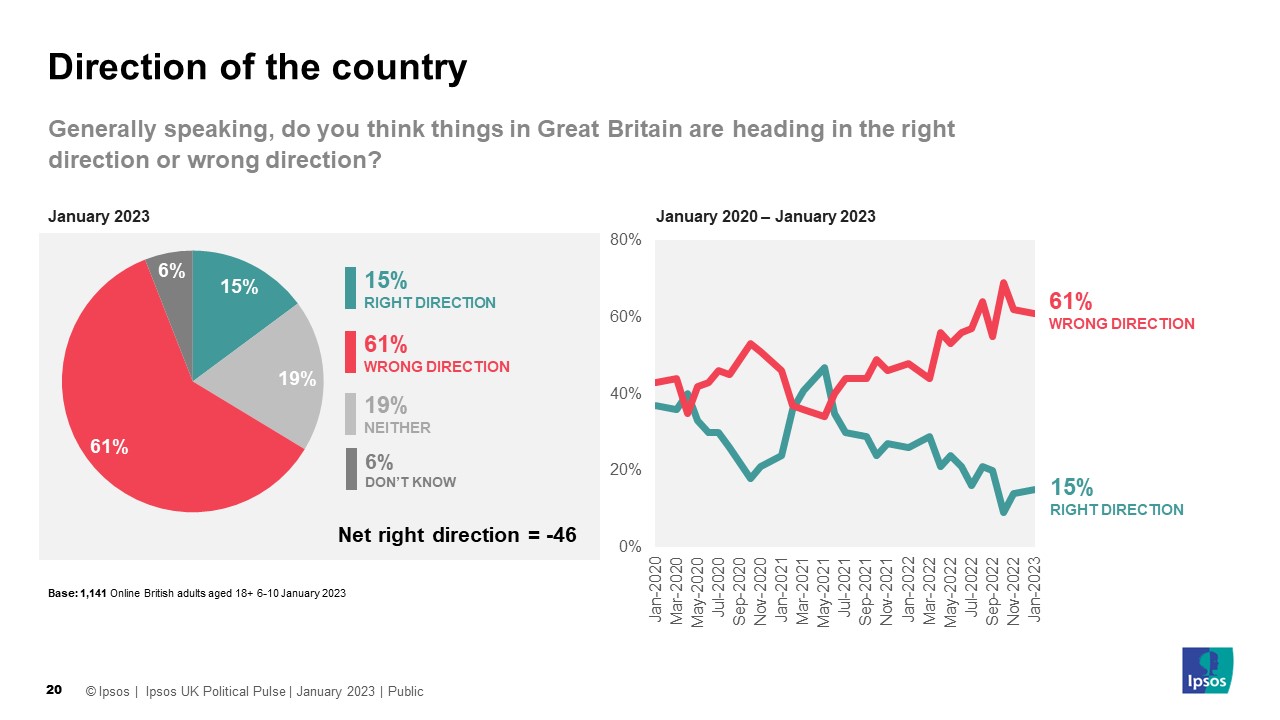 Impact of Brexit
54% think Brexit has had a negative impact on the country (+2 points from November) and 23% think it has had a positive impact (+2). Whilst the increase in negative sentiment from November is not statistically significant, this does reflect the third straight month where those saying Brexit has had a negative impact has been 50% or more.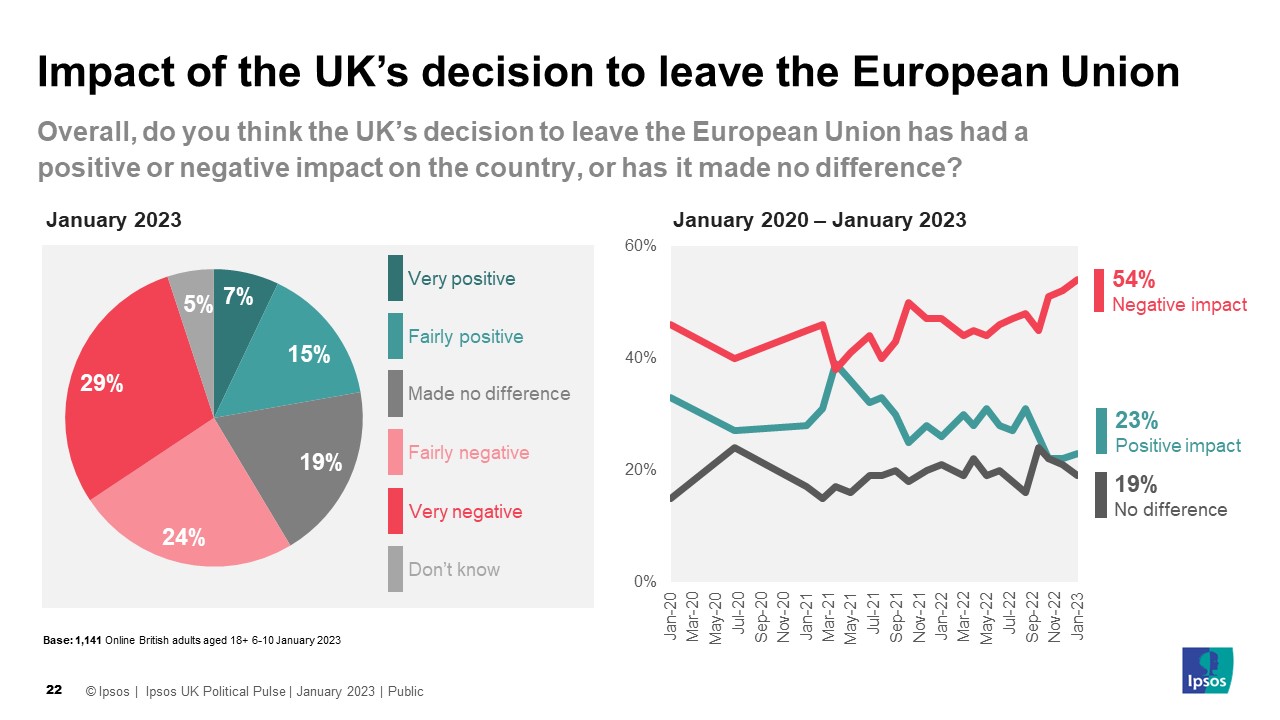 Keiran Pedley, Director of Politics at Ipsos, said: 
Public attitudes to Rishi Sunak's pledges outline two key challenges for the Prime Minister. First, that the public are highly sceptical he will improve the NHS – a key public priority. Second, the public are less likely to think the Conservatives can deliver meaningful change in a host of areas related to jobs and public services than Labour. Whilst public faith in Labour may be lukewarm, there is more of it present than for the Conservatives, reflecting Labour's current lead in the polls.
Technical note: 
Ipsos interviewed a representative sample of 1,141 Britons aged 18+. Interviews were conducted online from 6-10 January 2023.  Data are weighted to match the profile of the population. All polls are subject to a wide range of potential sources of error.