Public split over Britain's ability to recover from coronavirus outbreak - but Conservatives twice as positive as Labour and Lib Dems
While communities come together during this uncertain time, partisan divides remain when considering the future of the country,
A new online survey by Ipsos shows that Britons are split on the long-term impact of the coronavirus outbreak on the country.  Just under half of Britons aged 18-75 (45%) think that even though the coronavirus outbreak will be tough, Britain will be stronger when it gets through it, while 40% think the country will be weaker because of it for years to come.  In November 2012, after several years of being affected by the economic downturn, Britons were more pessimistic about how long the country would take to recover from the impact of the financial crash.  Then, only 31% of the British public believed Britain would come out stronger, while over half (56%) believed it would be weaker.
There is also a clear partisan divide.  Two in three (64%) 2019 Conservative voters believe that, although the coronavirus outbreak will be tough, Britain will be stronger when it gets through it. In comparison, only 32% of Labour supporters and 33% of Lib Dems also feel positively. While only a quarter (27%) of Tory supporters think the country will come out weaker, over half of both Labour and Lib Dems think COVID-19 will have a long-term toll (54% and 52% respectively).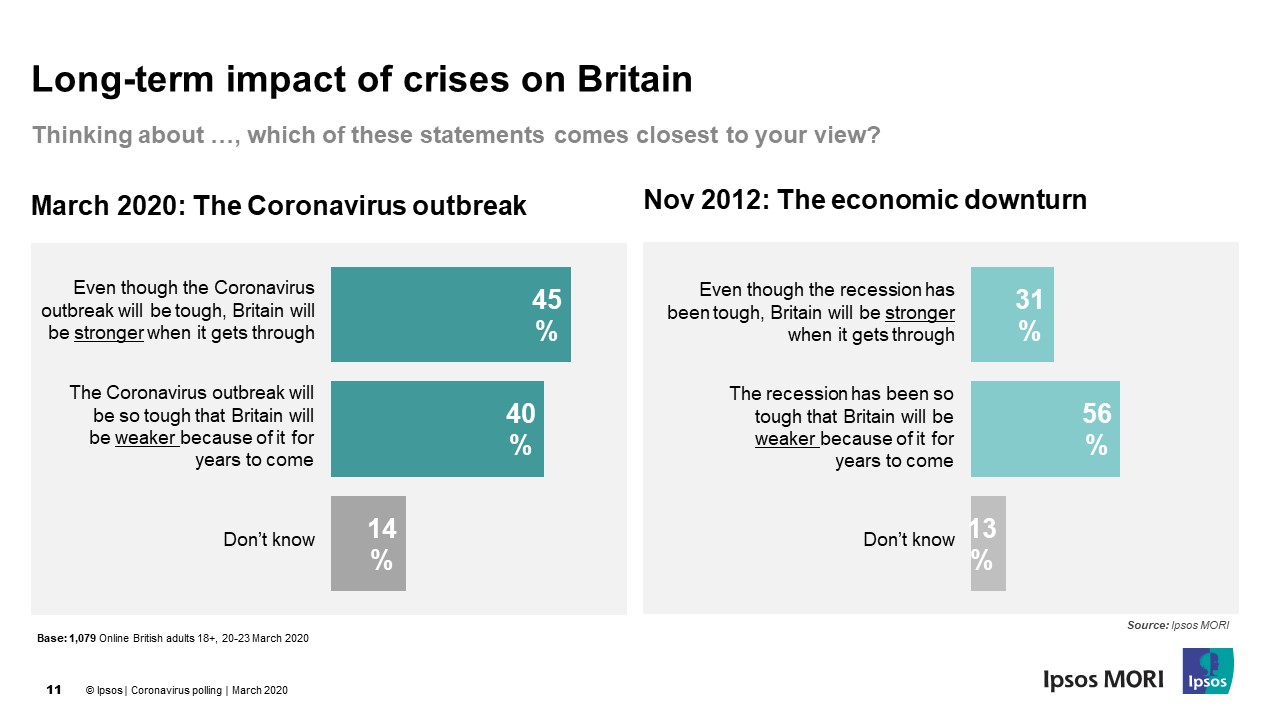 Older generations are also more likely to be hopeful for the future of the country. Just over half (53%) of those aged 55-75 think Britain will come out of this crisis stronger, compared with only 39% of those between 18-34. 
Gideon Skinner, Head of Political Research at Ipsos said:
Despite high levels of concern about the risk the coronavirus outbreak poses to the nation, Britons are marginally more optimistic than pessimistic that the country will be stronger when we get through it.  This suggests there is still some welcome confidence in Britain's resilience and ability to recover – although the experience of the post-2008 economic downturn suggests that this optimism may not last the longer the country is experiencing the negative effects.  The data also shows that even now, partisan effects are strong, with Conservatives much more positive the country will recover than supporters of opposition parties.
Notes to Editors: 
Ipsos interviewed a representative sample of 1,079 British adults aged 18-75. Interviews were conducted using its online i-omnibus from 20–23 March 2020.  Data are weighted to match the profile of the population. All polls are subject to a wide range of potential sources of error.
 
Download