Royal Family Poll
Attitudes to the Monarchy and the Royal Family just over a year after the death of Diana - MORI poll for The Sun.
MORI interviewed 600 adults aged 18+ across Great Britain.
Interviews were conducted by telephone on 23-24 October 1998.
Based on all unless otherwise stated.
Data are weighted to the profile of Great Britain.
An '*' indicates a finding of less than 0.5%, but greater than zero.
Q1 Would you favour Britain becoming a republic or remaining a monarchy?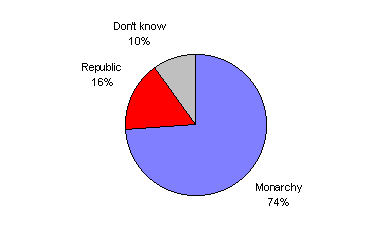 Q2 Which two or three members of the Royal Family do you like the most?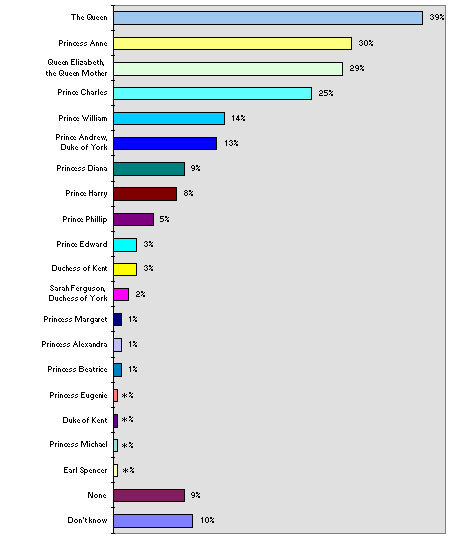 See also Trends on this question
I am going to read out a number of statements that some people have said about the events over the last year. For each one I read out, please tell me to what extent you agree or disagree.
Q3 Diana was a special person who will be remembered for generations to come Q4 The public reaction to the death of Princess Diana has encouraged the Royal Family to modernise the way it carries out its duties Q5 Princess Diana is still often in my thoughts Q6 The death of Diana will have a long-term impact on British Society Q7 The Princess Diana Memorial Committee is taking too long to reach a decision on a lasting tribute to Diana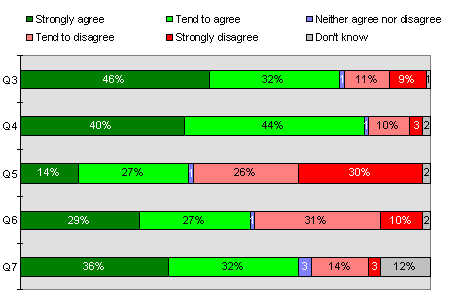 Q8 Princes William and Harry will have to pay a large inheritance tax bill on Diana's will. Do you think ...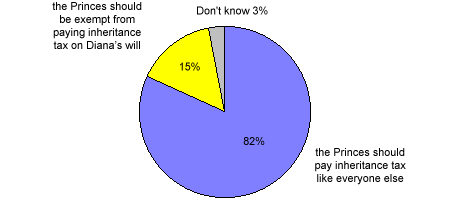 Q9 It is fourteen months since Princess Diana died. It has been suggested that the Royal Family are keen that the nation 'moves on'. Do you think ....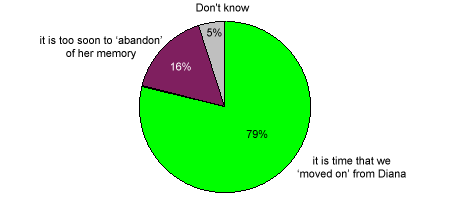 Q10 Now thinking about the relationship between Prince Charles and Camilla Parker-Bowles, assuming they stay together, do you think ...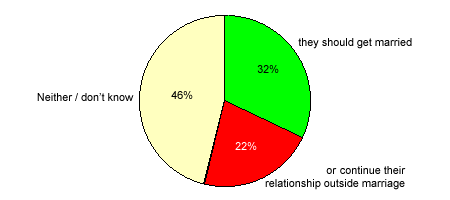 Q11 If Prince Charles were to marry Camilla Parker-Bowles, do you think he should still be allowed to become King, or not?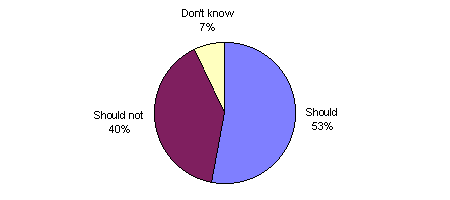 Q12 And do you think Camilla should become Queen at his side?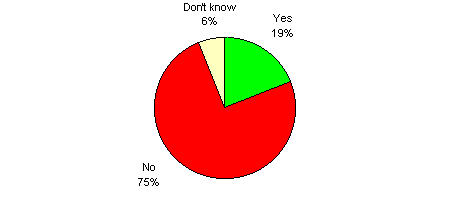 I am going to read out three things that have been reported over the last week. It has been suggested that these things will tarnish Diana's memory if put into place. For each one, please tell me whether you believe or do not believe that it will tarnish Diana's memory?
Q13 The promotion of Camilla Parker-Bowles as an acceptable partner for Prince Charles Q14 Princes William and Harry paying a large inheritance tax bill Q15 Scaled down plans for a memorial garden to Princess Diana in Kensington Gardens