Six in ten Britons still expect measures to be lifted on 21st June, but optimism that lockdown will be lifted has fallen over the month
While many still believe the lifting of coronavirus restrictions will go ahead on 21st June, confidence has fallen over the last month
New polling by Ipsos shows most people are still hopeful for the lifting of current lockdown restrictions on 21st June. Almost 6 in 10 (58%) believe it is likely that this will go ahead as currently planned by the Government, while a third (33%) say it is unlikely, in research carried out between 21-23 May. But while a majority remain hopeful, there has been a significant drop over the month. When the same question was asked at the beginning of May, almost three-quarters (73%) said the lifting of restrictions on 21st June was likely, 15ppt more than those who feel the same way now, while the proportion who think it is unlikely has risen 14ppt.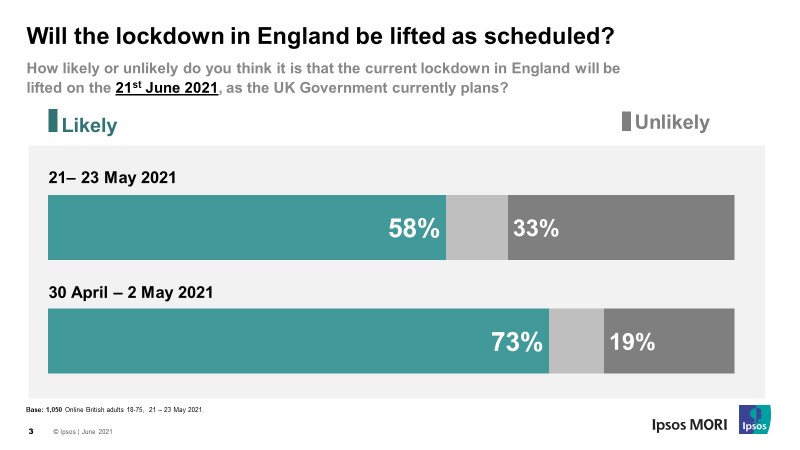 Opinion varies depending on people's opinions on taking the COVID-19 vaccine. Among those who have not yet taken the vaccine, but say they are likely to do so, almost two-thirds (64%) expect the restriction easing to go ahead as planned, but this drops to 4 in 10 among those who are unlikely to take the vaccine (although this group is relatively small, and so results should be seen as indicative only). 
Overall, a third of Britons (34%) believe the Government is lifting lockdown restrictions too quickly while half say the easing of rules is coming at the right time, and only 1 in 10 (9%) believe it is happening too slowly.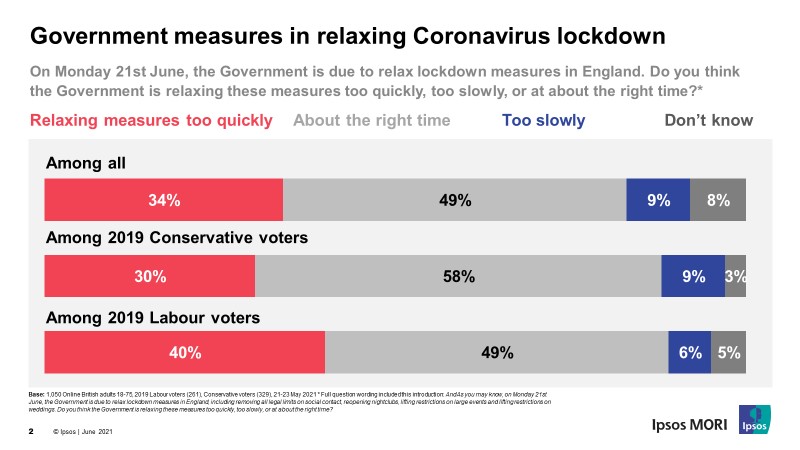 Older generations are most likely to believe restrictions are being eased too quickly, at 42% of 55-75-year olds, as are four in ten Labour supporters and four in ten of those who have had their first dose of the vaccine.  On the other hand, a third of those who are unlikely to get the vaccine think measures are being relaxed too slowly – however, this is only a small group so results should be seen as indicative only.  
Gideon Skinner, Head of Political Research at Ipsos, said:
Even before the reports this weekend, this latest polling showed that while most Britons were still hopeful that lockdown would end on the 21st June, they were not as optimistic as they had been at the beginning of the month – perhaps partly in response to growing awareness of the potential impact of the new variant.  As we have seen throughout the pandemic the public themselves remain fairly cautious and there is little sign of much appetite to speed up the relaxation of measures – instead, around half are broadly supportive of the government's approach to easing restrictions, and even a third worry it might be happening too quickly.
Technical note
Ipsos interviewed a sample of 1,006 adults aged 16-75 in Great Britain using its Ipsos Digital online omnibus between 21st and 23rd May 2021. Data has been weighted to the known offline population proportions for age, working status and social grade within gender, government office region and education. All polls are subject to a wide range of potential sources of error. For more information please contact the team at https://www.ipsosomnibussurveys.com/. 
 
Download