SNP open up significant lead ahead of General Election vote
Our latest poll for STV News shows the SNP to be at the head of the pack in Scotland in the run up to the General Election at this stage.
SNP 52; LAB 23; CON 10; LIB DEM 6; GREEN 6
As we move from September's independence referendum to the prospects for next year's General Election, our new poll for STV News shows the SNP in a commanding position.
Among those who told us that they would be 'certain' to vote in an immediate General Election, 52% say they would vote SNP, a 29-point lead over Scottish Labour on 23%. Support for the Scottish Conservatives stands at 10%, with the Scottish Liberal Democrats and the Scottish Green Party both on 6%.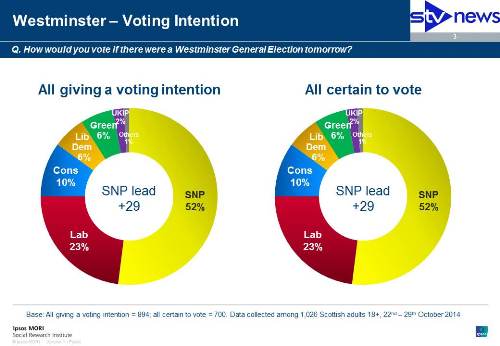 Mark Diffley, Director at Ipsos Scotland said:
 "The poll gives a further boost to the SNP ahead of their upcoming conference and the formal announcement of Nicola Sturgeon becoming the new first Minister. At the same time it will be particularly unwelcome news for the Labour party after a bruising period since the referendum, culminating in Johann Lamont's resignation last week. They will hope that this represents a trough in public support and that their upcoming leadership contest will allow them to begin to regain some of the support they have lost."
Downloads
Technical Note
Results are based on a survey of 1,026 respondents (adults aged 18+) conducted by telephone.
Fieldwork dates: 22 October to 29

 

October 2014.
Data are weighted by: age, sex and working status using census data; tenure using Scottish Household Survey data; and public-private sector. employment using Scottish Government Quarterly Public Sector Employment series data.
Where results do not sum to 100%, this may be due to computer rounding, multiple responses, or the exclusion of "don't know" categories.
Results are based on all respondents (1,026) unless otherwise stated.