Three in five favour Britain remaining a monarchy, although support falls from 2012 peak as more become uncertain
As we reach the Queen's Platinum Jubilee year, how do the British public view their monarchy?
Satisfaction with the Queen remains high
Duke and Duchess of Cambridge seen as less out of touch than Prince of Wales
Most believe monarchy will still exist in 10 years, but more doubts about 50-100 years' time
Ipsos polling conducted at the end of November 2021 shows that three in five (60%) Britons favour Britain remaining a monarchy. Whilst still a majority, this has fallen from three in four (76%) in February 2016 and is the lowest level of support the monarchy has received since the question was first asked in 1993 (the previous low was 65% in 2005). 
However, this has not translated into a large rise in support for Britain becoming a republic, which is still only favoured by one in five (21%) and has been fairly stable over the past thirty years (+4 pts since 2016). Instead, a fifth (19%) opt for saying they "don't know" (+12 pts since 2016 and the highest level of uncertainty we have seen for almost 30 years).
Over twice as many 18-34-year-olds favour Britain becoming a republic compared to those aged 65+ (29% vs. 11% respectively), although young people are still more likely to want to keep the monarchy (40%) than abolish it. 2019 Labour voters are also more divided on the monarchy (44% keeping it, 38% for republicanism), whilst Conservative voters are far more in favour of it (88% keeping it, 4% for republicanism).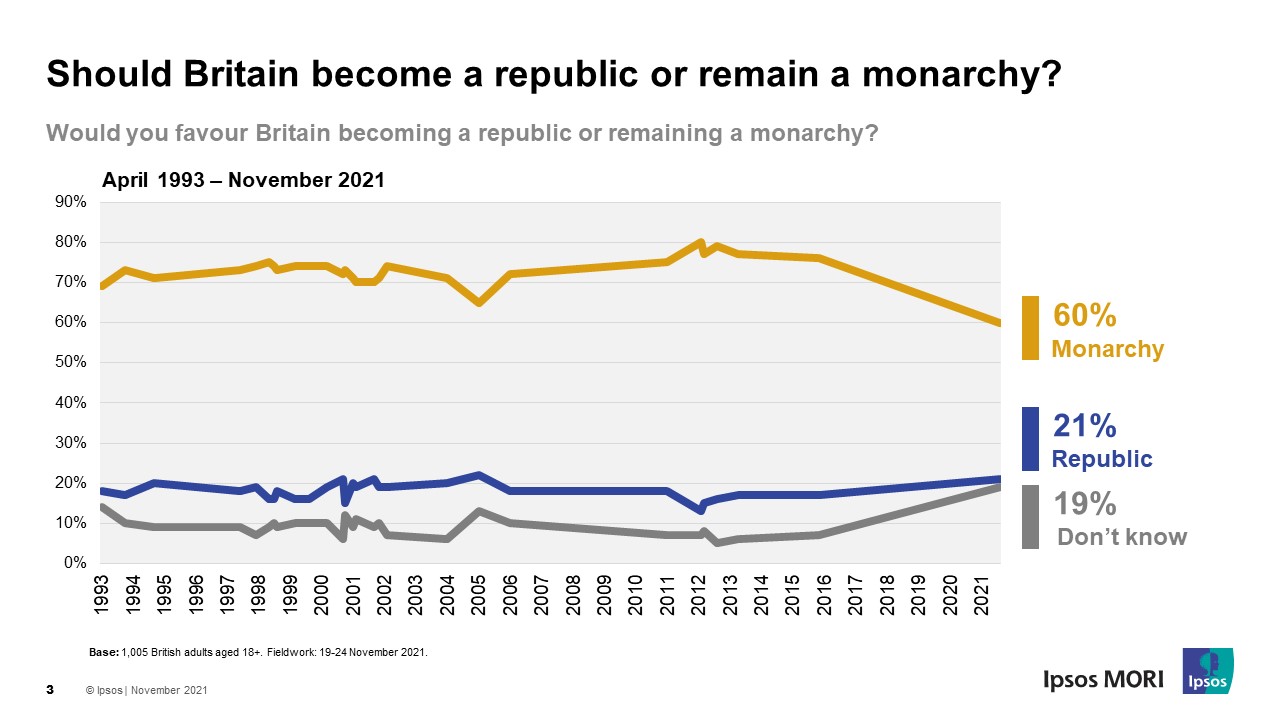 The public are split between whether Britain would be worse off if the monarchy was abolished (39%) or whether it would make no difference (41%). The proportion saying worse off has fallen slightly from when the public were last asked in 2002 (when it was 46%, -7) and halved since they were first asked in 1984 (when it was 77%, -38). Only around one in ten (11%) think Britain would be better off if the monarchy was abolished, which has remained fairly stable over the past forty years. 
Britons are equally divided on whether the monarchy should be modernised to reflect changes in British life (42%) or whether it should remain broadly unchanged (37%). The desire for more modernisation has declined since 2000 (when 60% were in favour, -18), compared to a rise in thinking the monarchy should be left as it is (26% saying this in 2000, +11).
Over four in five (82%) think Britain will still have a monarchy in ten years' time (-8 pts since 2012, now back to the long-term average). However, the public are more uncertain further into the future with similar proportions thinking there will be a monarchy in 50 years' time as won't (43% vs. 36% respectively). In 100 years, nearly half (48%) of Britons think there will not be a monarchy, compared to three in ten (28%) saying there will.
Satisfaction with the Royal Family
Four in five (82%) are satisfied with the way the Queen is doing her job as monarch (-4 since May 2016), compared to one in ten (9%) who are dissatisfied (+4). There are again age divides with nine in ten (93%) of those 65+ satisfied, compared to two in three (67%) aged 18-34.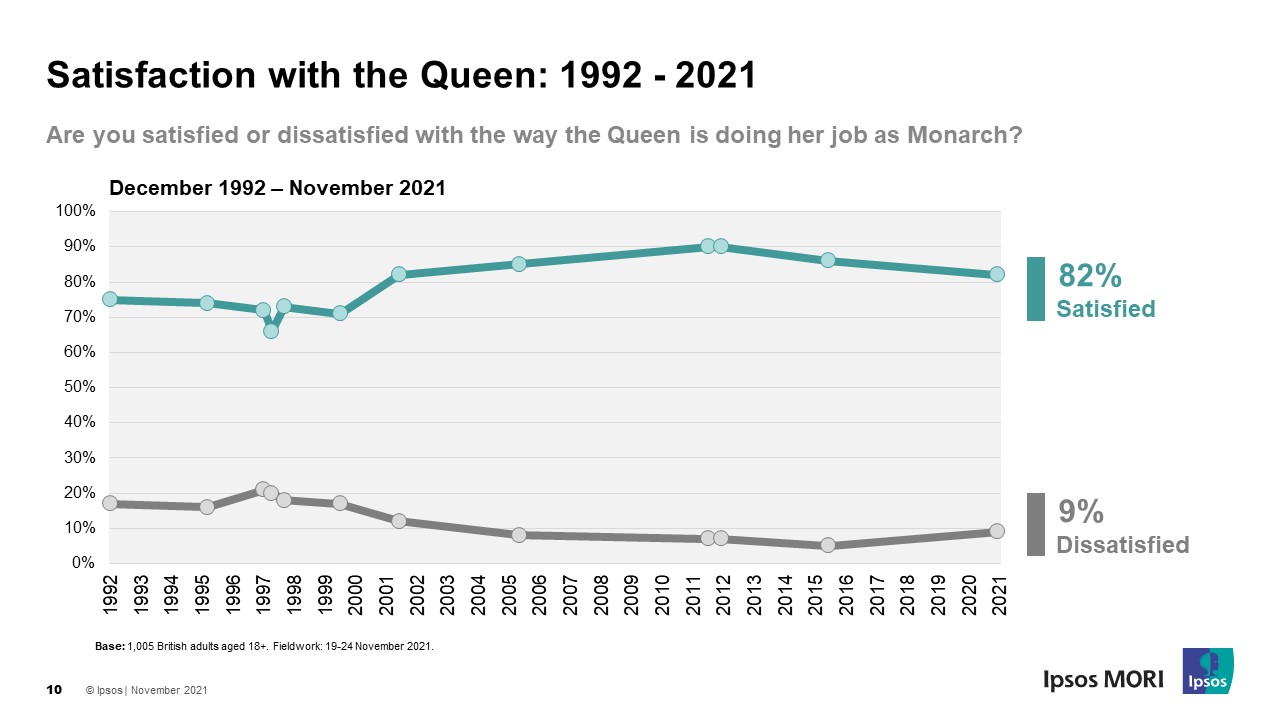 In comparison, nearer three in five (61%) approve of the way Prince Charles in doing his job, which has fallen since last asked in June 2012 (-17 pts), back to where it was in 1998. One in five (20%) are dissatisfied with his performance (+7).  Another one in five don't know (+11 pts).
Meanwhile, three in four (73%) are satisfied with Prince William (-16 since June 2012 shortly after his wedding) and one in ten (10%) are dissatisfied (+5).  Again the proportion of "don't knows" has increased from 6% to 18%.
Half (50%) of the public feel that Prince Charles is out of touch with ordinary people, whilst three in ten disagree (30%). They are more split over whether the Royal Family as a whole are out of touch (45% agree, 34% disagree) and the Queen (40% agree, 39% disagree), a similar pattern to when last asked about in April 2011. 
On the other hand, the majority (56%) disagree that the Duke and Duchess of Cambridge (Prince William and Kate Middleton) are out of touch with ordinary people, compared to one in four (26%) agreeing.
Gideon Skinner, Head of Politics at Ipsos, says of the findings:
2012 was something of a high-water mark in public perceptions of the monarchy, and support has clearly dropped back since then, although more into uncertainty than outright opposition. Maintaining relevance for the public – particularly beyond older people - will need to remain a key concern for the Royal Family, where the Duke and Duchess of Cambridge are doing better than the Prince of Wales.   Satisfaction with the Queen, though, remains high, with personal ratings higher than we've ever recorded for a politician.
Not every year can be 2012, but after recent challenges 2022 is likely to be another important time for the monarchy, with the Platinum Jubilee just a few months away an opportunity to focus again on a more positive message.  It will be interesting to see how this year impacts public opinion around the Royal Family.
Technical note
Ipsos interviewed a representative sample of 1,005 adults aged 18+ across Great Britain. Interviews were conducted by telephone: 19th – 24th November 2021. Data are weighted to match the profile of the population. All polls are subject to a wide range of potential sources of error.