Three-quarters of Britons believe the UK is already experiencing an economic recession
Only 22% of those who believe we are already in a recession or expect one before the end of the year believe we will recover quickly, 74% say it will be a slow comeback.
As questions are asked if Britain is heading towards a 'Summer of Discontent', new polling by Ipsos shows a large majority of Britons believe we are already experiencing an economic recession. Three-quarters (73%) believe the statement "the UK is currently experiencing an economic recession" is true while less than 1 in 5 (17%) say it is false. 
Those who voted for the Labour Party in 2019 are most likely to believe we are already in a recession, at 82%, although 7 in 10 (70%) 2019 Conservative voters also believe it is true.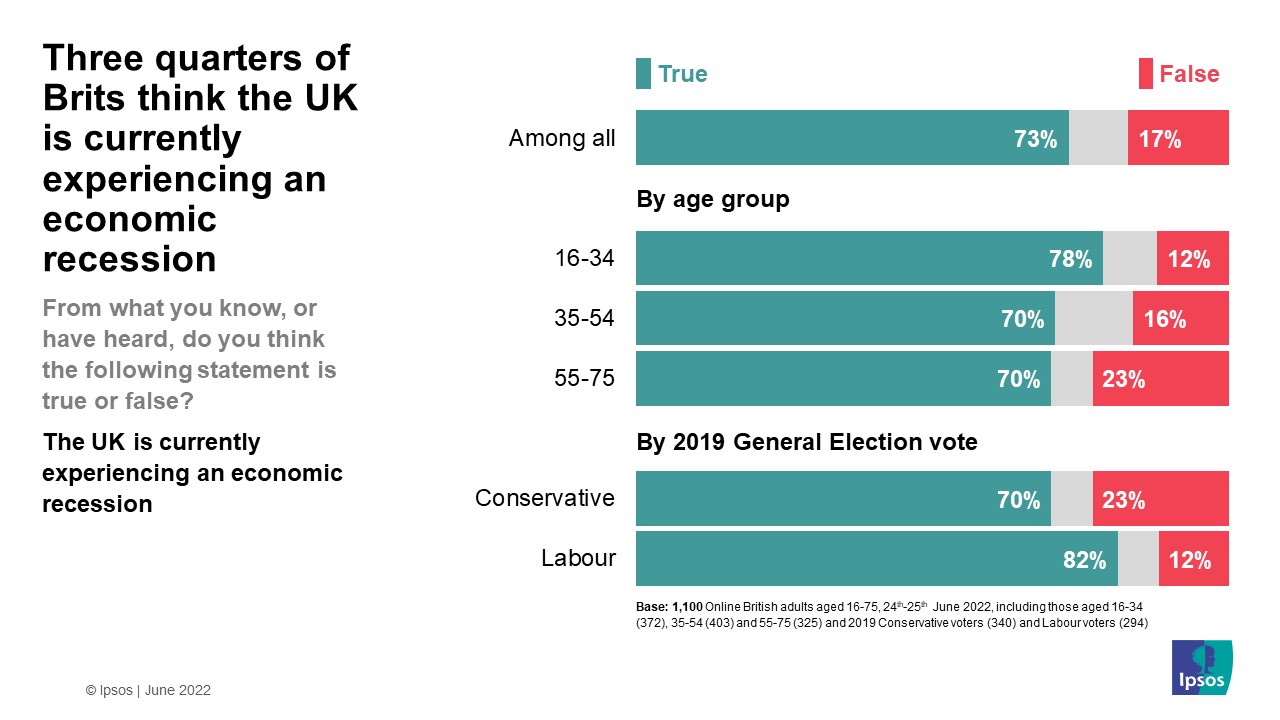 Furthermore, among those who don't know or don't think the UK is currently experiencing a recession, just over half say the UK is likely to experience a recession before the end of 2022 (55%), while 24% think it is unlikely. 
Many Britons are not optimistic about recovery from recession. Among those who think we are already in recession or likely to experience one this year, three-quarters (74%) believe recovery will be very/fairly slow with only 22% expecting the recovery to be quick. Younger Britons are most optimistic with 32% expecting recovery to be fast, however there is still a clear majority expecting it to take some time (63%).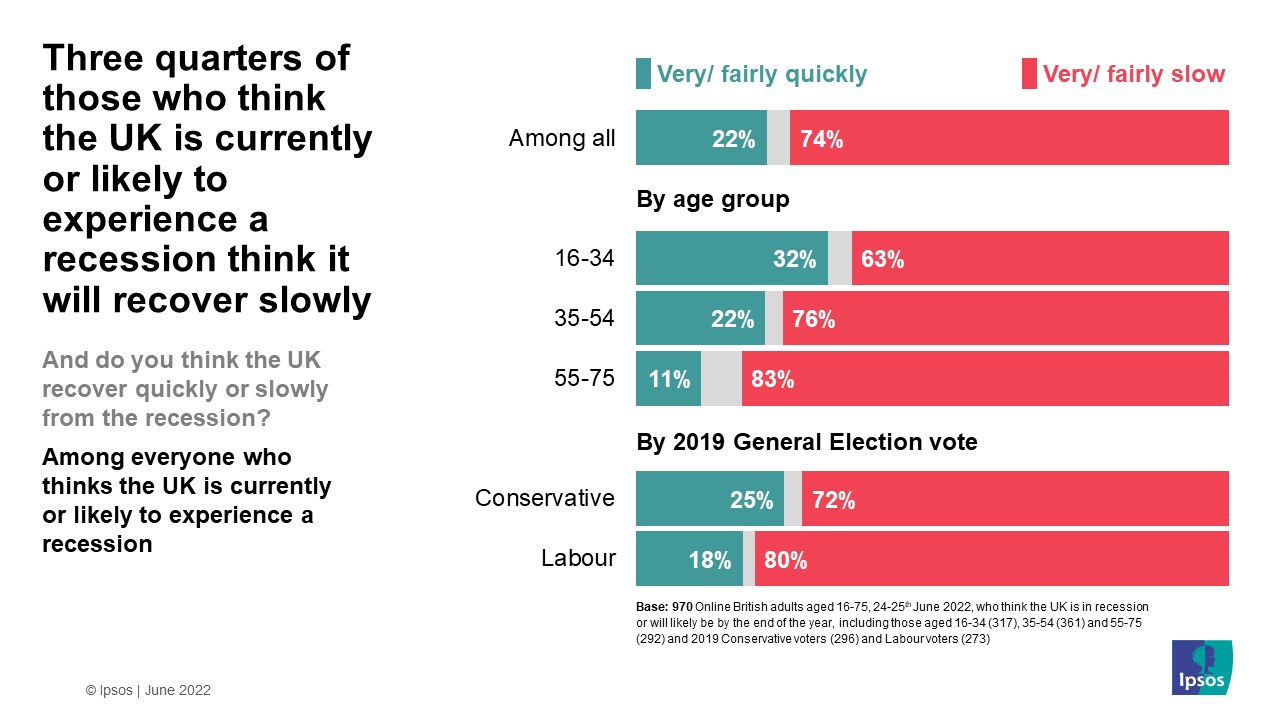 The current view of the British economy has been getting steadily more pessimistic since last year with 72% saying the state of the economy is in a bad state and only a quarter (25%) viewing it well, falling from 37% in November 2021. 
Trinh Tu, Managing Director of Public Affairs at Ipsos in the UK, said:
With the cost of living crisis at the top of the public's agenda, and Andrew Bailey's latest warnings about the state of the economy, it is not surprising to see the British public feeling pessimistic, with a large majority believing we are already in a recession even though official figures have not declared one yet. With little sign the situation will improve in the short-term at least, this issue is likely to remain a key influence on voters' views.
Technical note
Ipsos UK interviewed a representative quota sample of 1,100 adults aged 16-75 in Great Britain. Interviews took place on the online Omnibus between 24th and 25th June 2022. Data has been weighted to the known offline population proportions. All polls are subject to a wide range of potential sources of error.
 
Download