UK Party leaders suffer ratings blow
The latest Ipsos Scottish poll for STV News reveals leaders of the main political parties' satisfaction ratings vary greatly between Scotland and across the UK.
Our latest poll for STV News reveals a stark contrast in fortunes for the leaders of the different political parties in Scotland and across the UK.
The UK leaders of the three main Westminster parties have particularly poor ratings – while a quarter of Scots (24%) are satisfied with the job being done by the Prime Minister (down from 30% in August), satisfaction with Deputy Prime Minister Nick Clegg and UK Labour leader Ed Miliband is lower, at 19% and 18% respectively.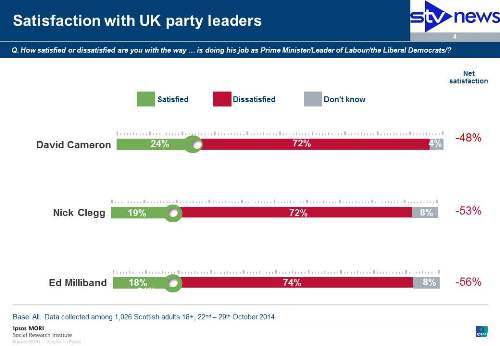 The leaders of the Conservatives and Liberal Democrats in Scotland perform a little better than their UK leaders; over a third (35%) are satisfied with the job being done by Scottish Conservative leader Ruth Davidson, while 22% are satisfied with Willie Rennie, the leader of the Scottish Liberal Democrats. However, both have higher level of dissatisfaction at 42% and 40% respectively.
Meanwhile the current First Minister Alex Salmond and his deputy Nicola Sturgeon (who is soon to become First Minister) both have significantly higher approval ratings with two-thirds (both 65%) of Scots telling us that both of them are doing a good job.  Similarly, 45% say that they are satisfied with the job being done by Patrick Harvie, co-convener of the Scottish Green Party. All three leaders have improved ratings compared to our previous poll in August.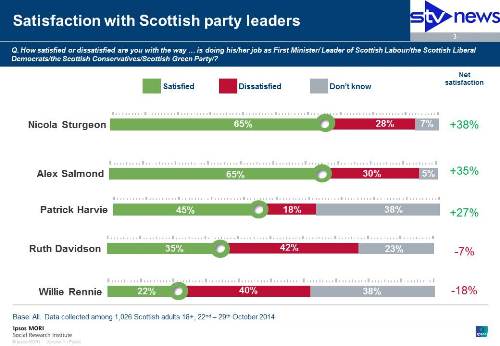 Mark Diffley, Director at Ipsos Scotland said:
"

On top of the results showing the SNP moving far ahead in voting intention for next year's General Election, our poll for STV shows the leaders of parties who supported a Yes vote in the referendum are enjoying improved ratings while those who supported a No vote have seen their support fall. As she prepares to take over as Frist Minister in a few weeks, Nicola Sturgeon will be particularly pleased that two-thirds of Scots are satisfied with the job she is doing. At the other end of the scale what particularly stands out is the low level of support for David Cameron, Nick Clegg and Ed Miliband. For the Labour leader this will be particularly worrying with the General Election looming."
Technical Note
Results are based on a survey of 1,026 respondents (adults aged 18+) conducted by telephone

Fieldwork dates: 22nd October to 29th October 2014

Data are weighted by: age, sex and working status using census data; tenure using Scottish Household Survey data; and public-private sector employment using Scottish Government Quarterly Public Sector Employment series data

Where results do not sum to 100%, this may be due to computer rounding, multiple responses, or the exclusion of "don't know" categories

Results are based on all respondents (1,026) unless otherwise stated