Vote shares for main parties unchanged, but Green vote hits record high
Conservatives retain poll lead. Farage's satisfaction rating falls.
Approval ratings for Nigel Farage at lowest ever level
CON 32 (nc); LAB 29 (nc); LIB DEM 9 (nc); UKIP 13 (-1); GREEN 9 (+2)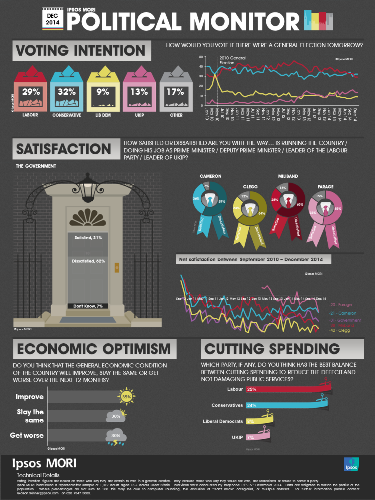 Ipsos's final Political Monitor of 2014 shows the Green Party gaining the highest vote share we have recorded. One in eleven (nine percent) say they would be certain to vote Green in an immediate general election, up two points from last month. Overall, though, the vote share for Britain's largest parties is practically unchanged since last month, with the Conservatives still on 32%, Labour on 29% and the Liberal Democrats on nine percent; UKIP are down one point on 13%.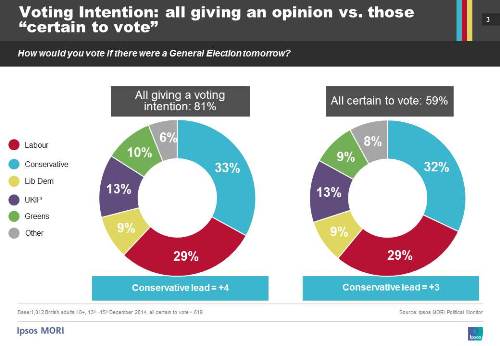 Net satisfaction (% satisfied minus % dissatisfied) in Nigel Farage's performance as  UKIP leader is at its lowest ever level at -20, with 33% satisfied and 53% dissatisfied. This is down from a net score of -6 last month.  Nigel Farage remains very popular amongst UKIP supporters (92% satisfied), but his ratings among the other parties' supporters have slipped: 50% of Conservative supporters, 66% of Labour supporters, and 61% of Liberal Democrats say they are dissatisfied with his performance.
Mr Farage now has similar net ratings to David Cameron, with whom 36% are satisfied and 57% are dissatisfied, giving a net satisfaction score of -21 (down from -15 in November). Ed Miliband and Nick Clegg continue to lag behind Messrs Cameron and Farage in the ratings; 25% are satisfied and 63% are dissatisfied with Mr Miliband, giving a net rating of -38 (although up from -44 last month), while 24% are satisfied and 64% are dissatisfied with Mr Clegg, giving a net satisfaction rating on -40 (marginally down from November). Three in ten (31%) are satisfied with the performance of the government, while 62% are dissatisfied, giving a net satisfaction rating of -31.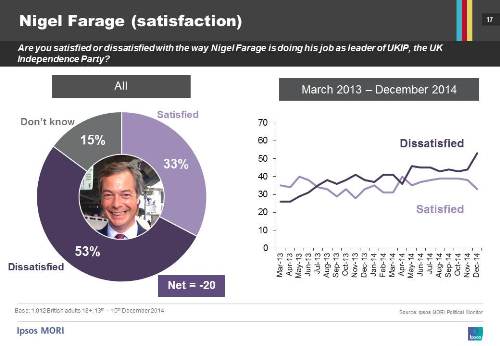 Gideon Skinner, Head of Political Research at Ipsos, said:
"One of the themes of the year has been the rise of the 'other' parties as a mirror to the weakness of the traditional three.  Most attention has been paid to UKIP, who still claim third place, although their leader's popularity with voters beyond his own supporters has fallen.  But it's not just UKIP, as we see this month with a high for the Greens, who are fishing in the same pool of disaffected Liberal Democrat voters who have been boosting Labour." 
 Downloads
Technical note
Ipsos interviewed a representative sample of 1,012 adults aged 18+ across Great Britain. Interviews were conducted by telephone 13-15 December 2014.  Data are weighted to match the profile of the population.