American Opinion on Military Intervention in Iran
While most Americans see Iran as a potential security threat, they are not in favor of a preemptive strike on Iranian military interests
A U.S. airstrike killed Qassim Suleimani, Iran's top security and intelligence commander, early Friday morning. Iranian leaders have since called for retaliation against the United States and three days of national mourning.
It is the latest move in an escalation of tension between the two countries currently playing out in Iraq. A rocket attack on an Iraqi military base killed an American contractor in late December, prompting the United States to attack an Iranian-backed militia responsible for the attack, Kata'ib Hezbollah, killing 24. Supporters of Kata'ib Hezbollah attempted to storm the U.S. embassy in Baghdad, breaking into its embassy compound and setting fire to external reception rooms on Tuesday.
State Department Secretary Mike Pompeo took to Twitter to justify the administration's latest action, commenting in a series of posts on Twitter, "The Iranian regime's actions are a source of instability throughout the region. The U.S. will protect its people and its interests."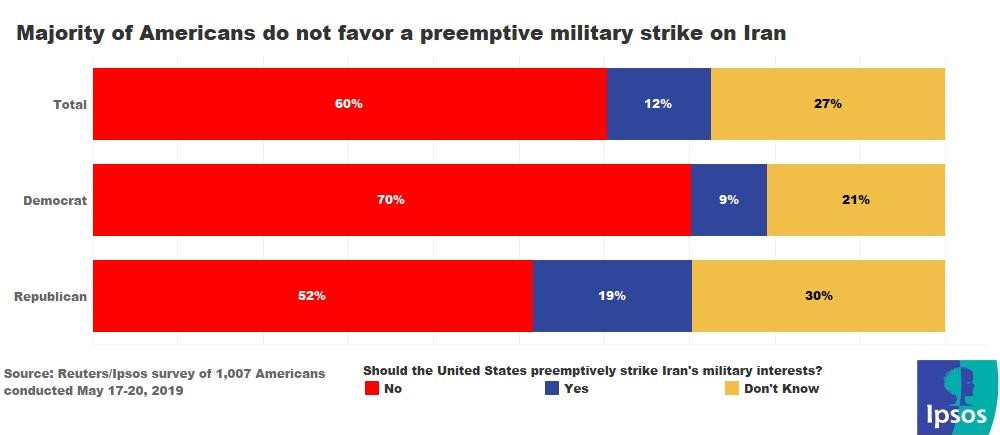 Americans see Iran as a threat to the United States, with 53% agreeing that it is an imminent or significant threat, according to a Reuters/Ipsos poll conducted in May. However, they are not in favor of unprovoked attacks on the nation. At the time the poll was conducted, just 12% said that America should preemptively attack Iran's military interests.
They were more in favor of military action if Iran were to attack U.S. military forces first. In that case, 79% of Americans said that a military response would be warranted but are divided on the level of engagement: 40% felt that a limited military response with airstrikes would be appropriate, and 39% would favor a full military response with airstrikes and a ground invasion. Just 6% would support diplomatic efforts to address an Iranian attack on the U.S. military.
Notably, registered Democrats and Republicans were divided on the level of force they would want to see in response to an unprovoked attack from Iran. More Republicans (58%) would favor a full-scale invasion with ground troops compared to Democrats (28%), while more Democrats (52%) would prefer a more limited intervention compared to Republicans (33%).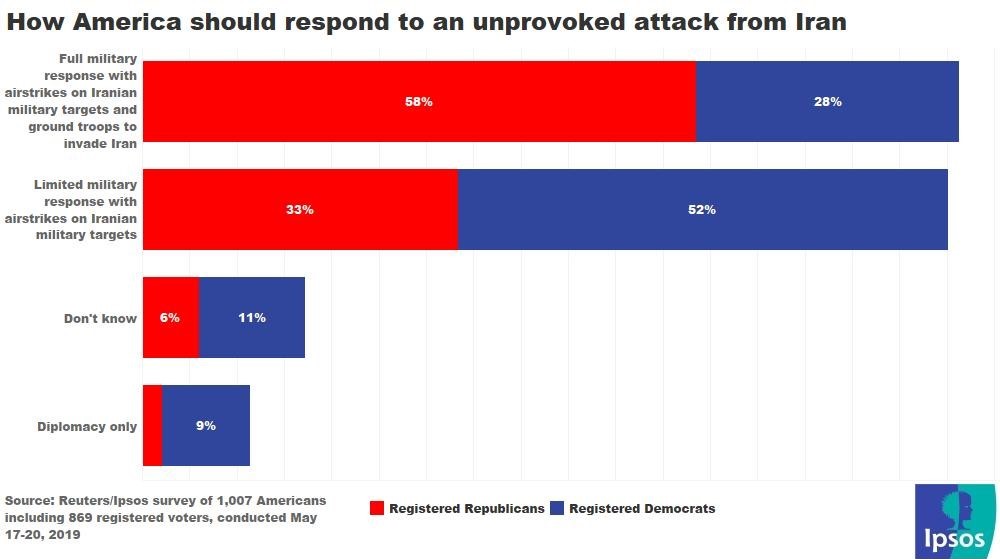 At the time the poll was conducted, 39% of Americans approved of how President Trump was handling the United States' relationship with Iran, while 49% disapproved, and 12% didn't know.
America's partisan divide was on full display as legislators responded to news of Suleimani's death. Many Republican lawmakers lauded President Trump's actions in Iran, while Democratic members of Congress and primary contenders voiced concerns about what escalating engagement might mean for America's future in the region and that the president had not sought Congressional approval for an action that might lead to war.
Reuters and Ipsos will continue to track Americans' views on escalating tensions between the United States and Iran.