Americans overwhelmingly support continuation of coronavirus stimulus and relief programs
New Reuters/Ipsos polling finds widespread public support for the coronavirus relief programs and desire to see them continued
Washington, DC, July 23, 2020 –  As the coronavirus pandemic continues and Congress debates a potential new relief bill, the American public overwhelmingly supports the existing programs and there is bipartisan consensus on their continuation. This comes as the initial round of spending support nears its end and following proposals from the White House and Senate Republicans to alter or narrow the next round of relief.
Large majorities of the American public support the major pillars of the existing coronavirus relief plan including small business support, stimulus checks, and additional unemployment insurance.
Three-quarters (77%) of Americans support "giving all Americans stimulus checks to counter the coronavirus economic damage", including 71% of Republicans.
A similar amount – 76% – support "additional unemployment payments for people who lost jobs due to the pandemic", including 68% of Republicans.
Looking forward, similar large majorities of Americans support continuing these relief programs.
Four in five (82%) Americans support continuing "additional loans for small business for coronavirus-related economic relief", including 81% of Republicans.
Three-quarters (77%) support continuing eviction postponements and protection, including 72% of Republicans.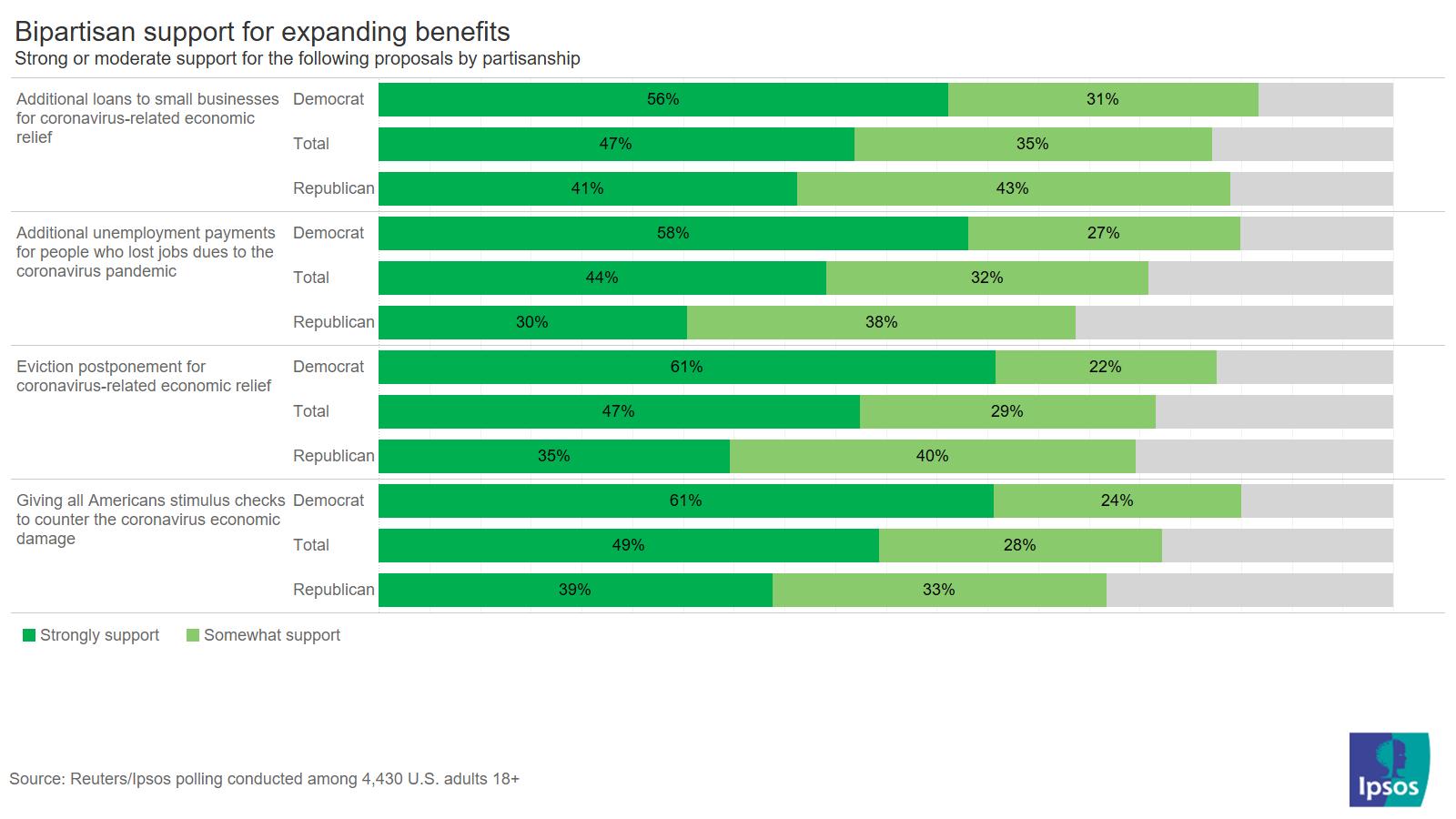 About the Study
These are some of the findings of an Ipsos poll conducted between July 15-21, 2020 on behalf of Thomson Reuters. For this survey, a sample of 4,430 Americans age 18+ from the continental U.S., Alaska, and Hawaii were interviewed online in English. The sample includes 3,744 registered voters, 1,823 Democratic registered voters, 1,445 Republican registered voters, and 363 independent registered voters. Weighting was then employed to balance demographics to ensure that the sample's composition reflects that of the adult population according to Census data and to provide results intended to approximate the sample universe. The precision of Ipsos online polls is measured using a credibility interval. In this case, the poll is accurate to within ± 1.7 percentage points, 19 times out of 20, had all Americans been polled. The credibility interval will be wider among subsets of the population. All sample surveys and polls may be subject to other sources of error, including, but not limited to coverage error, and measurement error. The poll also has a credibility interval of ± 1.8 percentage points for all registered voters, ± 2.6 percentage points for Democratic registered voters, ± 2.9 percentage points for Republican registered voters, and ± 5.9 percentage points for independent registered voters. 
For more information on this news release, please contact:
Chris Jackson
Vice President, US
Public Affairs
+1 202 420-2025
[email protected]
Kate Silverstein
Media Relations, US
Public Affairs
+1 718 755-8829
[email protected]
About Ipsos
Ipsos is the world's third largest market research company, present in 90 markets and employing more than 18,000 people.
Our passionately curious research professionals, analysts and scientists have built unique multi-specialist capabilities that provide true understanding and powerful insights into the actions, opinions and motivations of citizens, consumers, patients, customers or employees. We serve more than 5,000 clients across the world with 75 business solutions.
Founded in France in 1975, Ipsos is listed on the Euronext Paris since July 1st, 1999. The company is part of the SBF 120 and the Mid-60 index and is eligible for the Deferred Settlement Service (SRD).
ISIN code FR0000073298, Reuters ISOS.PA, Bloomberg IPS:FP www.ipsos.com