Cliff's Take: Biden's Electability Lead Fizzles
Early on in the primaries, Biden takes a hit with voters. Perceptions of how likely he is to beat Trump in the general election drop

I have been traveling incessantly over the last few weeks with little time to put pen to paper. I didn't miss too much, did I? Just President Trump's acquittal in the Senate, and two events in Iowa and New Hampshire that seemed to get a lot of press.
Levity aside, the past few weeks have been revelatory, particularly regarding the Democratic primaries.  We now have our first concrete electoral proof points on the relative strength of the Democratic field from the Iowa caucuses and the Granite State primary.
In my view, Bernie Sanders was the victor of these two contests, while former frontrunner Joe Biden should be worried.
Polling put Biden in the lead heading into Iowa and New Hampshire, though we did see Sanders gaining some ground on him in voter consideration. What resulted from these two contests was a total upset for Biden: Sanders took the popular vote in Iowa and New Hampshire. Pete Buttigieg emerged as the moderate favorite, while Amy Klobuchar and Elizabeth Warren vie for third place.
Biden trailed fourth in Iowa, and then fifth in New Hampshire. He didn't even bother to stay to celebrate the New Hampshire primary on Tuesday night, instead decamping immediately for South Carolina where he has a bigger base and hopes to regain momentum for his campaign.
As I often stress, horse race polls can be fuzzy at best, especially at this stage of the electoral process. Instead, a better indicator of how candidates will do is how well each candidate performs on the issue voters deem to be most important. 
The empirical evidence shows that the candidate strongest on the top voter priority wins the election about 85% of the time. Granted, such perceptions can change overtime given the ups and downs of each campaign. Early primary states will have a big impact on how each candidate is perceived by the electorate.
So what do potential Democratic voters want?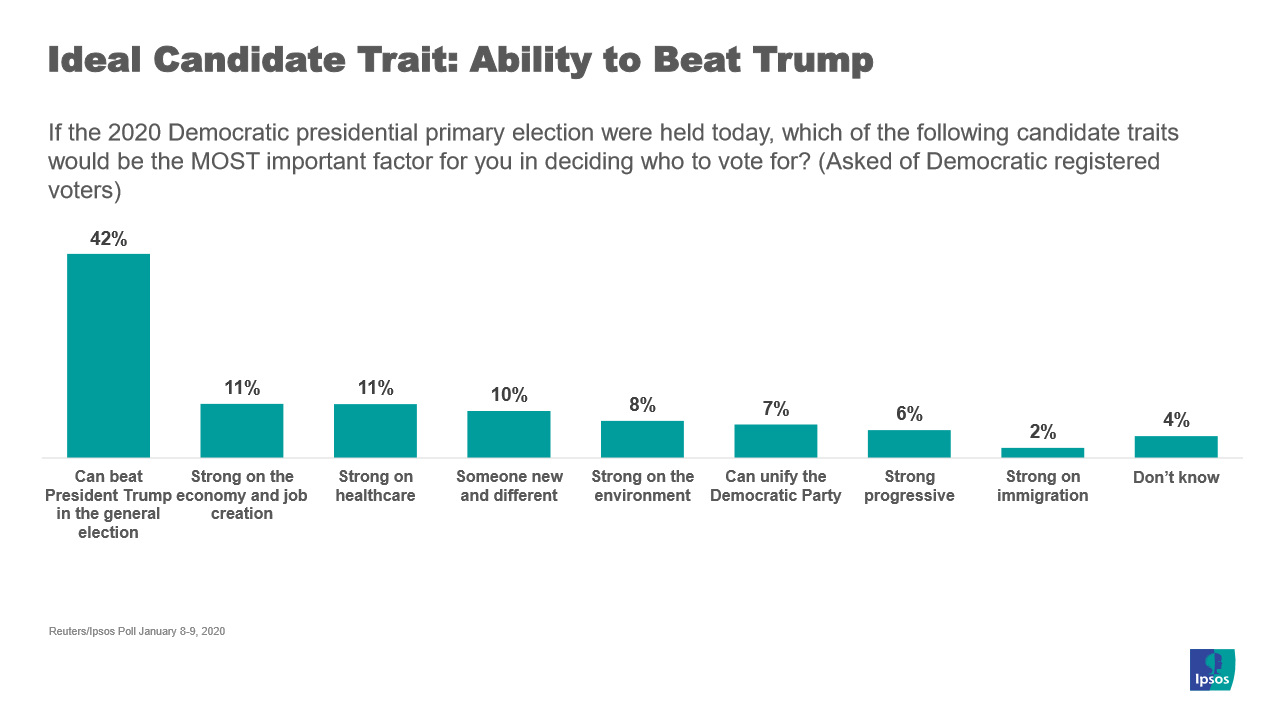 As I've written in past Cliff's Takes, the Democratic base wants to back a candidate who can defeat Trump in the general election!  Indeed, electability beats out other issues like jobs and the economy and healthcare by a factor of almost four.
Biden had been the undisputed leader on electability since we started tracking this metric mid-year in 2019.  That is, until Iowa. Now we see a significant shift in voter perceptions from Biden to Sanders and Mike Bloomberg, so much so that Biden and Sanders are now tied on electability.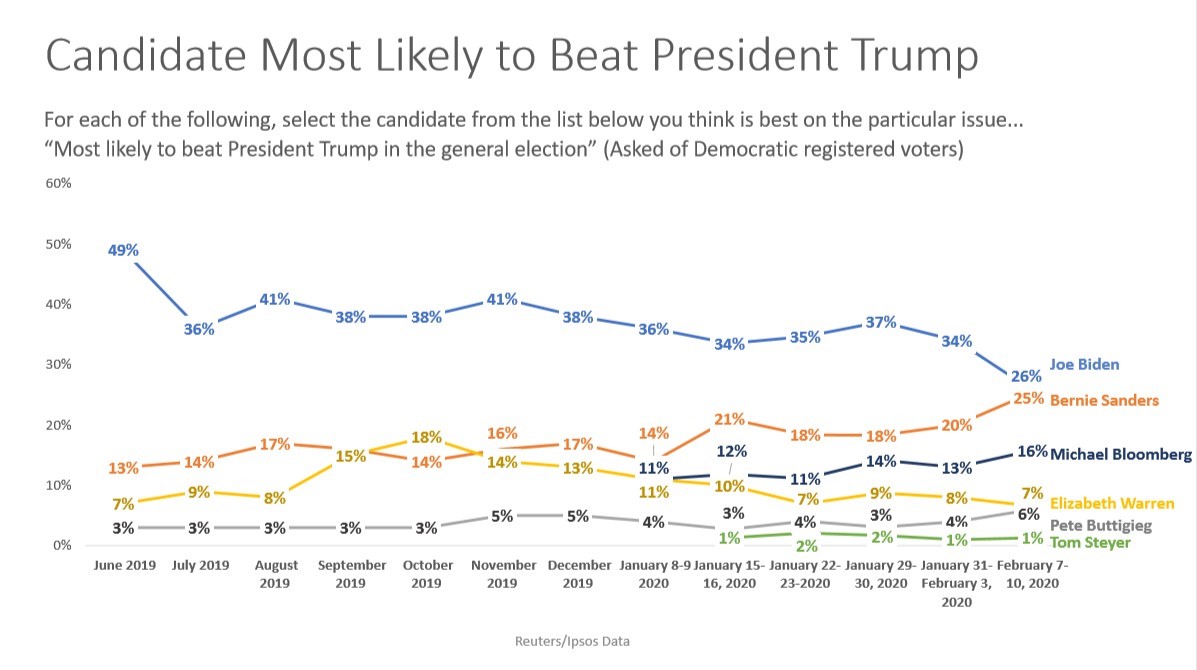 This is significant and could be a real gamechanger in the race. It also demonstrates how perceived electability is just that – perceived. It can evaporate depending on candidates' performance in the primaries, and ultimately create a positive feedback loop for Sanders and Buttigieg and a negative one for Biden.
Conclusion
The main question going forward is whether Biden be able to reverse his downward trajectory on electability and in the polls. He seems to be banking on his popular support among Black Democrats. It could be that South Carolina, with its significant African American population, will prove to be his firewall. Or, he may continue to fizzle slowly on electability.
Only time will tell. 
Though we are still early on in the primaries, if Biden continues to do poorly, the only real beneficiary is Sanders. The moderate middle is too cluttered and divided at the moment to really take on the large segment of Democrats who are devoted to Sanders.
Buttigieg is the moderate favorite by a small margin so far, but moderates do not seem to be decided, and Bloomberg, with all his billions, could also prove to be a challenger later on in the process.
Again, the outcome here is still unclear.
Ultimately, I will continue to watch the electability metric.  Whichever candidate manages to get an edge on electability will likely win the nomination.
For more information, please contact:
Clifford Young
President, U.S.
Public Affairs
+1 202 420-2016
clifford.young@ipsos.com
About Ipsos
Ipsos is now the third largest market research company in the world, present in 90 markets and employing more than 18,000 people.
Our research professionals, analysts and scientists have built unique multi-specialist capabilities that provide powerful insights into the actions, opinions and motivations of citizens, consumers, patients, customers or employees. Our 75 business solutions are based on primary data coming from our surveys, social media monitoring, and qualitative or observational techniques.
"Game Changers" — our tagline — summarizes our ambition to help our 5,000 clients to navigate more easily our deeply changing world.