Cliff's Take: Electability and Swing State Fundamentals
President Trump remains highly electable in key swing states

Hopefully all of you had a relaxing holiday break. I spent the time in Jacksonville, Florida with my family—no politics were discussed. Of course, that is off limits in the Young household.
Today, I want to look at two metrics that we will be tracking during this electoral season: (1) electability and (2) relative strength of Trump in the swing states.
Electability
On the Democratic primary front, the Iowa caucuses are 25 days away. And based on all the horse race polls (state and national), there are only four credible candidates at this point: Joe Biden, Bernie Sanders, Elizabeth Warren, and Pete Buttigieg (FiveThirtyEight). I however have always been very cautious about relying too much on polling numbers at this stage. Instead, I like to zero in on what voters want in their ideal candidate. The empirical evidence indicates that the candidate strongest on the main issues or priorities will win the election.
In 2020, Democratic primary voters' priorities are very straightforward. They identify beating Trump, by far, as their number one priority. This has been consistent over the last two years. The operative word is electability! 
Which puts Biden in a comfortable position as he is the undisputed leader on electability.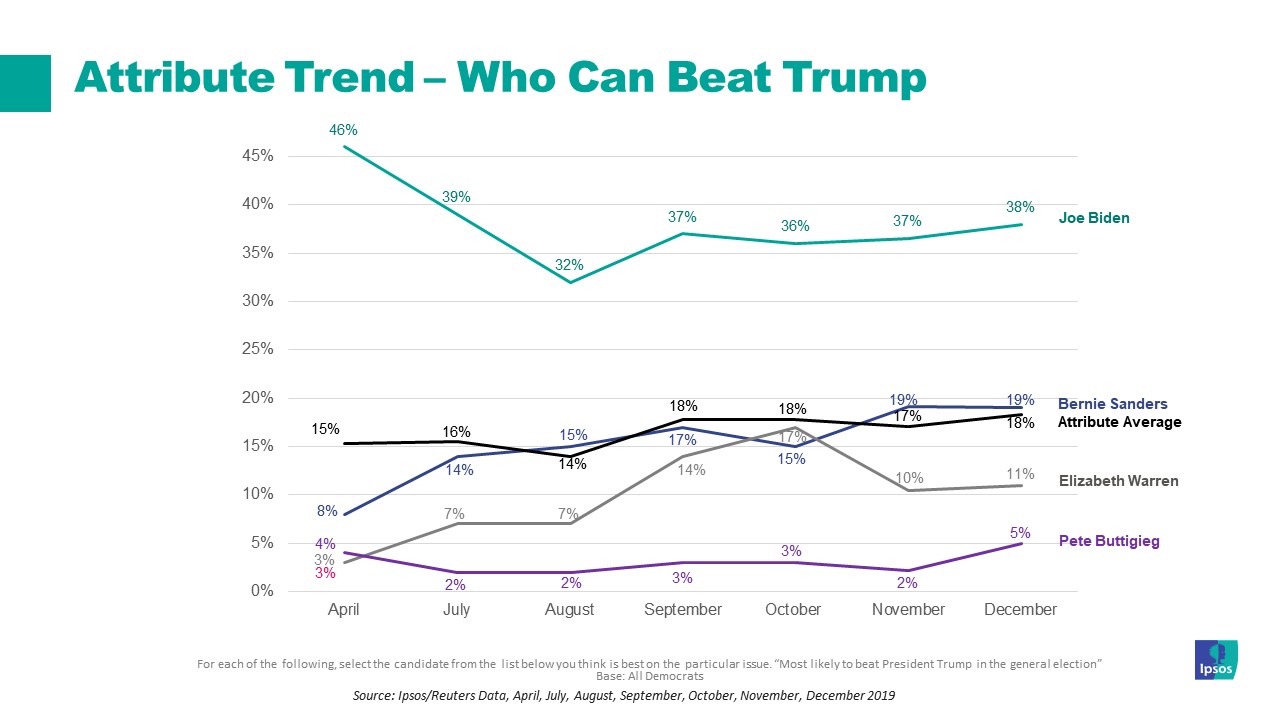 Yes, Biden may have lost some ground earlier last year, but he has held a steady and large lead on this essential metric. Interestingly, as I have noted in the past, Warren was gaining steam until her "Medicare for All" vision alienated some of her supporters — a telltale sign that the base believes that moderation is key to electability. 
Simply put, Biden is still in a strong position.
Swing States and Trump's Approval
The popular vote in the United States does not reign supreme in presidential elections — the electoral college does, as many of my friends were surprised to learn in 2016. As a result of the composition of the electoral college, only a few choice swing states really matter.
There is vigorous debate about which states should be included or not in the key swing state lineup.  Here, for the sake of this discussion I look at just three: Pennsylvania, Wisconsin and Michigan. Though Trump only won by a grand total of 78,000 votes in these midwestern states they represent 46 electoral college votes, enough to change the outcome of the election.
Again, at this point in the process, I don't like to look at horse race polls. They can be unreliable. Instead, I look at a base-rate model of over 500+ elections that takes into consideration two variables: (1) approval ratings and (2) incumbency (Even Odds for Trump & Clinton).
So what do we find?

In short, Trump is in a strong position. Indeed, according to our model, Trump has a better than 50/50 chance of winning in each of these swing states. And in Pennsylvania it is more like a 70% chance! 
Of course, these fundamentals can change (e.g., approval ratings). Moreover, our model is only talking about the average and it may be that Trump turns out to be a below average performer (Trump Should Have a 70 Percent Chance of Winning in 2020). 
This all said, Trump should be very competitive in the key states that Democrats would need to win back the White House.  This is why broad-based electability will be so important. So while things are still looking good for Biden on the electability front, situations can change and along with them the metrics. As such, I will frequently update these metrics with all of you.
For more information, please contact:
Clifford Young
President, U.S.
Public Affairs
+1 202 420-2016
clifford.young@ipsos.com
About Ipsos
Ipsos is now the third largest market research company in the world, present in 90 markets and employing more than 18,000 people.
Our research professionals, analysts and scientists have built unique multi-specialist capabilities that provide powerful insights into the actions, opinions and motivations of citizens, consumers, patients, customers or employees. Our 75 business solutions are based on primary data coming from our surveys, social media monitoring, and qualitative or observational techniques.
"Game Changers" — our tagline — summarizes our ambition to help our 5,000 clients to navigate more easily our deeply changing world.
Founded in France in 1975, Ipsos is listed on the Euronext Paris since July 1st, 1999. The company is part of the SBF 120 and the Mid-60 index and is eligible for the Deferred Settlement Service (SRD).
ISIN code FR0000073298, Reuters ISOS.PA, Bloomberg IPS:FP