[PRESS CONFERENCE] 2018 Political Atlas
The University of Virginia Center for Politics and Ipsos will be unveiling their new 2018 Political Atlas - an interactive tool providing unique data on the 2018 midterm elections.
Larry J. Sabato, Founder and Director of the UVA Center for Politics, and Clifford Young, President of Ipsos, will provide commentary and analysis of the 2018 midterm election. Mark Polyak of Ipsos will also give a live demonstration of the new tool and background on the program.
The Ipsos/Center for Politics partnership will include:
 Daily updates of the main issues affecting citizens in all 50 states.
Polling and social media indicators for every congressional, senate, and gubernatorial race, as well as expert assessments.
State-level polling of key states to be released throughout the fall campaign.
The UVA Center for Politics is a non-partisan institute that seeks to promote the value of politics, improve civics education, and increase civic participation through comprehensive research, pragmatic analysis, and innovative educational programs. Ipsos Public Affairs is a non-partisan, objective, survey-based research practice made up of seasoned professionals. We conduct strategic research initiatives for a diverse number of American and international organizations, based not only on public opinion research, but elite stakeholder, corporate, and media opinion research.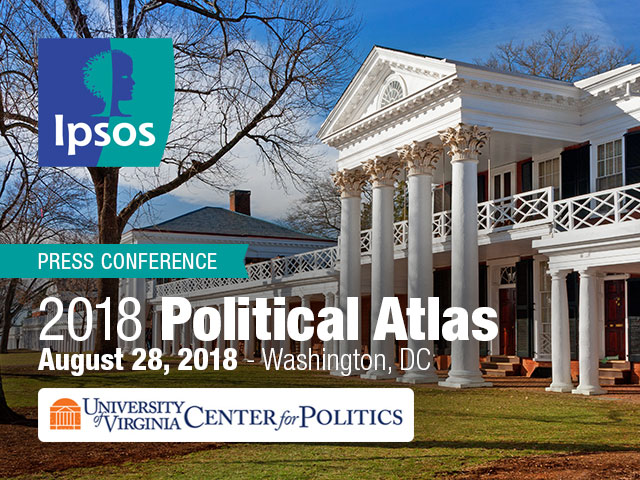 Speakers :
Clifford Young, President, US, Public Affairs

Cliff Young is President of Ipsos Public Affairs in the United States, and also leads Ipsos global election and political polling risk practice. His research specialties include social and public opinion trends, crisis management, corporate and institution reputation, and election polling. Cliff is considered an expert on polling in emerging markets, as well as polling in adverse and hostile conditions, and has polled on over 100 elections around the world. Cliff earned his BA from the University of Illinois at Urbana-Champaign and did his graduate work at the University of Chicago (MA and PhD). He trained in survey sampling at the University of Michigan and in political psychology at Stanford. Cliff is also an adjunct professor at Johns Hopkins SAIS and an instructor at both Columbia University SIPA and University of São Paulo where he teaches courses on public opinion and election forecasting.