Are Americans Ready For Retirement?
At Ipsos Loyalty, we keep an eye on the horizon as a commitment to our brokerage and investment fund clients.
Here's what we see ahead:
Marketing fog surrounding the pre-retirees and financial service companies, as well as a rush to capture share from a large generational cohort of Boomers.
Reports from government economists show considerable pressure on US financial household: and media sources are eager to attract readers with fearful headlines: Debt Burden for Housing Grows! Student Loans the Next Bubble! Costs for Basic Education and Transportation Grow! Underfunded Retirement Rampant!
Fear is driving savings habits away from growth investments.
The largest funds companies are having great success in the current market. As ETFs from Franklin, Black Rock, Fidelity grow in popularity, the message we see time and again is that the core ETF offerings, such as low-cost structure, consistent returns, and ease of access by Do-It-Yourself (DIY) personal investors, have ETF fund Producers well positioned for growth in the $33.3 billion personal investment market.
We don't wish to be Cassandras, wailing about the looming disasters that may come, but we think it is our job to report some of the shifts in the landscape that might affect the investment strategies of consumers as they plan for the journey ahead.
Is there even a problem?
As a research company, we have found it increasingly difficult, year after year, to find people to interview about their finances, or even those with a basic understanding of the financial products that build wealth. It is anecdotal, but we have observed a building challenge to find people who trade on their own accounts, or own whole life insurance, or even understand what and how an exchange-traded fund works. Of course, that may simply be that people don't want to take surveys, or talk about their money habits, but we think it's a symptom of something more profound.
With such a strong client roster of financial service leaders, we take the time to watch overall market trends, and one of them is the overall wealth of American Households. We are still seeing the long-term effects of the Great Recession affecting the mindsets and behaviors of American investors. What we've seen over recent years are inter-related barriers to economic well-being: a stubborn debt burden, reticent consumers hoarding cash for unseen emergencies, and underfunded retirement across the average American household.
Much of this may seem counter-intuitive, given our economic recovery. Some quick highlights:
Job levels have finally rebounded with 142,000 new jobs reported in the latest Bureau of Labor Statistics report (August 2014) and unemployment now at 6.1%.
We counted more $100K earners in our 2013 Ipsos Affluent study than in years past.
The US retirement market has registered tremendous growth over the last two decades, largely driven by the Baby Boomer phenomenon, amassing over $17.9 trillion in financial assets by the end of December 2011, according to GlobalData.
DIY investors placed 25% more trades at E-Trade and TD Ameritrade in Q4 2013 than in 2012.
In an average week in 2013, 40% of individual investors thought the market would rise over the following six months, while 29% thought it would fall, the biggest advantage of bullish over bearish investors since 2005, according to an American Association of Individual Investors survey.
Don't these facts show we've climbed our way out the Great Recession hole by now?
Fewer People with Fewer Accounts
We saw from the 2012 analysis of the Federal Reserve's Survey of Consumer Finances that just over half of American families have a retirement account, down from 53% in 2007. The National Institute on Retirement Security (NIRC) estimates that 38 million Americans (45% of working-age people), lack any form of retirement account, such as an individual IRA or employer sponsored 401(k)-type plan. Among those younger than 34, 58% have no plan at all.
We believe that household economic stability is reflected in the range of financial products owned, and that appears to be quite limited. Yes, the Federal Reserve's Survey of Consumer Finances (SCF) shows that 93% have some kind of transactional (checking or savings) account, followed by the 50% with retirement accounts.
But ownership of other financial instruments is low, and dropping in all categories. For example, only 19.7% own a cash-value life insurance, down from 23% in 2007; only 15% own stocks (18% in 2007), and only 8.7% with pooled investment funds (down from 11.7% in 2007).
After the demand deposit accounts, it seems that most of the savings eggs are going into a single basket - the retirement account. Shares of households that only had a Defined Contribution (DC) plan grew from 27% in 1988 to 58% in 2010, according to NIRC research. We think that's an effect from a single cause -- American companies are not too forthcoming with savings plans for employees. Only 52% offer DC plans, the lowest level since 1987.
The sad fact is that when all households are included - not just households with retirement accounts - the median retirement account balance is $3,000 for all working-age households and $12,000 for near-retirement households. Four out of five working families have retirement savings less than one times their annual income.
Owe Too Much To Save Much
Studies show that a significant debt burden widespread across American households. A new report released by the GoBankingRates, which tracks interest and banking rates nationwide, found that the average American is more than $225,000 in debt with many having less than $500 in savings. The debts are varied -- with an average $147,591 in mortgage debt, a $31,646 balance on student loans and $30,738 in auto loans.
Among those with 401(k)-type savings accounts, we see a pattern of individuals accumulating debt faster than they set aside money for retirement, according to a recent study by HelloWallet, a financial consultancy. This trend is undermining the nation's most common approach to old-age saving. The study showed that workers with retirement savings accounts put aside more than 11% of their pay for retirement (5% in their own accounts, and 6.2% percent in Social Security). That is certainly good news for Fund Producers, and for the country as a whole. But despite that, the retirement readiness of average Americans has been slipping. The amount of money that households nearing retirement are dedicating to pay down debts has increased 69% over the past two decades, the Hellowallet report said. Households headed by people ages 55 to 64 now spend 22 cents of each dollar to pay off old loans -- about the same percentage as younger people, the report found. We recognize that HelloWallet has an agenda with its study, and needs to make the situation seem more urgent to get publicity for its business offer, but the numbers ring true in context of other trends we're currently seeing.
Keeping Savings Close at Hand
The Great Recession seems to have affected not just the kinds of financial products used to save and build wealth, but the portion of consumers that claim to save at all. Overall, from 2007 to 2010, the proportion of families that reported that they had saved in the preceding year fell substantially, from 56.4 percent to 52.0 percent.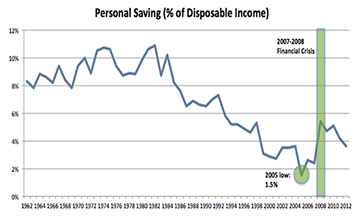 We also see the savings shortfall demonstrated through the Personal Savings Rate (PSR). This is a simple measure of (Income/wages + benefits + other income) minus (taxes + spending + interest paid). Our current PSR of 4.9%, while triple that of the 2005 nadir level of 1.5%, it's still significantly lower than the 9%-10% range that held from the early 60's to the late 80's. While the recession crisis spurred savings up, we are a long way from where we used to be as a nation of savers.
We also noted some shifts in the reasons people were saving. In 2004 and 2007, about 34% of people said they were saving for retirement; in 2010, that dropped to 30%. There are fewer people claiming to be saving for education, or buying a house, but there were increases in saving for "purchases", "the family", and "liquidity" - representing a need to keep cash on hand, and close by, for basic spending.
This may be related to some kind of financial Post Traumatic Stress Disorder, considering that Americans lost, on a median basis, about 7% of household income, and a staggering 38% of household wealth, in the period between 2007 and 2010. The Federal Reserve in St. Louis and its Household Financial Stability research found that households headed by people younger than 40 have recovered only about one-third of the wealth lost during the recession. On a more positive note, the same study reported that most Americans approaching retirement have generally recovered those losses of wealth related to declines in housing values.
If this reticence about saving is akin to a disorder, it's not one unknown to Americans. Collectively, we know about it, and we feel it. The portion of working Americans who express concern about not having enough for retirement is growing, according to a 2012 survey from Pew Research. In 2007, just over half (56%) said they were "somewhat" or "very" concerned they would not have enough money to retire. By 2012, that number was 66%. When we look at confidence levels for having enough to retire, the Pew study also showed the 35-45 year-old GenX consumers were the most worried. In that group, 52% say they are either "not too" or "not at all" confident that their income and assets will last through retirement.
A "Stat-shot" of Affluent Earners
Among the fortunate workers with high incomes, there is a decline in confidence about retirement, and earning more has not necessarily translated into saving more. According to our Ipsos Affluent syndicated study, there are now 62.5 million Americans earning $100,000 a year or more, a rise of 41% over 2010 levels. The Pew study reported that among these $100K+ earners, 79% reported they were confident they'd have enough to retire, but that level dropped considerably from the 88% who said so in 2009. And while our Affluent Study found that while there are more $100K earners in the country, those with over $100,000 in financial accounts has not grown proportionately, but rather held steady at around 30% since 2010.
More Need for Advice, but Fewer Advisors
We are a resilient people, and these economic obstacles to building personal wealth may improve with continued economic growth, further recovery of housing values, and lower unemployment. Yet we believe that financial products are not simple commodities that will be acquired just because there might be more to spend. A fund prospectus is a complex document, and the market context or position of an ETF fund might be even harder to understand for the anxious investor. Yet we see evidence that these professionals are in decline across America. New research by Cerulli Associates, a research advisory firm, has tracked advisor populations over the years, and they show a significant contraction in the profession. During the past year, advisor headcount has declined by 1.3% due to terminations, retirements and advisors exiting the industry by choice and Cerulli projects that advisor contraction will continue through 2016. While the reduction since 2012 was only 1.2%, over the next five years the compound annual growth will be a negative 5%, taking the advisor community from 309,000 in 2012 to 298,000 in 2016. And fewer young people are joining the ranks of the profession. Less than 5% of the existing 316,000 financial advisors in the country are under age 30.
This can be an emerging issue, because consumers clearly need guidance and advice. A fall 2013 survey from TIAA Cref showed demand for financial advice to be high, About half (48%) say it is hard to know which sources of financial advice can be trusted, yet still, almost the same number (46%) say they need a trusted place to go for financial advice. More than half (58%) of Americans say they would prefer to get financial advice from a single point of contact or location. Remarkably, some recent Ipsos research shows that some age segments might be willing to turn to a "digital advisor".
These offerings from new start-ups like MotifAdvisors, Wealthfront and CoVisor are interactive programs that combine technology and financial services to offer financial planning and customized investment advice online. These "robo-advisors" are positioning themselves to cater to the underserved population of investors - mostly Gen-X or Millenials - without the asset scale to meet traditional wealth-management minimums.
Ipsos research shows that about 1 in 4 potential investors are aware of digital advisor offerings; among those aware, over half find the idea appealing, and 38% report being likely to use this type of service.
Summary
We see a clamor of noise surrounding workers approaching retirement, and clear reports from government economic sources showing considerable pressure on US financial households: a large debt burden for housing, education and transportation; a narrow set of retirement instruments, and fear driving savings habits away from growth investments. Clearly, in these teen years of the 21st century, consumers need advice, but a dwindling population of advisors and consumer reticence to talk about money presents another barrier to growing wealth.
Yet as investment providers beat their drums to get Boomers' 401Ks into new, personal IRAs, they may miss an emerging opportunity to advise and inform 35-45-year-old households whose need for comfort, confidence and long-term planning may be more acute. If these emerging investors are willing to turn to robo-advisors, isn't there an opportunity to steal share of mindset away from rivals with better messaging, thought leadership and interactive tools?
In media, firms are leveraging YouTube channels as a start towards education and planning for younger investors as well as their financial advisors. Perhaps they should consider how well they're tied or linked to the news sites that attract these groups.
The truth may be that the key role of providers and advisories is to provide the thinking that soothes anxiety and fear in the hearts of consumers when it comes to saving for retirement.