Men and Women Don't Agree on Dates, Sex, and Heartbreak
Many people are unenthusiastic about dating, while men and women do not see eye-to-eye on many key parts of the process.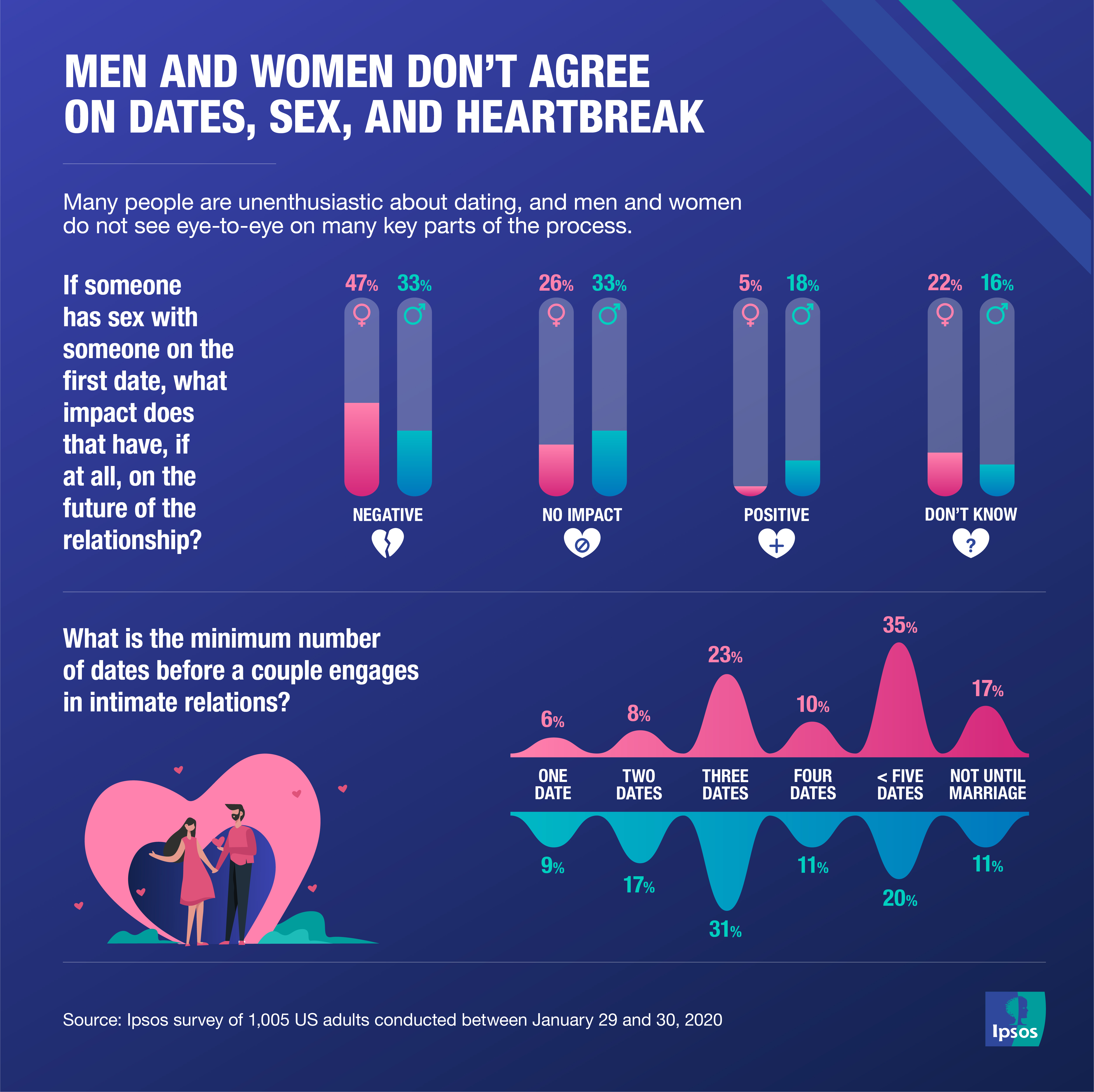 Nearly half of Americans think that dating today is worse than it was 20 years ago, a new Ipsos study finds. More women are frustrated with dating than men (56% of women compared to 41% of men).
While there is research backing up why people generally feel more cynical now, there doesn't seem to be any clear reasons why women and men differ so much on this question. Though it could be that changing cultural norms and technology are creating confusion and mismatched expectations between men and women when they venture out into the wild to date.
Some studies have found that people are perhaps overwhelmed by the plethora of options online dating affords. Others cite uncertainty about who pays for what and the changing tides around what the physical and cultural boundaries are when dating new people as the reasons why pervasive pessimism colors modern dating.
One thing is clear though: men and women tend to have different expectations around the key elements of dating, such as who pays for a date, how sex impacts a relationship, when to initiate physical intimacy, and when to call it quits on a romance.
Some societal norms have proven to be enduring: men are still expected to pony up for dates. Seven in ten men report paying for a date, while only 5% of women pay for a date.
Women's response to this question was more varied than their male counterparts, with no clear majority response: 36% of women say that the other person pays for the date; another third of women (34%) say that whomever initiates pays; while a quarter of women report splitting the check.
What's motivating this gap?
For men, these actions are not always motivated by romance or chivalry. Instead, nearly half of men (43%) who pay for a date report doing so out of habit. Younger adults were no more likely than their older counterparts to break these stereotypes by doing things, like splitting the check.
Sex on the first date is another point of confusion for men and women. Men are nearly twice as likely to see sex on the first date as positive or somewhat positive (18%) for the future of the relationship, while only 5% of women feel the same way. Women are twice as likely as men to say sex on the first date has a negative impact on a relationship.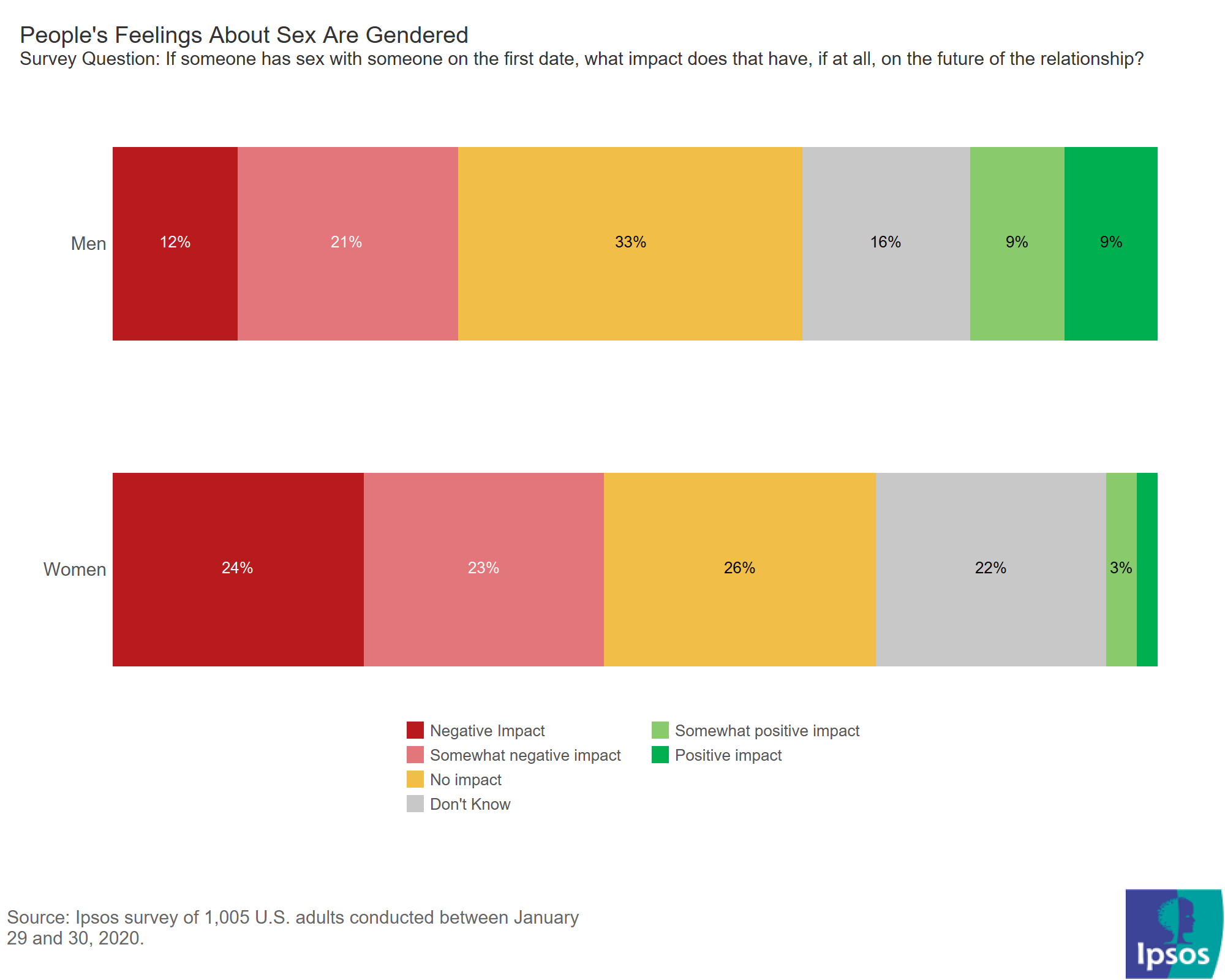 Waiting out the first date doesn't seem to help clear up the confusion. Men and women don't seem to see eye-to-eye on what the minimum number of dates are before a couple has sex. About 45% of women put four or more dates as the minimum number while about half of men (48%) say that 2 or 3 dates is an acceptable minimum number of dates.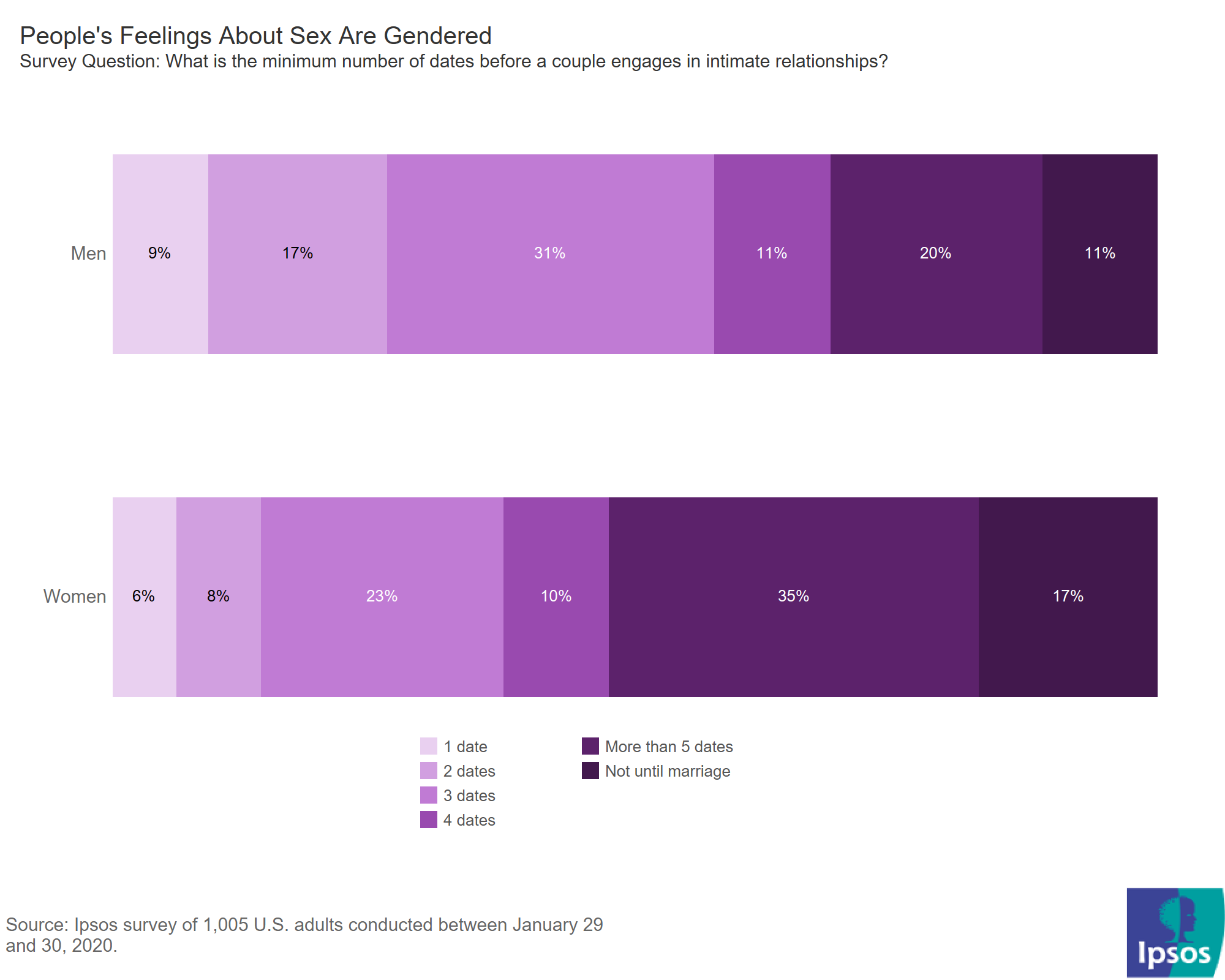 Breaking up with someone is another area where men and women report behaving differently. Over half of men (55%) have dated someone even after knowing there was no future in the relationship. Women, on the other hand, seem to be somewhat keener on breaking it off when the relationship no longer seems viable for the future. Only 45% of women have continued to date someone even after knowing there was no future in the relationship.
Whichever way you look at it, dating in 2020 is complicated, with many people feeling it is worse off now than before. The age-old question of what to do, when to do it, and how to act, leaves many confused and pessimistic.