Americans are reuniting at Thanksgiving this year
Half of Americans have plans with those outside their immediate household this holiday, a reversal from 2020's first pandemic holiday
As our second pandemic Thanksgiving approaches, nearly half of Americans expect to celebrate big this year, either by traveling or hosting a big group, new data from the Ipsos Coronavirus Consumer Tracker shows.
Maskless indoor gatherings like hearty meals were, of course, taboo for much of the pandemic – so last year, one in five Americans (21%) said they weren't seeing friends and family they normally would. More than half (52%) said they would celebrate with just immediate family.
This year, things are shaping up much differently. In a reversal from 2020, 49% of Americans are planning a celebration in 2021 that involves people outside their immediate household.
17% plan to travel locally to celebrate Thanksgiving with friends or family
11% plan to travel by car to celebrate Thanksgiving with friends or family
6% plan to travel by plane to celebrate Thanksgiving with friends or family
15% plan to stay home, but host friends or family outside their core household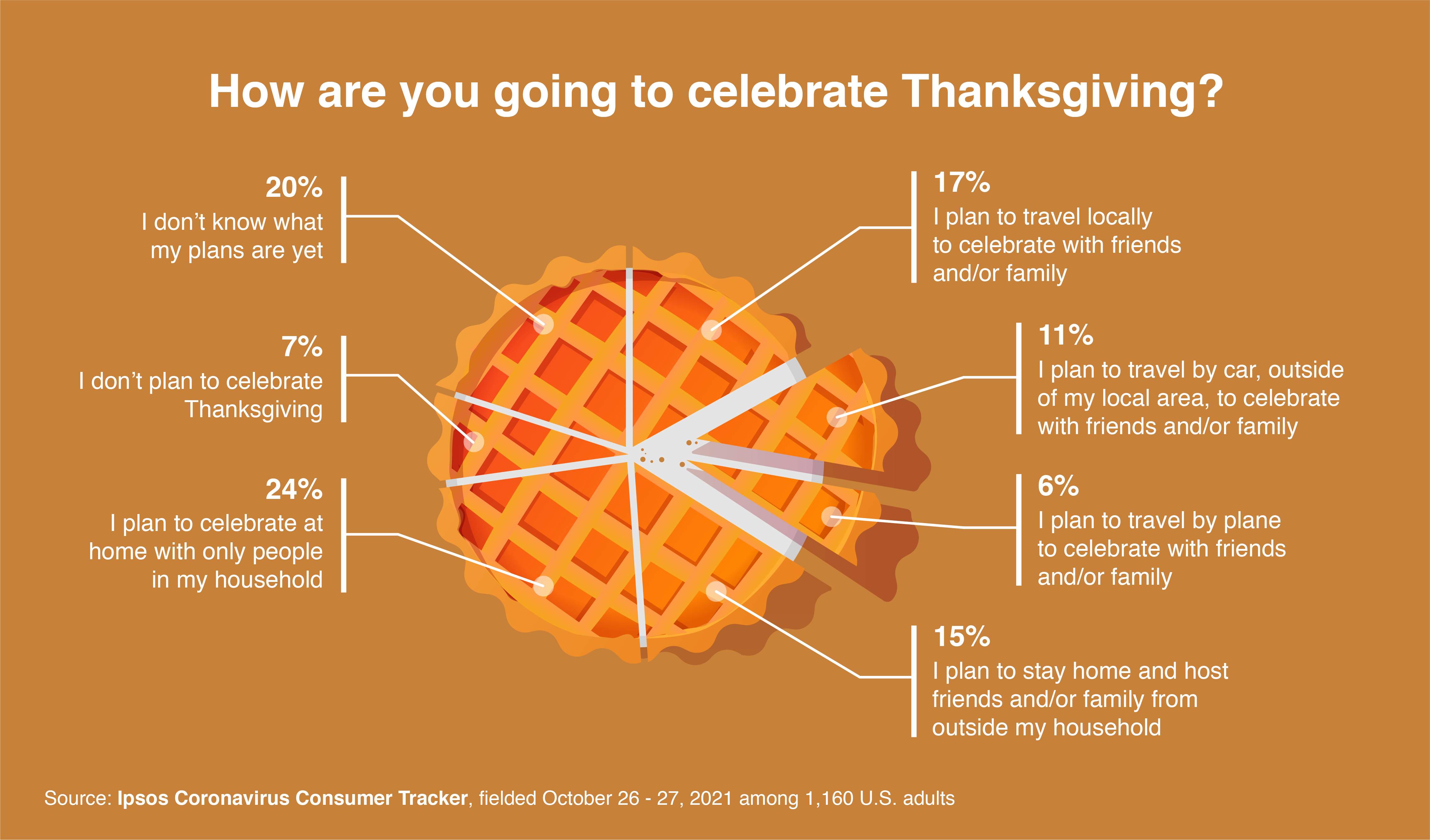 Only 24% say they plan to celebrate at home with only people in their core household for Thanksgiving 2021 – less than half of the same number from 2020. Another 20% don't know what their plans are yet, and 7% say they don't celebrate Thanksgiving.
Many families are more comfortable with these gatherings because of the coronavirus vaccines that have rolled out since last Thanksgiving, and more than half of Americans (54%) say they expect all people who attend their celebration to be vaccinated. And while 63% say they don't expect any testing or vaccination requirements, 30% say they expect anyone who's attending to get tested for COVID beforehand, regardless of vaccination status; and 40% say they expect anyone who's unvaccinated to get tested beforehand.
And because it's Thanksgiving, there will be debates, and the conversation around many turkeys will center around COVID. But, amusingly, Americans are divided on whether pandemic topics will start fights: 45% agree that talking about vaccination and other COVID-related topics at Thanksgiving will lead to arguments, but 46% disagree with this.
Who's ready for a fight? Young people and men, mostly.
55% of men believe arguments will break out, compared to 36% of women
57% of young adults 18-34 believe there'll be arguments, compared to 45% of 35- to 54-year-olds, and 32% of those over 55
"There's nothing quite like politics to start an argument," said Mallory Newall, a vice president in Ipsos' Public Affairs practice. "In a nation that's divided on so many fronts, it's great that many are indicating plans to come together around the Thanksgiving table this year – even if there are a few debates that come along with it."
Download