Cliff's Take: No trees, just forest
Trump directs America's agenda to his electoral benefit
Washington, DC — Much of the nation's focus this August has been on President Trump's behavior. The president appears increasingly erratic, tired, out of sorts, crazy. Many believe this to be a telltale sign that Trump is seriously concerned about his own chances in 2020 as the long-term economic perspective sours and his approval ratings in key states grow less rosy. Such news cycles are enough to knock him "off his rocker," or so the argument goes.
And if not about Trump, the chatter has been about the Democratic hopefuls and their 'electability'. Many say Biden had electability in spades but has been losing ground. In this moment when so many Democrats are fixated on taking the presidency, Sanders, Warren, Harris and the other candidates seek to own electability and clear their own paths to the White House.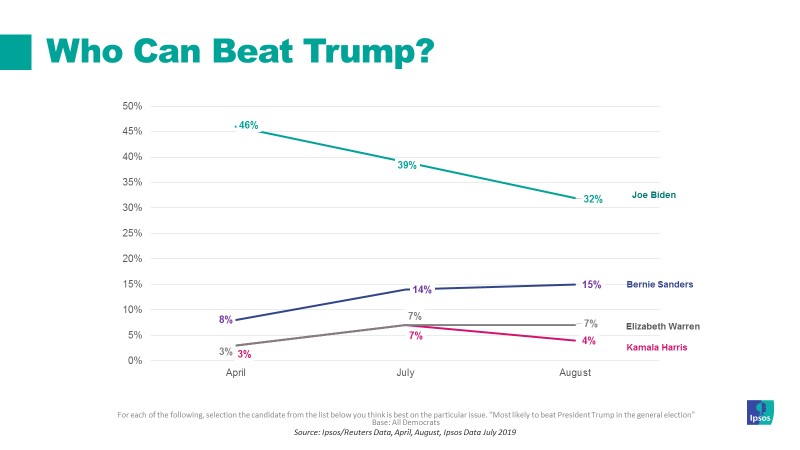 But what we are failing to note this summer is Trump's almost savant-like ability to crystalize and move an agenda. Take, most importantly, immigration. Prior to 2016, immigration was at most a tertiary issue. Today it vies for first place with healthcare. This is almost entirely the result of Trump's ability to frame the issue in a way that captures his base's imagination, no matter other perceived costs of this focus.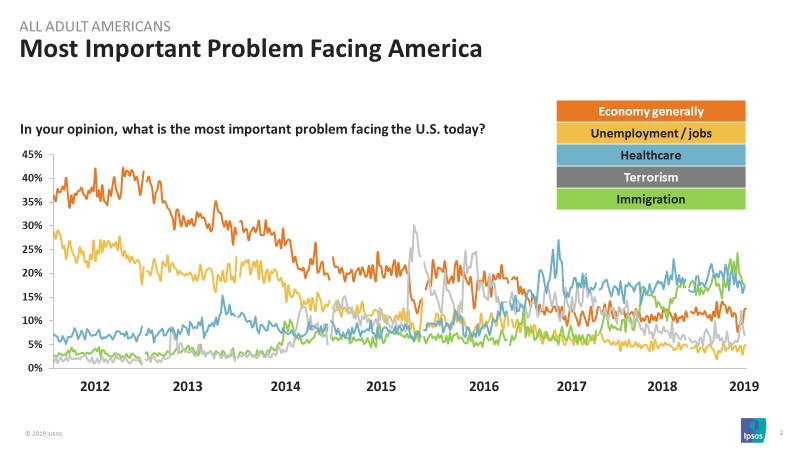 Think of the Caravan, the Squad, family separation, or declaring a national emergency to divert defense budget to building the Wall. Each one in isolation is idiosyncratic, but, taken together, they are a recurring refrain of his central narrative: that America is under threat by "the other".
This narrative is immensely effective at turning immigration into a shorthand for a range of other top concerns for Republicans. Immigration has come to mean much more than just immigrants: it is about threats to personal economy, to safety, to sense of country or community. Creating a symbol is certainly not a new tactic, but it is one President Trump deploys with outstanding effect.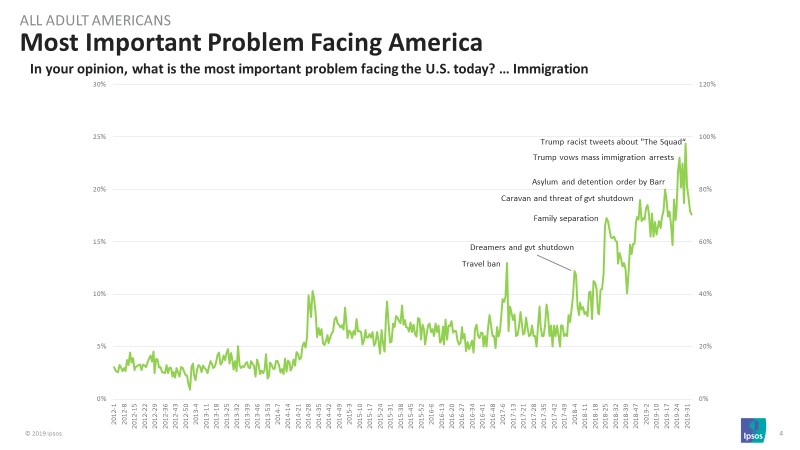 And it should not surprise us that the president has proven to be such an effective political communicator. What do they say about advertising? It is all about repetition, repetition, repetition. Who would know this better than a man who spent years in sales and on television, who built a global brand around his own name? His communications may seem needlessly provocative, redundant, or at times reactive, but the president is constantly on his message and constantly in the news.
This movement in the immigration agenda is as impressive as it is rare. I often tell people that political actors have an impossible time changing such priorities. I repeatedly say: politicians don't make the priorities; instead the priorities make politicians. Donald Trump has managed to flip this notion on its head. He has done it by altering the meaning of immigration to tap into a broader range of fears. Functionally the "immigration" we talk about now is not the same "immigration" we talked about in 2010.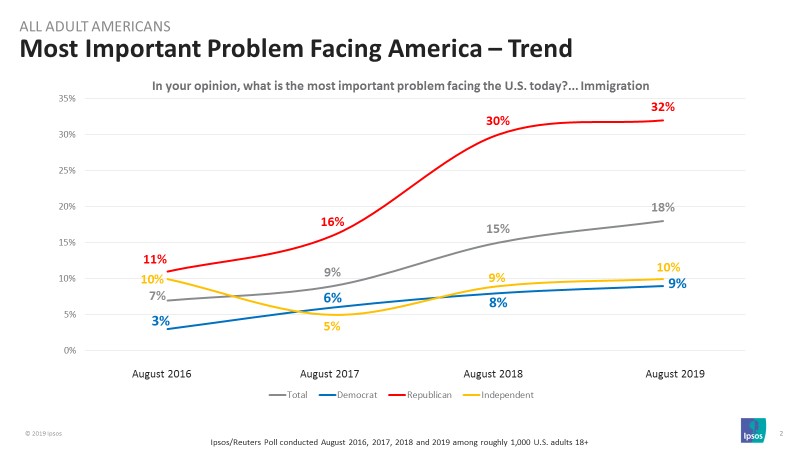 So what does this all mean?
First and foremost, this is clear evidence that Trump will be an extremely dangerous opponent in next year's election. No matter how winged he might appear now, he has an almost unprecedented ability to reset agendas. This for me is his X factor or super power. None of the Democratic candidates have shown themselves to be his equal in controlling the agenda.
Second, this realignment of issues and meaning potentially has long-term consequences for the Republican Party. Certain views on race and the nation have long been part of Republican identification, but through immigration, Trump has made it a focus of the party. Doing so has shifted – at least temporarily – the composition of the parties, pulling many white working-class voters into the Republican tent.
Looking to the future, is the realignment just a Trumpian blip? Or has the Republican Party become the anti-immigration party? Perhaps this will be Trump's most lasting legacy.
For more information, please contact:
Clifford Young
President, U.S.
Public Affairs
+1 202 420-2016
clifford.young@ipsos.com
About Ipsos
Ipsos is now the third largest market research company in the world, present in 90 markets and employing more than 18,000 people.
Our research professionals, analysts and scientists have built unique multi-specialist capabilities that provide powerful insights into the actions, opinions and motivations of citizens, consumers, patients, customers or employees. Our 75 business solutions are based on primary data coming from our surveys, social media monitoring, and qualitative or observational techniques.
"Game Changers" — our tagline — summarizes our ambition to help our 5,000 clients to navigate more easily our deeply changing world.
Founded in France in 1975, Ipsos is listed on the Euronext Paris since July 1st, 1999. The company is part of the SBF 120 and the Mid-60 index and is eligible for the Deferred Settlement Service (SRD).
ISIN code FR0000073298, Reuters ISOS.PA, Bloomberg IPS:FP