Majority of Americans support proof of vaccination or a negative test to attend MLB games
A majority of Americans and self-ascribed MLB fans support proof of vaccination or a negative test in ballparks, but mask requirements elicit more mixed responses.
Washington, DC, April 6, 2022 – A recent Ipsos poll finds over half of Americans (56%) describe themselves as either a big or somewhat of a fan of Major League Baseball (MLB). Forty-two percent of these fans are more excited about this year's season, compared to last season, while 37% are as excited as last year. Last year, 50% of fans said they were more excited for the 2021 season than the one prior, the higher levels of excitement back then could have been due to the 2020 season being shortened as a result of the COVID-19 pandemic. A majority of Americans (55%) and those who consider themselves MLB fans (65%), support proof of vaccination or a negative COVID-19 test in ballparks. These numbers represent a softening in support towards this policy as compared to last year when it was 64% and 67%, respectively. Over half (58%) of Americans also believe players should be vaccinated, but mask requirements while in the ballpark elicit more mixed responses (47% support and 46% oppose).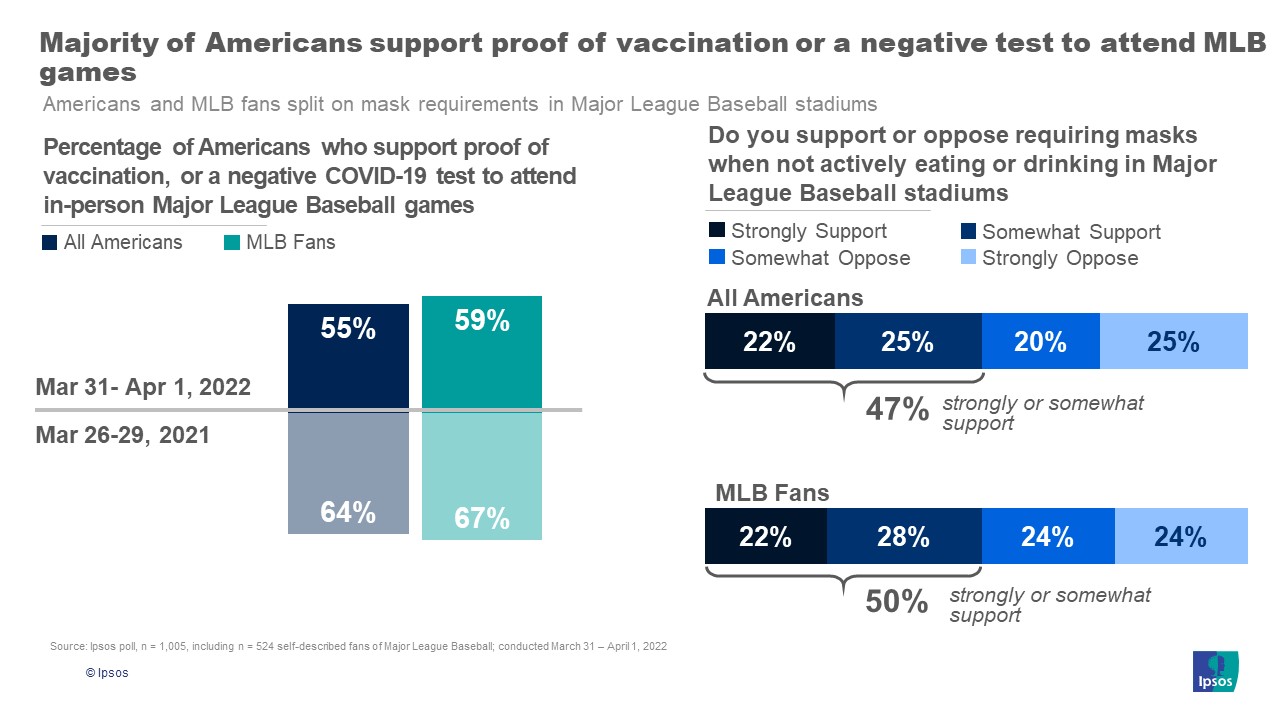 Regarding the MLB lockout, 64% of Americans and 88% of MLB fans say they are aware of it, and both are more likely to believe owners and players equally share the blame for it occurring (40% and 50%, respectively). Overall, MLB fans support some of the policies that came out of the lockout such as expanding the number of playoff teams from 10 to 12 (66%) and expanding the designated hitter position to the National League (63%).
Finally, most fans oppose allowing players who have been accused of (40%) or admitted to (41%) using steroids or performance-enhancing drugs, to be inducted into the Baseball Hall of Fame.
About the Study
These are some of the findings of an Ipsos poll conducted between March 31-April 1, 2022. For this survey, a sample of 1,005 Americans age 18+ from the continental U.S., Alaska, and Hawaii were interviewed online in English. The sample was randomly drawn from Ipsos' online panel, partner online panel sources, and "river" sampling and does not rely on a population frame in the traditional sense. After a sample has been obtained, Ipsos calibrates respondent characteristics to be representative of the U.S. population using standard procedures such as raking-ratio adjustments. The source of these population targets is U.S. Census 2019 American Community Survey data. The sample drawn for this study reflects fixed sample targets on demographics. Posthoc weights were made to the population characteristics on gender, age, race/ethnicity, region, and education.
Statistical margins of error are not applicable to online non-probability polls. All sample surveys and polls may be subject to other sources of error, including but not limited to coverage error and measurement error. Where figures do not sum to 100, this is due to the effects of rounding. The precision of Ipsos online polls is measured using a credibility interval. In this case, the poll is accurate to within ± 3.8 percentage points, 19 times out of 20, had all Americans been polled. Ipsos calculates a design effect (DEFF) for each study based on the variation of the weights, following the formula of Kish (1965). This study had a credibility interval adjusted for design effect of the following (n=1,005, DEFF=1.5, adjusted Confidence Interval=+/-5.3 percentage points).
The results of this poll are trended against a previous poll, fielded March 26-29, 2021. For this survey, a sample of 1,115 adults age 18+ from the continental U.S., Alaska, and Hawaii was interviewed online in English. The poll was accurate to within +/-3.3 percentage points.
For more information on this news release, please contact:
Mallory Newall
Vice President, US
Public Affairs
+1 202 420-2025
[email protected]
About Ipsos
Ipsos is the world's third-largest Insights and Analytics company, present in 90 markets and employing more than 18,000 people.
Our passionately curious research professionals, analysts, and scientists have built unique multi-specialist capabilities that provide true understanding and powerful insights into the actions, opinions, and motivations of citizens, consumers, patients, customers, or employees. We serve more than 5,000 clients across the world with 75 business solutions.
Download