Most Americans support single, national strategy to combat COVID-19
New NPR/Ipsos poll: Majority see the U.S. doing worse than the rest of the world, support stronger government role
Washington, DC, August 4, 2020 – As the death toll around COVID-19 continues to climb, a new NPR/Ipsos poll shows that a strong majority of Americans favor a single, national strategy to combat the virus. Most Americans also support bold government action to slow the spread of the virus, from a topdown strategy on when to reopen businesses and schools, to laws requiring masks in public, and expanding COVID-19 testing, free of charge. Furthermore, nearly two-thirds of Americans believe the federal government should take on more debt to provide Americans with another economic stimulus check and extend federal unemployment benefits.
Detailed Findings   
Americans want the federal government to take widespread action on COVID-19. There is broad, bipartisan support for a number of proposals aimed to limit the spread of COVID-19.
Two-thirds of Americans believe our country is handling the pandemic worse than other countries (65%) and favor a single, national strategy for combatting the virus' spread (67%).
Strong majorities are in favor of government funding to expand COVID-19 testing and make it free of charge (85%), federal funding to manufacture protective equipment and make a COVID-19 vaccine available to all Americans (83% each), enacting state laws to require mask wearing in public at all times (76%), and a single, national strategy for when businesses (62%) and schools (60%) can reopen. All of these proposals are supported by half or more of both Republicans and Democrats.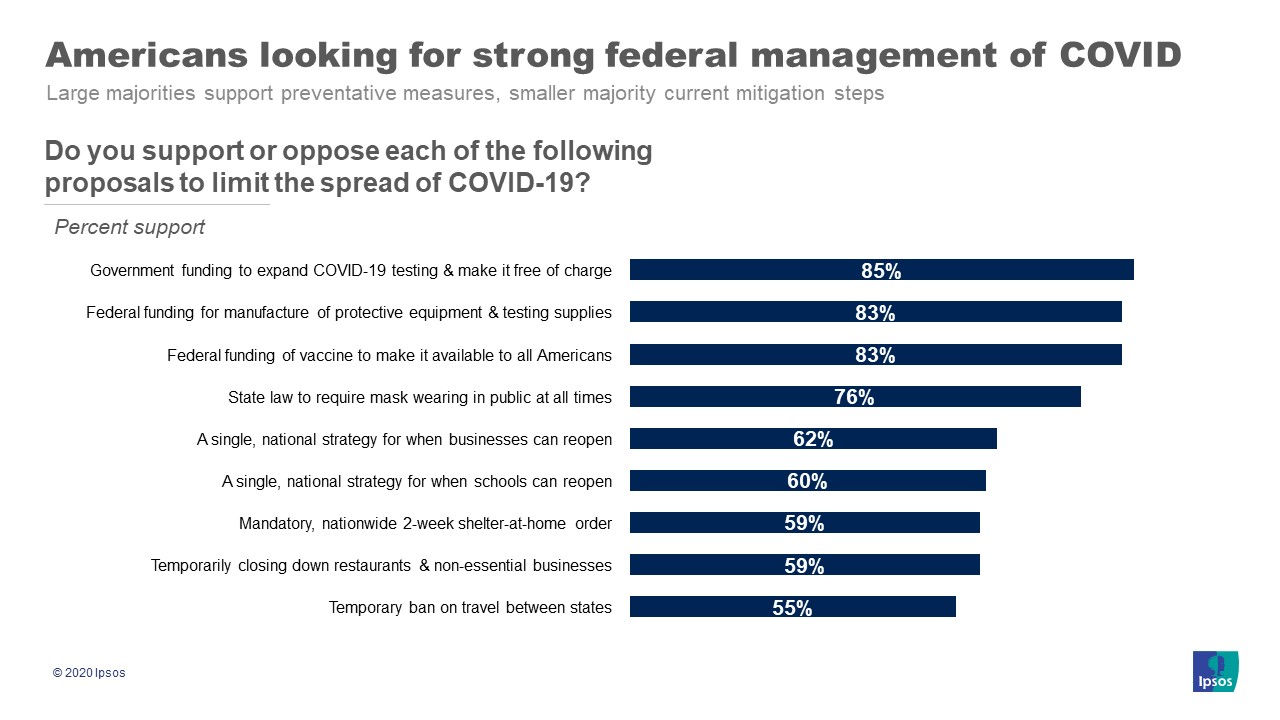 Most Americans support a mandatory, nationwide two-week shelter-at-home order (59%), and the same number believe the government should take on more debt to provide Americans with a stipend so they can do this.
As Congress debates the next stimulus package, most support action continue these programs.
Two-thirds (65%) say the federal government should take on more debt to pass another economic stimulus bill that provides a payment for all Americans. A similar number (63%) want federal unemployment benefits extended, even if it means more government debt.
Though support for these proposals is higher among Democrats, a majority of Republicans (52%) are in favor of passing another economic stimulus bill. Republicans are evenly divided on the extension of federal unemployment benefits, if it results in more debt.
When thinking about which presidential candidate to support in November, more than half of Americans say plans surrounding the economy, COVID-19, and unity are very important factors to their decision.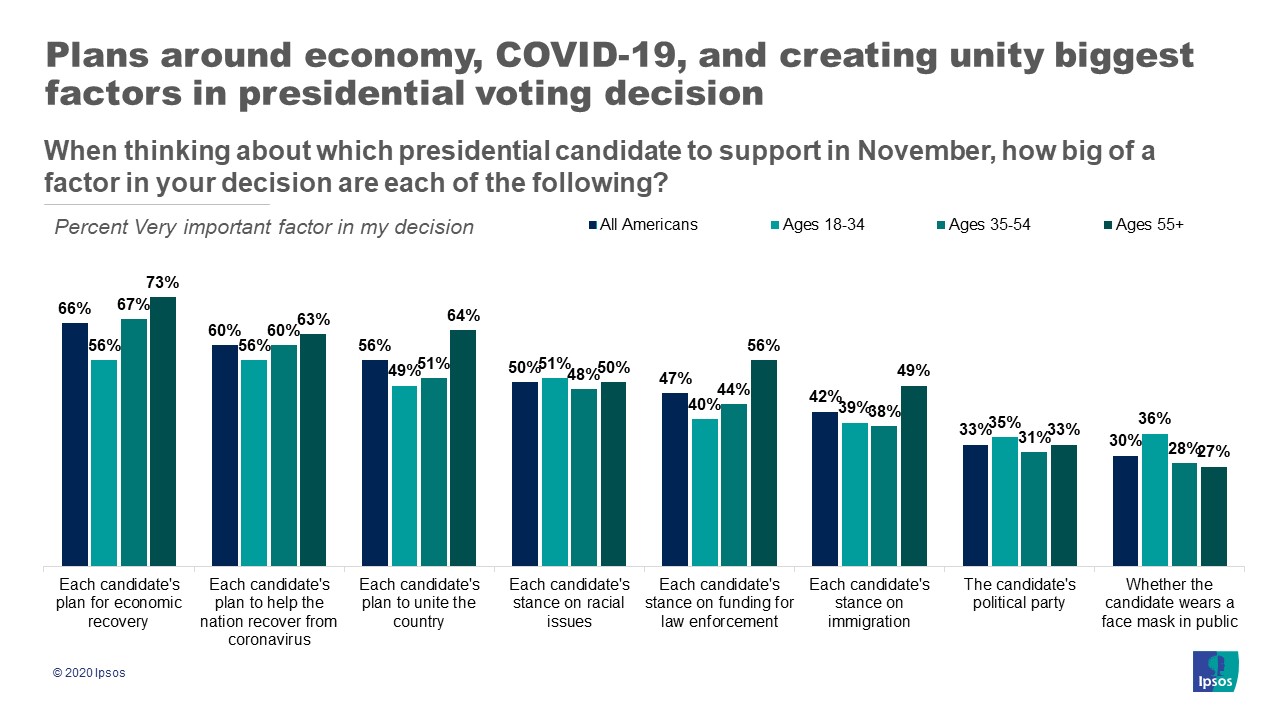 Most Americans want to see immigration to the U.S. restricted during the coronavirus pandemic. However, there are significant partisan differences here.
During the pandemic, most want the government to prevent legal immigrants from bringing their family here (60%), and to ban the entry of both foreign guest workers and asylum seekers (58% each).
Support for these proposals is primarily driven by members on one side of the aisle. These three proposals are all supported by around three-quarters, or more, of Republicans (7375%), compared to fewer than half of Democrats (47- 48%).
The one proposal which garners bipartisan support is temporarily closing the U.S. border, except for essential travel. Seventy-eight percent say the federal government should do this, including 83% of Republicans and 75% of Democrats.
Overall, though, there remains fundamental support for some immigration-friendly policies, including giving legal status to undocumented immigrants brought to the U.S. as children (59%) and providing a federal stimulus check to undocumented immigrants who pay U.S. taxes (49%).
About the Study   
These are some of the findings of an NPR/Ipsos poll conducted between July 30-31, 2020. For this survey, a sample of 1,115 adults age 18+ from the continental U.S., Alaska, and Hawaii was interviewed online in English. This poll also includes partial findings from an NPR/Ipsos poll conducted between June 19-20, 2018, among a sample of 1,071 U.S. adults.
The sample for this study was randomly drawn from Ipsos' online panel (see link below for more info on "Access Panels and Recruitment"), partner online panel sources, and "river" sampling (see link below for more info on the Ipsos "Ampario Overview" sample method) and does not rely on a population frame in the traditional sense. Ipsos uses fixed sample targets, unique to each study, in drawing a sample. After a sample has been obtained from the Ipsos panel, Ipsos calibrates respondent characteristics to be representative of the U.S. Population using standard procedures such as raking-ratio adjustments. The source of these population targets is U.S. Census 2016 American Community Survey data. The sample drawn for this study reflects fixed sample targets on demographics. Posthoc weights were made to the population characteristics on gender, age, race/ethnicity, region, and education.
Statistical margins of error are not applicable to online non-probability polls. All sample surveys and polls may be subject to other sources of error, including, but not limited to coverage error and measurement error. Where figures do not sum to 100, this is due to the effects of rounding. The precision of Ipsos online polls is measured using a credibility interval. In this case, the poll has a credibility interval of plus or minus 3.3 percentage points for all respondents. Ipsos calculates a design effect (DEFF) for each study based on the variation of the weights, following the formula of Kish (1965). This study had a credibility interval adjusted for design effect of the following (n=1,115, DEFF=1.5, adjusted Confidence Interval=+/4.8 percentage points).
The poll fielded from June 19-20, 2018, has a credibility interval of plus or minus 3.4 percentage points.
For more information on this news release, please contact:     
Chris Jackson 
Senior Vice President, US   
Public Affairs   
+1 202 420-2025   
[email protected]     
Mallory Newall 
Director, US   
Public Affairs   
+1 202 420-2014   
[email protected]     
Kate Silverstein 
Media Relations Specialist, US   
Public Affairs   
+1 718 755-8829
[email protected] 
About Ipsos   
Ipsos is the world's third largest market research company, present in 90 markets and employing more than 18,000 people.   
Our passionately curious research professionals, analysts and scientists have built unique multi-specialist capabilities that provide true understanding and powerful insights into the actions, opinions and motivations of citizens, consumers, patients, customers or employees. We serve more than 5000 clients across the world with 75 business solutions.   
Founded in France in 1975, Ipsos is listed on the Euronext Paris since July 1st, 1999. The company is part of the SBF 120 and the Mid-60 index and is eligible for the Deferred Settlement Service (SRD).    ISIN code FR0000073298, Reuters ISOS.PA, Bloomberg IPS:FP www.ipsos.com