Parents welcome additional, post-COVID educational support for their kids
New NPR/Ipsos poll reveals cautious resilience and optimism regarding the current learning environment and their child's progress
Washington, DC, March 5, 2021 — A new NPR/Ipsos poll finds that the kids are all right, for the most part, but parents would certainly welcome additional support, from returning to in-person classes, to targeted tutoring, to structured emotional and mental health support. There is also a broad sense among parents that their school district has handled the pandemic well and is communicating clearly with them.
Detailed Findings
The current landscape: Half of parents report their child is currently attending school remotely, full time. Another one in six (17%) are in a hybrid environment, part remote and part-time in-person.
Learning environment varies both by region of the country and child's grade.
Hybrid approaches are more common in the Northeast and Midwest, while remote learning is higher in the South and the West. Parents in the West are significantly more likely to report their child is remote (65%) than any other region. Southern parents are more concentrated in either fully remote or fully in person, with few in between.
Parents with a high school student are more likely to say their child is learning fully remotely. Elementary school parents are the most likely to report their child is back in person, full-time.
Among parents whose child is back to in-person learning, full time, 85% say teachers and students in the school are wearing masks and practicing social distancing at all times or most of the time.
Most parents generally feel their child is on track in various academic and social areas. This is the case regardless of region, child age, or learning environment.
However, there is some hesitation around the "soft skills". For example, when it comes to time management skills, more parents feel their child is behind than ahead. And for those parents who do not say their child is on track, they are split on whether their child is ahead or behind when it comes to communication and socialization, and mental health.
Eight in ten agree their school has handled the pandemic well.
However, more parents fall in the "somewhat agree" camp (44%) than "strongly agree" (35%).
Parents with a child who is back in person are significantly more likely to say this than others. Still, three-quarters or more are happy with how their school has handled things, when analyzing parents by current learning environment.
A similar number (82%) feel their child's school has clearly communicated plans with parents. Again, there is more agreement among in-person parents than remote.
There is broad support for returning in-person, in some capacity. Beyond that, parents are looking for additional resources and support for their kids' mental and emotional health.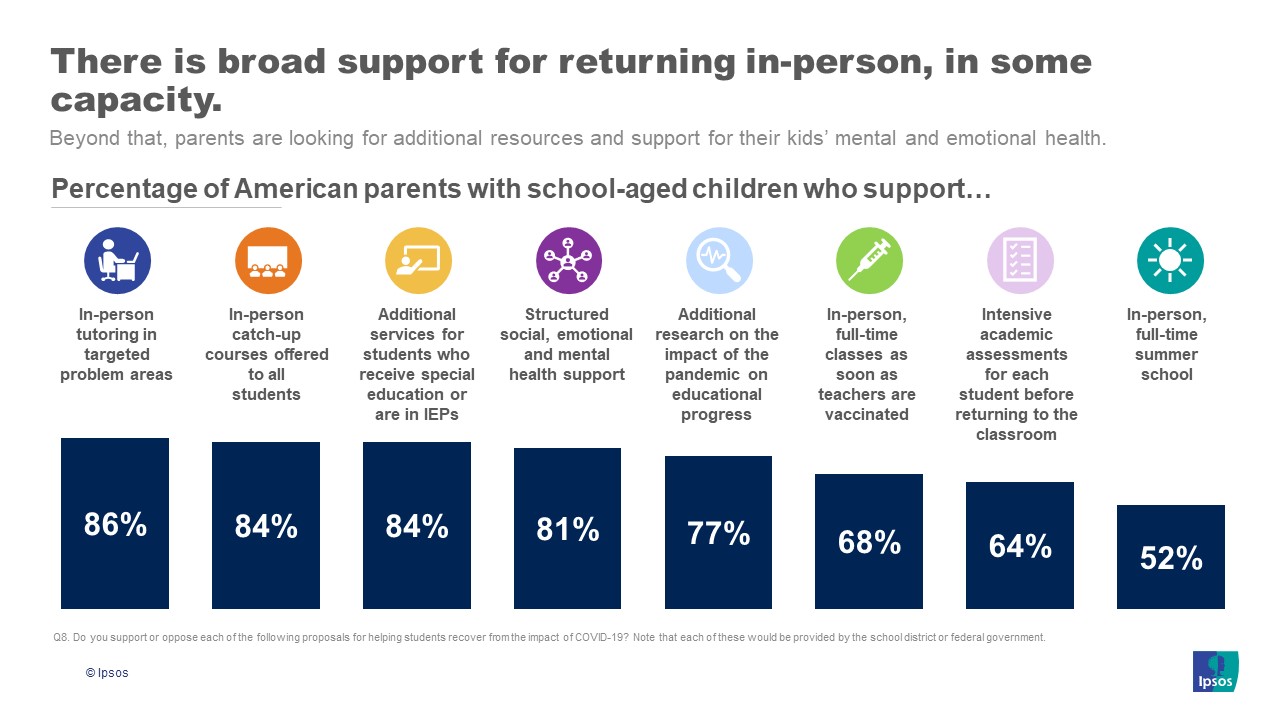 Two-thirds support going back to in-person learning as soon as teachers are vaccinated.
A slim majority (52%) favor in-person, full-time summer school. However, support is much stronger for more targeted in-person outreach; namely, tutoring in targeted problem areas (86%) and offering catch-up courses to all students (84%).
Eight in ten parents support structured social, emotional and mental health support for their child(ren). This support is slightly higher among parents whose child is fully remote, compared with parents who have a student that's fully in-person, but there is still widespread support regardless of learning environment.
Read the full article from NPR here and listen to its segment on NPR's Morning Edition here. 
About the Study
This NPR/Ipsos Poll was conducted February 3-10, 2021, using the probability-based KnowledgePanel®. This poll was based on a nationally-representative probability sample of U.S. parents with at least one child ages 5-18 (n=1,002).
The survey was conducted using KnowledgePanel, the largest and most well-established online probability-based panel that is representative of the adult US population. Our recruitment process employs a scientifically developed addressed-based sampling methodology using the latest Delivery Sequence File of the USPS – a database with full coverage of all delivery points in the US. Households invited to join the panel are randomly selected from all available households in the U.S. Persons in the sampled households are invited to join and participate in the panel. Those selected who do not already have internet access are provided a tablet and internet connection at no cost to the panel member. Those who join the panel and who are selected to participate in a survey are sent a unique password-protected log-in used to complete surveys online. As a result of our recruitment and sampling methodologies, samples from KnowledgePanel cover all households regardless of their phone or internet status and findings can be reported with a margin of sampling error and projected to the general population.
The survey was conducted in English and Spanish. The data were weighted to adjust for gender by age, race/ethnicity, education, Census region by metropolitan status, household income, and language proficiency. The design weights for KP respondents were raked to the following geodemographic distributions of the parent population with at least one child 5 to 18 years old. The needed benchmarks were obtained from the 2019 American Community Survey (ACS), with the exception of metropolitan status; we used the March Supplement of the 2020 Current Population Survey (CPS) to obtain metropolitan status within Census region benchmarks to adjust weights for Census region by metropolitan status.
The weighting categories were as follows:
Gender (Male, Female) by Age (18-34, 35-39, 40-44, 45-49 and 50+)
Race/Hispanic Ethnicity (White/Non-Hispanic, Black/Non-Hispanic, Other/Non-Hispanic, 2+ Races/Non-Hispanic, or Hispanic)
Education (Less than High School, High School graduate, Some College, Bachelor's degree or higher)
Census Region (Northeast, Midwest, South, West) by Metropolitan status (Metro, non-Metro)
Household income (Less than $25K, $25K-$49,999, $50K-$74,999, $75K-$99,999, $100K-$149,999, $150K+)
Language Proficiency (English Proficient Hispanic, Bilingual Hispanic, Spanish Proficient Hispanic, Non-Hispanic)
The margin of sampling error among the total sample is plus or minus 3.4 percentage points at the 95% confidence level. The margin of sampling error takes into account the design effect, which was 1.22 percentage points for all respondents. The margin of sampling error is higher and varies for results based on sub-samples. In our reporting of the findings, percentage points are rounded off to the nearest whole number. As a result, percentages in a given table column may total slightly higher or lower than 100%. In questions that permit multiple responses, columns may total substantially more than 100%, depending on the number of different responses offered by each respondent.
For more information on this news release, please contact:
Chris Jackson
Senior Vice President, U.S., Public Affairs
Ipsos
+1 202 420 2025
[email protected]
Kate Silverstein
Media Relations Specialist, U.S., Public Affairs
Ipsos
+1 718 755-8829
[email protected]
For more information on COVID-19 please click here
About Ipsos
Ipsos is the world's third largest Insights and Analytics company, present in 90 markets and employing more than 18,000 people.
Our passionately curious research professionals, analysts and scientists have built unique multi-specialist capabilities that provide true understanding and powerful insights into the actions, opinions and motivations of citizens, consumers, patients, customers or employees. We serve more than 5000 clients across the world with 75 business solutions.
Founded in France in 1975, Ipsos is listed on the Euronext Paris since July 1st, 1999. The company is part of the SBF 120 and the Mid-60 index and is eligible for the Deferred Settlement Service (SRD).
ISIN code FR0000073298, Reuters ISOS.PA, Bloomberg IPS:FP www.ipsos.com