A Nation of Pessimists: Americans Don't Realize How Good Things Are
Results from Ipsos 'Perils of Perceptions' 2017 Survey
Washington DC —Americans consistently think things are worse than they are across a broad range of topics from terrorism and crime to sugar consumption. The United States is not alone in that. In a new Ipsos survey of 38 countries, citizens across the globe over-estimate the problems in their country, thinking that the rates at which people are murdered, suffer from serious health concerns, are victims of terrorism, or take their own lives are higher than statistics show. In many cases, every single country surveyed overshot the mark.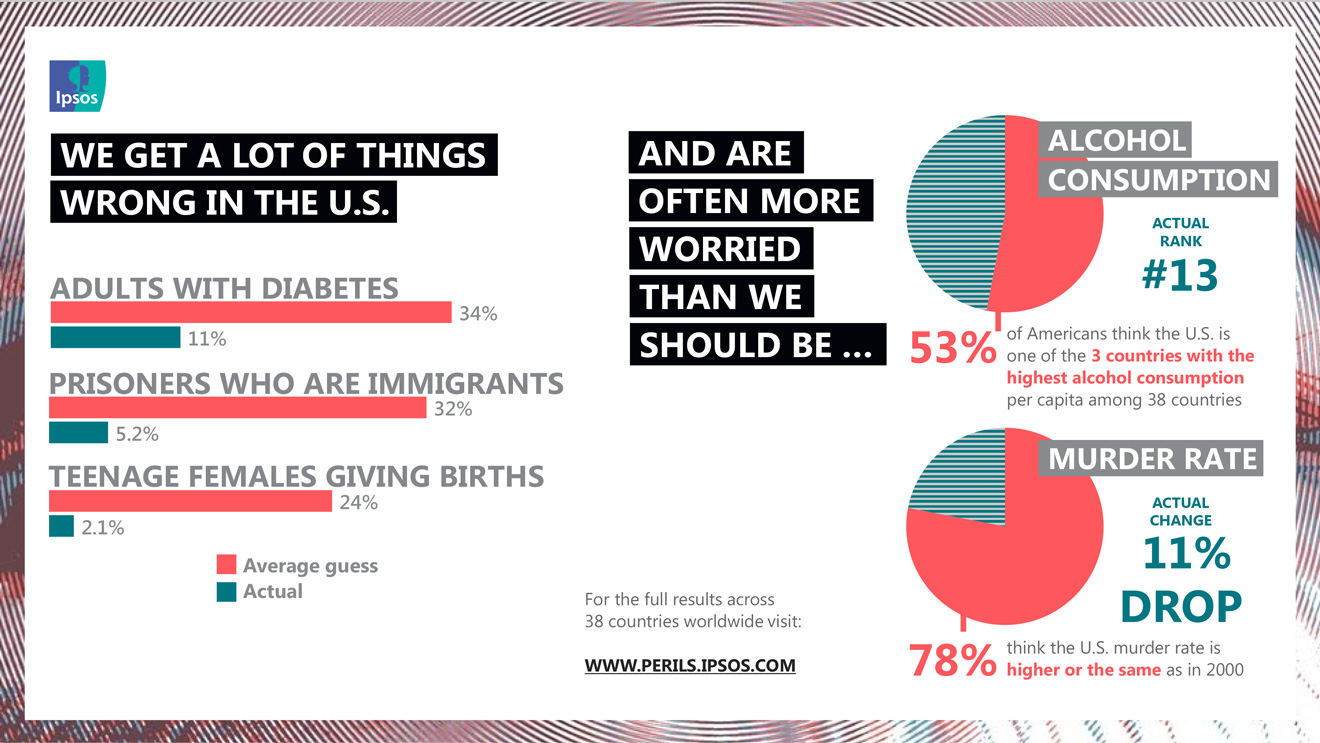 Overall, Americans rank 23rd out of 38 in the Ipsos Misperceptions Index, holding more inaccurate perceptions than citizens from many other nations surveyed, including Russia, Germany, China and Great Britain.

In America, perceptions rarely matched reality:
Murder rate: Almost eight in ten Americans think the murder rate has risen (52%) since 2000 or is about the same (26%). The rate has declined by 11%.
Immigrant prisoners: High profile stories of immigrants committing crimes in recent years seem to be having an impact on popular opinion. Americans think one in three people in U.S. jails and prisons was born in a foreign country. In fact, only one in 20 are immigrants.
Terrorist deaths: While the nation has gotten slightly safer since 2001, over a third of Americans (37%) believe more people have died from terrorist attacks in the last 15 years than did in the 15 years before the September 11th attacks.
Vaccines and autism: Nearly one in five Americans (19%) incorrectly believe that vaccines can cause autism, a claim that has been thoroughly debunked by the scientific community. A majority of Americans (52%) are correct in believing that there is no link.
Teenage births: Americans guess that 24% of women and girls aged 15 to 19 give birth each year. In reality, this is twelve times the correct number (2.1%), and significantly lower than other countries around the world including Brazil (6.7%) and Argentina (6.4%).
Diabetes: Americans guess that 34% of people aged 20-79 have diabetes, over three times the actual figure (11%).
Alcohol: America has a global image as a land of heavy drinkers: looking at the responses across all countries, Americans are the 2nd most likely to be picked out as the highest consumers of alcohol from the 38 countries, behind only Russia. Even half of Americans (53%) self-identify the U.S. as one of the booziest nations. The U.S. actually ranks 13th among all the countries surveyed.

However, Americans proved to be predictable on the topic of sugar: a majority of Americans (69%) correctly identify the U.S. as the highest consumer of sugar per person. Americans are in sync with the other 38 countries surveyed, with 58% of all respondents mentioning the U.S. in the top three countries for sugar consumption.
Some of the key international patterns are:
Only 7% of people think the murder rate is lower in their country than it was in 2000 – but it is significantly down in most countries, and, across the countries overall, it's down by 29%.
Globally, only 19% think deaths from terrorist attacks are lower in the last 15 years than they were in the 15 years before that – when they are significantly down across most of these countries, and overall, they are around half the level they were.
People around the world hugely overestimate the proportion of prisoners in their countries who are immigrants: the average guess is 28% when it's only 15%.
Teen pregnancy is overestimated across the world, often by a staggering amount.  Overall, the average guess is that 20% of teenage girls give birth each year when the reality is 2%.  And some countries guess that around half of teenage girls give birth each year, when the highest actual figure in any country is 6.7%.
Six in ten people across the 38 countries are unsure or believe that there is a link between some vaccines and autism in healthy children, despite the claim being widely discredited – only 42% think it is false.
Russia is seen as the booziest nation in the world, when they actually only rank 7th. Very few correctly pick out Belgium as the highest alcohol drinking nation in the study.
But the U.S. is correctly seen as having the sweetest tooth, a clear winner, picked well ahead of any other country
People generally overestimate how connected by technology they are, with the average guess across the countries that 75% have a Facebook account when only 46% do.

About the Study

These are the findings of the Ipsos MORI Perils of Perception Survey 2017. 29,133 interviews were conducted between 28th September – 19th October 2017. The survey is conducted in 38 countries around the world, via the Ipsos Online Panel system in Argentina, Australia, Belgium, Brazil, Canada, Chile, China, Colombia, Denmark, France, Germany, Great Britain, Hong Kong, Hungary, India, Indonesia, Israel, Italy, Japan, Malaysia, Mexico, New Zealand, Peru, Philippines, Poland, Russia, Saudi Arabia, Singapore, South Africa, South Korea, Spain, Sweden, Turkey, and the USA. The following countries used either online or face-to-face methodologies: Montenegro, Netherlands, Norway and Serbia.
Approximately 1000 individuals aged 16-64 or 18-64 were surveyed in Australia, Brazil, Canada, China, France, Great Britain, Hong Kong, Indonesia, Italy, Japan, Montenegro, Norway, Russia, Serbia, Spain, and the USA. Approximately 2000 individuals aged 16-64 were surveyed in Germany. Approximately 900 individuals aged 16-64 were surveyed in Netherlands. Approximately 500 individuals aged 16-64 were surveyed in Argentina, Belgium, Chile, Colombia, Denmark, Hungary, India, Israel, Malaysia, Mexico, New Zealand, Peru, Philippines, Poland, Saudi Arabia, Singapore, South Africa, South Korea, Sweden, Turkey. The "actual" data for each question is taken from a variety of verified sources. A full list of sources/links to the actual data can be found here: http://perils.ipsos.com/

Where results do not sum to 100, this may be due to computer rounding, multiple responses or the exclusion of don't knows or not stated responses. Data are weighted to match the profile of the population.
For more information about conducting research intended for public release or Ipsos' online polling methodology, please visit our Public Opinion Polling and Communication page where you can download our brochure, see our public release protocol, or contact us.
For more information on this news release, please contact:

Nicolas Boyon
Senior Vice President, U.S.
Ipsos Public Affairs
+1 646 309 4879
Nicolas.Boyon@Ipsos.com

Chris Jackson
Vice President, U.S.
Ipsos Public Affairs
+1 202 420-2025
chris.jackson@ipsos.com

About Ipsos Public Affairs

Ipsos Public Affairs is a non-partisan, objective, survey-based research practice made up of seasoned professionals. We conduct strategic research initiatives for a diverse number of American and international organizations, based not only on public opinion research, but elite stakeholder, corporate, and media opinion research.

Ipsos has media partnerships with the most prestigious news organizations around the world. In Canada, the U.S., UK, and internationally, Ipsos Public Affairs is the media polling supplier to Reuters News, the world's leading source of intelligent information for businesses and professionals. Ipsos Public Affairs is a member of the Ipsos Group, a leading global survey-based market research company. We provide boutique-style customer service and work closely with our clients, while also undertaking global research.

About Ipsos

Ipsos is an independent market research company controlled and managed by research professionals. Founded in France in 1975, Ipsos has grown into a worldwide research group with a strong presence in all key markets. Ipsos ranks fourth in the global research industry.
With offices in 88 countries, Ipsos delivers insightful expertise across five research specializations: brand, advertising, and media; customer loyalty; marketing; public affairs research; and survey management.

Ipsos researchers assess market potential and interpret market trends. They develop and build brands. They help clients build long-term relationships with their customers. They test advertising and study audience responses to various media and they measure public opinion around the globe.
Ipsos has been listed on the Paris Stock Exchange since 1999 and generated global revenues of €1,782.7 million in 2016.