Nine in ten Americans say overcoming divisiveness is now more important than ever before
Washington, DC, April 27, 2021 — This Public Agenda/USA Today/Ipsos Hidden Common Ground survey revisits the inaugural 2019 poll to uncover changes in how Americans view divisiveness and overcoming divisions, while also exploring the impact of COVID-19 and political events.
Detailed Findings
Overall, the research shows little movement when compared to the 2019 data; Americans continue to want to reduce divisiveness and believe that common ground exists. 
Most Americans continue to agree that there is more common ground among the American people than the media and political leaders portray (71% vs. 73% in 2019). Large majorities across political identifications agree with this.
Ninety-three percent say it is important of the United States to try to reduce divisiveness (93% vs. 92% in 2019).
The entities most likely to be seen as promoting destructive debate remain the same although with slightly less intensity: National political leaders (62% vs. 78% in 2019) and social media companies (61% vs. 74% in 2019).
Yet, nearly half of Americans now (48%) think America will become more destructive in dealing with disagreements in the next 10 years (39% in 2019). Differences can be seen across political affiliation too, with Republicans more pessimistic and Democrats less so (54% Republicans, 31% Democrats, 47% Independents and apolitical individuals).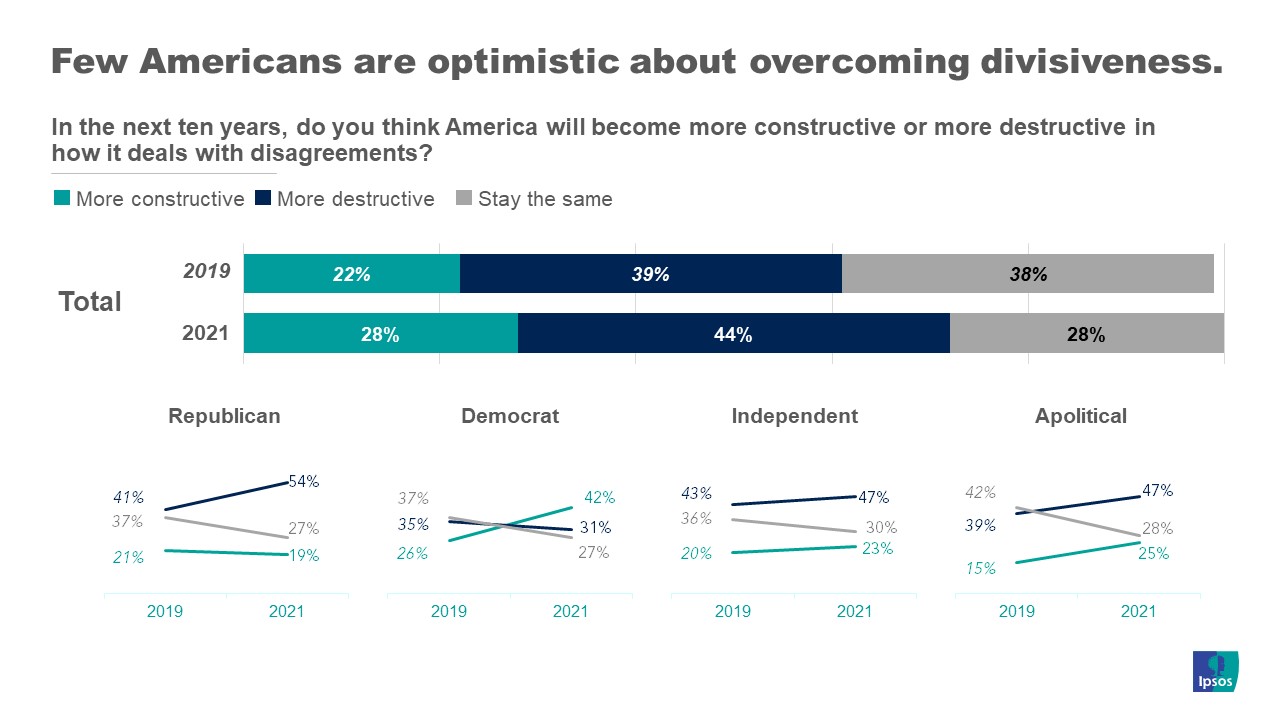 Most Americans share the same sentiments when considering the effects of divisiveness on the COVID-19 pandemic, the 2020 presidential election, and the unrest at the U.S. Capitol.
Three-quarters agree that political divisiveness has made dealing with the economic impact and health risks of the COVID-19 pandemic more difficult.
Seventy-seven percent say it made conducting the 2020 election more difficult.
While reflecting on the unrest at the U.S. Capitol in January 2021, nearly all agree that we have to find ways to move forward together peacefully even when we strongly disagree (91%) and that overcoming divisiveness is now more important than ever (89%).
Pluralities across political affiliations share these viewpoints.
Methods seen as the most effective in reducing divisiveness or destructive disagreements are widespread.
More than 8 in 10 Americans think that giving ordinary people a greater voice in decisions that affect their lives, improving economic opportunity and security for all people, or electing leaders who are deeply committed to unifying the country would be effective ways to decrease divisiveness.
Please visit www.publicagenda.org to read the full report and find articles from USA Today here: 
About the Study
These are some of the findings of an Ipsos poll conducted between February 23-26, 2021. For this survey, a sample of 1,283 adults age 18+ from the continental U.S., Alaska, and Hawaii was interviewed online in English.
The poll is trended with a Public Agenda/Ipsos Poll conducted October 14th to 21st, 2019 by Ipsos Public Affairs KnowledgePanel® – a division of Ipsos. This poll was based on a nationally-representative probability sample of adults age 18 or older (n=1,548). The margin of sampling error among the total sample of adults age 18 or older is plus or minus 2.6 percentage points at the 95% confidence level, taking into account the design effect, which was plus or minus 2.63 percentage points.
The sample for this study was randomly drawn from Ipsos' online panel (see link for more info on "Access Panels and Recruitment"), partner online panel sources, and "river" sampling (see link for more info on the Ipsos "Ampario Overview" sample method) and does not rely on a population frame in the traditional sense. Ipsos uses fixed sample targets, unique to each study, in drawing a sample. After a sample has been obtained from the Ipsos panel, Ipsos calibrates respondent characteristics to be representative of the U.S. Population using standard procedures such as raking-ratio adjustments. The source of these population targets is U.S. Census 2018 American Community Survey data. The sample drawn for this study reflects fixed sample targets on demographics. Posthoc weights were made to the population characteristics on gender, age, race/ethnicity, region, and education.
Statistical margins of error are not applicable to online non-probability polls. All sample surveys and polls may be subject to other sources of error, including, but not limited to coverage error and measurement error. Where figures do not sum to 100, this is due to the effects of rounding. The precision of Ipsos online polls is measured using a credibility interval. In this case, the poll has a credibility interval of plus or minus 3.1 percentage points for all respondents. Ipsos calculates a design effect (DEFF) for each study based on the variation of the weights, following the formula of Kish (1965). This study had a credibility interval adjusted for design effect of the following (n=1,283, DEFF=1.5, adjusted Confidence Interval=+/-4.6 percentage points).
The poll has a credibility interval of plus or minus 5.4 percentage points for Democrats, plus or minus 6.4 percentage points for Republicans, plus or minus 6.4 percentage points for Independents, and plus or minus 7.0 percentage points for apolitical individuals.
For more information on this news release, please contact:
Chris Jackson
Senior Vice President, U.S., Public Affairs
Ipsos
+1 202 420 2025
[email protected]
Kate Silverstein
Media Relations Specialist, U.S., Public Affairs
Ipsos
+1 718 755-8829
[email protected]
About Ipsos
Ipsos is the world's third largest Insights and Analytics company, present in 90 markets and employing more than 18,000 people.
Our passionately curious research professionals, analysts and scientists have built unique multi-specialist capabilities that provide true understanding and powerful insights into the actions, opinions and motivations of citizens, consumers, patients, customers or employees. We serve more than 5000 clients across the world with 75 business solutions.
Founded in France in 1975, Ipsos is listed on the Euronext Paris since July 1st, 1999. The company is part of the SBF 120 and the Mid-60 index and is eligible for the Deferred Settlement Service (SRD).
ISIN code FR0000073298, Reuters ISOS.PA, Bloomberg IPS:FP www.ipsos.com