Reuters/Ipsos Coronavirus Vaccine Survey (05/22/2020)
Washington, DC, May 22, 2020 –  A Reuters/Ipsos poll interested in understanding the American perceptions regarding a coronavirus vaccine shows that a majority of Americans would be interested in getting a vaccine if one were available. The survey also shows that a majority of Americans believe vaccines are generally safe for adults and children, but more would be interested in receiving the vaccine if a large scale scientific study proved the vaccine's safety.
A strong majority of Americans report that they believe vaccines, like those for measles, mumps, and rubella, are generally safe for adults (84%) and for children (84%).
Perceptions that vaccines are generally safe for children and adults are shared across party lines, with 9 in 10 Democrats and Republicans reporting they believe vaccines to be safe for adults (89% and 85%, respectively) and children (88% and 85% respectively).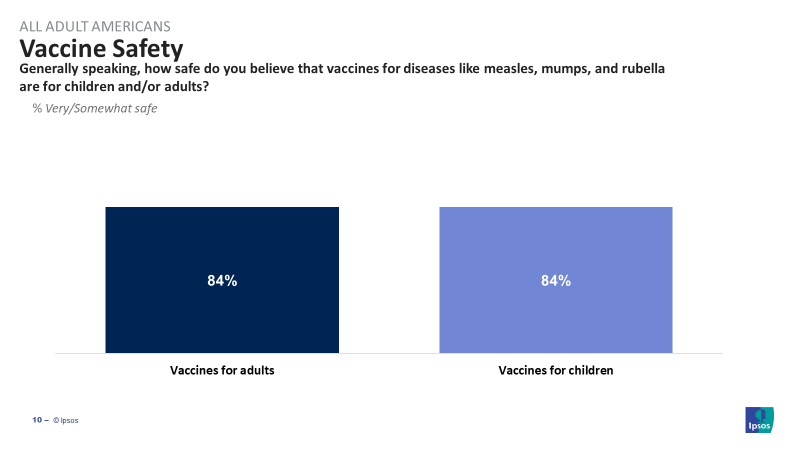 Two-thirds of Americans are interested in getting the coronavirus vaccine (65%), and a quarter of Americans were not interested (24%).
Among those who are not interested in receiving the vaccine,the most common reason cited is nervousness about a vaccine that has been approved so quickly (48%), and 42% report that the risk of taking a new vaccine outweigh any potential benefits.
Americans report being more interested in taking the vaccine if large scale scientific studies show that people who have taken the vaccine do not suffer any negative side effects (62%), the vaccine would by FDA approval (58%), U.S. health authorities report it could prevent a repeat of the pandemic (57%), and that their life could return to normal, like it was before the pandemic (57%).
While generally, Republicans and Democrats agree that vaccines are safe (see above), Republicans are significantly more likely to say they are not interested in receiving the coronavirus vaccine (31%), compared to Democrats (16%). Independents also express trepidation – 31% say they are not interested.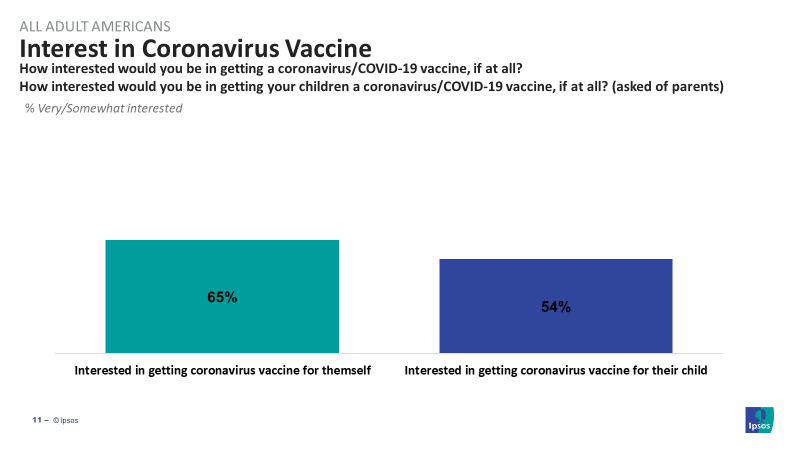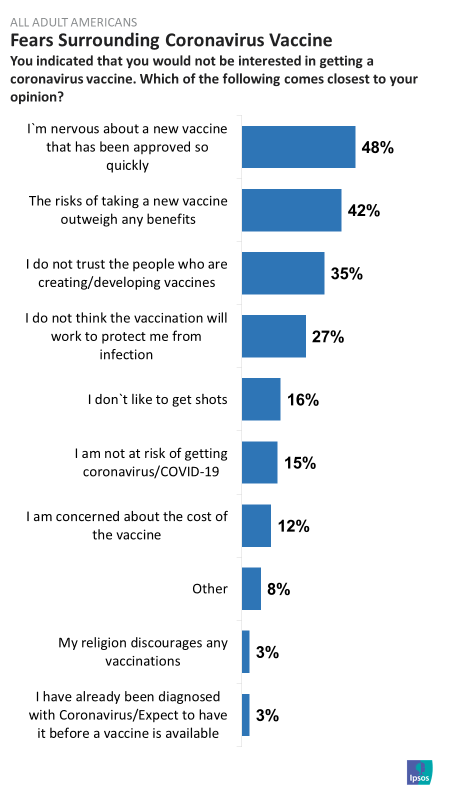 About the Study
These are some of the findings of an Ipsos poll conducted between May 13-19, 2020 on behalf of Thomson Reuters. For this survey, a sample of 4,428 Americans age 18+ from the continental U.S., Alaska and Hawaii were interviewed online in English. The sample includes 1,979 Democrats, 1,645 Republicans and 466 independents. Weighting was then employed to balance demographics to ensure that the sample's composition reflects that of the adult population according to Census data and to provide results intended to approximate the sample universe. The precision of Ipsos online polls is measured using a credibility interval. In this case, the poll is accurate to within ± 1.7 percentage points, 19 times out of 20, had all Americans been polled. The credibility interval will be wider among subsets of the population. All sample surveys and polls may be subject to other sources of error, including, but not limited to coverage error, and measurement error. The poll also has a credibility interval ± 2.5 percentage points for Democrats, ± 2.8 percentage points for Republicans, and ± 5.2 percentage points for independents. 
For more information on this news release, please contact:
Chris Jackson
Vice President, US
Public Affairs
+1 202 420-2025
[email protected]
Kate Silverstein
Media Relations, US
Public Affairs
+1 718 755-8829
[email protected]
About Ipsos
Ipsos is the world's third largest market research company, present in 90 markets and employing more than 18,000 people.
Our passionately curious research professionals, analysts and scientists have built unique multi-specialist capabilities that provide true understanding and powerful insights into the actions, opinions and motivations of citizens, consumers, patients, customers or employees. We serve more than 5,000 clients across the world with 75 business solutions.
Founded in France in 1975, Ipsos is listed on the Euronext Paris since July 1st, 1999. The company is part of the SBF 120 and the Mid-60 index and is eligible for the Deferred Settlement Service (SRD).
ISIN code FR0000073298, Reuters ISOS.PA, Bloomberg IPS:FP www.ipsos.com